Doubront not in it for long haul
May, 2, 2012
5/02/12
12:58
AM ET
By
Tony Lee
| ESPNBoston.com
BOSTON -- Before his fifth start of the season Tuesday night,
Felix Doubront
received high praise from his manager, who remarked that he has admired the way the young left-hander has gone about his business.
All too often, however, that business involves a short shift. Doubront is eight starts into his major-league career and he continues to be plagued by one significant issue: He cannot get deep into games.
Bobby Valentine, so filled with praise in the hours before the game, recognized the flaw in the minutes after it.
[+] Enlarge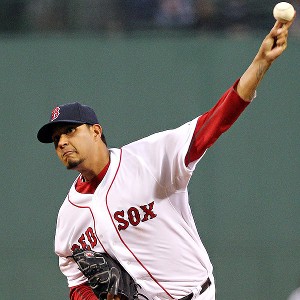 Jim Rogash/Getty ImagesAlthough he had a career-high eight strikeouts, Felix Doubront was done after four innings.
"A little different Felix," Valentine said. "He never really had his two-seamer tonight, it seemed to me. He's been the master of the one-ball, two-strike count and tonight he was behind virtually every hitter. He tried to battle through it without his bread and butter."
Doubront walked two batters in four innings, but had a boatload of three-ball counts. Although he struck out a career-high eight and showcased a formidable changeup, a pair of 30-pitch innings helped end his night after just four frames.
The lefty gave up five runs on six hits in the abbreviated start. He has completed six innings just twice in his eight career starts. He has never seen the seventh.
One factor Tuesday may have been the conditions. Doubront's first pitch was delivered in a mild drizzle and with the mercury sitting at a nippy 46 degrees. It was a miserable night for a lot of things, including getting a grip on the two-seamer.
"Just a little bit I couldn't feel my grip," Doubront said. "Sometimes I left a couple of balls, missed the strike zone. But just a couple of pitches I felt that the ball slipped out of my hands."
Doubront was quick to make sure he was not making an excuse. He admitted he needed to do a better job of attacking the zone and to "let the hitter hit."
Doubront had been doing a better job of that in his past two starts. He had thrown six innings in each of them, allowing just nine total hits and looking like one of the better starters on a staff that has been extremely up and down. After the punchless Athletics wore him out, Doubront's ERA sat at 5.19 and his WHIP had risen to 1.54. Those are not the kind of numbers that suggest an imminent move to the top of the food chain.
But wait, there's more. Entering the night, Doubront had held opponents to a .205 average in the first three innings, but had been touched to the tune of a .310 mark thereafter. Those numbers will only continue to head down opposite paths after an outing in which half of the six hits he gave up came during Oakland's four-run fourth. Also, consider some other split statistics that tell the story: In Doubront's first four starts, opponents hit .133 in his first 25 pitches of a game, .217 in the next 25, .273 in the 25 after that and .364 in pitches 75-100.
Nearly every pitcher outside of
Justin Verlander
will show a progression like that over the course of time, but not to such extremes.
Just like
Clay Buchholz
one night earlier, Doubront was able to focus on a few positives. And just like Buchholz, the first item on that list involved his changeup, the pitch that Buchholz threw with effectiveness in an uneven outing and that Doubront had working from the start.
Of Doubront's eight strikeouts, five came on the changeup.
Asked if it was his best changeup of the season, Doubront said, "Oh, yes. That worked, my changeup. I got the feeling."
In a way, this start represented a departure from what Doubront has exhibited. While high pitch counts have been an issue, it developed in a different way against the A's.
"This was not what we have seen the entire time with his pitch count," Valentine said. "His pitch count was up today because he was behind in the count and normally we've seen him get ahead in the count and not put the guy away. Today it was just, the strike zone was a little elusive."
Perhaps the weather had something to do with it. Maybe Oakland had a good game plan. Or it could be that this was another reminder that Doubront remains a work in progress, and until he can showcase a lengthy start, he will remain a question mark when the middle innings roll around.