Rapid Reaction: Orioles 8, Red Sox 2
May, 5, 2012
5/05/12
4:28
PM ET
By
Steven Krasner
| ESPNBoston.com
BOSTON -- Things could not have gone any more smoothly with the first five batters that
Aaron Cook
faced Saturday in his
Boston Red Sox
debut.


The veteran sinkerballer, filling in for
Josh Beckett
(strained lat) in a spot start, retired all five of those Orioles, four on ground balls, which seemingly was a good sign. It looked as if Boston had made a good move in adding Cook to the roster, keeping him from exercising the opt-out clause in his contract after a dazzling month in Pawtucket.
That's when the roof fell in on Cook and the Red Sox at Fenway Park.
The next 11 Baltimore batters Cook faced went 8-for-10 with a walk, ultimately knocking Cook out of the game with two outs in the third inning, five runs already in, two runners on base and the Orioles boasting a 5-0 lead. One of those hits was a mammoth two-run homer over the Green Monster by
Adam Jones
.
And Cook's ERA took a further beating when
Clayton Mortensen
, who replaced Cook, was greeted by
Mark Reynolds
' three-run homer into the Monster seats, expanding Baltimore's advantage to 8-0, prompting a smattering of boos from the Fenway faithful.
By the time the game came to an end, the Red Sox were losers again at home, by 8-2. Boston has lost 9 of its last 10 games at Fenway, including the last four in a row on this homestand in falling to 11-15 overall for the season.
[+] Enlarge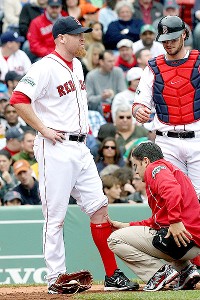 Jim Rogash/Getty ImagesAaron Cook got spiked on the game's first run in the second inning, and knocked out in the third, when the O's scored seven more.
Cook's day began taking a turn for the worse when
Chris Davis
ripped a two-out single off the wall in the second inning. Davis moved to third on
Wilson Betemit
's line single to center. One pitch later, Cook suffered a gash just under his left knee while covering the plate on a passed ball.
The Orioles' Chris Davis slid home safely and somehow, either on Davis' cleat or on the front edge of the plate, Cook was cut, sparking a little drama at Fenway. After being attended to by trainer Brad Pearson and checked out by manager Bobby Valentine, Cook limped to the dugout and Valentine called in Mortensen.
But before Mortensen got to the mound to throw a pitch, Cook re-emerged from the dugout and returned to the mound, with Mortensen running back to the bullpen for the time being.
Cook, who spent the first 10 years of his big league career in Colorado, then retired Mark Reynolds on a bouncer to third, ending the inning and keeping it a 1-0 deficit on an unearned run.
The third inning, though, was another nightmare for the struggling Sox. After a lineout, a bunt single, a walk and a caught-stealing on the front end of a double steal, it still was a 1-0 game with two outs and Cook was facing
Nick Markakis
.
Cook couldn't keep the ball down, though, and when your fastball tops out at 89 mph, as Cook's does, that constitutes batting practice at the big league level if it's not located well.
Markakis ripped an RBI single to center. Jones crushed a hanging, belt-high, 79 mph breaking ball for his two-run homer.
Matt Wieters
doubled to right-center. Davis lined a single to left. Betemit grounded an RBI single to right and that was it for Cook.
Mortensen did Cook no favors by serving up Reynolds' homer, inflating Cook's Red Sox E.R.A. to 20.25, a far cry from the 3-0 record and 1.89 E.R.A. he compiled in five starts for Pawtucket as he tries to bounce back from shoulder woes that were a factor in his 3-10 record and 6.03 ERA for the Rockies last year.
SALTY PEPPERED:
In general,
Jarrod Saltalamacchia
had a tough day behind the plate for the Sox.
First, Cook almost got hurt because Saltalamacchia did not use the best form in trying to block a ball that barely grazed the dirt with two outs and runners at first and third. Saltalamacchia slapped at the ball with his mitt with his palm facing down instead of turning his glove palm up to protect the space between his legs.
Saltalamacchia did get some leather on the ball, but it squirted between his legs because the catcher left open space in that area. The ball didn't roll very far away, but Davis was able to beat Saltalamacchia's throw to Cook, who suffered a gash just below his left knee on the play.
Saltalamacchia's technique was better when Cook bounced a ball in front of him in the third, but the tough-to-handle bouncer got away from him for a wild pitch, allowing
Endy Chavez
to move from first to second.
But Saltalamacchia uncorked a strong throw to third base, nailing Chavez on the front end of an attempted double steal in the inning, though the Orioles ultimately scored seven runs in the third.
Saltalamacchia heard some boos when he was unable to catch a foul popup down the third-base line in the fifth. He went a decent distance for the ball and seemed to lose it in the glare. To be fair, it would have been a tough play for any catcher to make. It was the third baseman's ball, but
Nick Punto
, playing third, had been shifted over toward shortstop because of the hitter (Davis), so he wasn't able to cover enough ground to call off the catcher.
No error was charged on the play.
DECEIVING LINE:
At first glance, Mortensen's pitching line looks pretty decent. He worked 3 1/3 innings, allowing only two hits and one run. He also whiffed five.
Unfortunately for Mortensen and the Sox, the first batter he faced, Mark Reynolds, clubbed a three-run homer, taking out whatever air might have been left in the Red Sox's balloon. That blow made it an 8-0 game in the third inning.
Otherwise, Mortensen turned in a second straight strikeout-filled performance since being promoted from Pawtucket on Wednesday. The right-hander, featuring a repertoire of changeups and split-finger fastballs, kept the Orioles off-balance, as he had the Athletics last Wednesday.
In two appearances Mortensen has fanned 11 in only 6 1/3 innings. Only Reynolds solved him Saturday. Reynolds had the other hit, too, a double.
GONZO'S BACK:
Adrian Gonzalez
, who snapped an 0-for-18 skid on Friday night, notched his second straight three-hit game on Saturday.