Aaron Cook's ugly, painful debut buries Sox
May, 5, 2012
5/05/12
6:04
PM ET
By
Steven Krasner
| ESPNBoston.com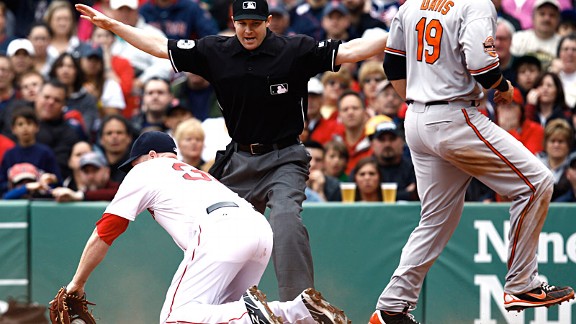 Mark L. Baer/US PresswireThis play at the plate gave the O's a 1-0 lead and spelled doom for Aaron Cook and the Red Sox.
BOSTON --
Aaron Cook
had a few goals in mind when he made his
Boston Red Sox
debut Saturday.
He wanted to prove to the Sox organization that it had made a wise move in keeping him from exercising his May 1 opt-out clause and bringing him up to Boston for a spot start in place of injured
Josh Beckett
(strained lat).
The veteran right-hander also wanted to go deep into Saturday's game against Baltimore at Fenway Park to lighten the load for the tired bullpen, which had worked seven innings in a 13-inning loss on Friday night.
But 2 2/3 innings, eight hits, seven runs and 11 stitches in his gashed left knee later, Cook was unable to meet any of his goals, saddled with an 8-2 loss as the Red Sox's mystifyingly horrendous season at home continued.
[+] Enlarge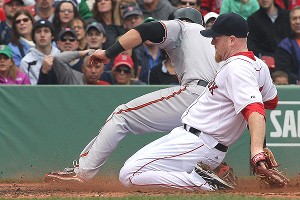 Jim Rogash/Getty ImagesAaron Cook needed 11 stitches after cutting his knee on Chris Davis' spike.
Boston has dropped four in a row at Fenway and an astounding 9 of its past 10 this season. The Red Sox, who generally feast on the opposition at home, are a feeble 4-9 at suddenly Unfriendly Fenway.
Analyzing Cook and his future on the staff is difficult after this outing, especially in light of his injury, which occurred when he was covering home plate on a passed ball in the second inning.
To that point, Cook, whose previous 10 years in the big leagues had been spent with the
Colorado Rockies
, had looked solid. He's a sinkerballer whose fastball didn't get above 89 mph, and his ball was sinking. He retired the first five batters he faced, four on routine groundouts. But after two-out singles by
Chris Davis
and
Wilson Betemit
he threw a fateful pitch, another sinker.
Catcher
Jarrod Saltalamacchia
was unable to block the pitch with Davis at third base. Saltalamacchia's technique wasn't the best; he tried to knock it down with the palm of the mitt facing down rather than trying to get the glove down on the ground and the palm of the glove up.
The ball squirted under Saltalamacchia and rolled a little bit away from him. He pounced on it and threw to Cook at the plate as Davis slid in. Davis was safe, and Cook got spiked, a misfortune that wound up having huge implications in the game.
"I landed on the top of his back spike," said Cook, his left knee bandaged as he met the media after the game.
"At first I didn't think it was too bad. Salty looked at it and said it was bleeding. I was bleeding all down my pant leg," said Cook, who signed a minor league deal with the Sox last offseason.
"Basically I could see the whole inside of his leg," said Saltalamacchia. "Tendons, ligaments. It was pretty nasty."
Trainer Brad Pearson came out with manager Bobby Valentine. Cook limped into the Red Sox dugout and Valentine called for
Clayton Mortensen
to come in. The reliever made it to the field and went into the Sox dugout, ready to enter the game, but Cook elected to try to continue after the medical staff wrapped up the knee.
"I thought about taking him out immediately," said Valentine. "I brought a guy in from the bullpen. The medical staff said he would be fine. They were wrapping it up. So I said, 'Cookie, it's on you. If you can pitch, throw. If not, let us know.'"
Cook jogged back to the mound, took a few warm-up tosses and elected to give it a try. He retired the batter he was facing, ending the inning and keeping it a 1-0 deficit on the unearned run.
But the roof fell in on Cook and the Sox during a seven-run third-inning explosion by the Orioles. Cook was banged around for six hits in the inning, including a mammoth two-run homer over the Green Monster by
Adam Jones
, and Clayton Mortensen let both of the inherited runners score on
Mark Reynolds
' three-run bomb into the Monster seats that put Baltimore on top, 8-0.
In the third inning, Cook's pitches were up, and given the fact they had little velocity, he was basically throwing batting practice.
"After (getting spiked) it seemed like his sinker wasn't what it should be," said Valentine.
"I was surprised he went back out there after that injury," said Saltalamacchia. "His sinker was up and with a sinkerball pitcher that's never good."
Cook went 3-0 with a 1.89 ERA in five starts in Pawtucket, forcing the Sox to either promote him or likely lose him to another organization because of his May 1 opt-out clause. But on Saturday, he was just trying to suck it up, pitch through it and help the team. That showed toughness, but the plan didn't work.
"I felt good the first two innings (before getting spiked)," said Cook, 33, who got the stitches after he came out of the game. "To be honest, I kind of felt like my leg was a little numb (after getting spiked). I was throwing all arm and that caused the ball to be flat and up in the zone. It was one of those days.
"I wanted to try to eat up more innings. The bullpen was taxed (Friday night). At the end of the day I'm not sure that was the best decision, but that's what I wanted to do (by staying in the game)," said Cook.
What will happen in the coming days for Cook is a mystery. He will likely be off his feet as much as possible to help the gash heal. When he'll be able to resume throwing and what his role might be is unknown. In the meantime, Cook, whose career has been sidetracked at times by a broken leg, a broken finger and shoulder trouble, will try to be the best teammate he can be.
"It's frustrating, but there are things that are out of your control," said Cook. "I'll try to come in with the best smile on my face and encourage the guys and see how it goes."