Fenway PA announcer Carl Beane dies
May, 9, 2012
5/09/12
5:17
PM ET
Fenway Park public address announcer Carl Beane was killed in a single-car crash Wednesday in Sturbridge, Mass., Worcester District Attorney Joseph D. Early Jr. confirmed.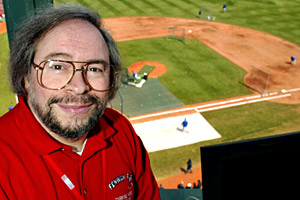 Barry Chin/The Boston Globe/Getty ImagesCarl Beane had been the PA announcer at Fenway Park since 2003.
The 59-year-old Beane was pronounced dead at Harrington Hospital in Southbridge a short time after crashing his 2004 Suzuki SUV early Wednesday afternoon. According to a press release from the Worcester district attorney, golfers from Hemlock Ridge Golf Course called police at 12:39 p.m. to alert them to the crash.
The report indicated Beane's SUV crossed double-solid lines on Holland Road in Sturbridge, Mass., left the road and struck a tree and a wall. There were no passengers in the car and no other vehicles involved. The crash remains under investigation.
Beane had been the voice of Fenway since 2003, calling out each batter's name before his turn at the plate at every home game. He famously started each game with, "Ladies and gentlemen, boys and girls, welcome to Fenway Park."
"My thoughts and prayers go out to the family of Carl Beane," Red Sox slugger David Ortiz tweeted a short time after news broke of Beane's death. "Stepping up to the plate at Fenway won't be the same."
Beane was born and raised in Agawam, Mass. and started his career in sports radio broadcasting in 1972. According to his web site, Beane had worked at a number of news outlets, including WBZ Radio.