10 burning questions with Edes and Mac
April, 1, 2010
4/01/10
11:43
AM ET

McDonald

Edes
As part of our week-long Red Sox season preview, we asked our Red Sox scribes -- Gordon Edes and Joe McDonald -- to make 10 predictions on questions regarding personnel decisions and overall team and player performances. Below are their responses. Check back later today for Edes' feature on the Red Sox and Yankees rotations.
* Which Red Sox pitcher is most likely to win the Cy Young award?
[+] Enlarge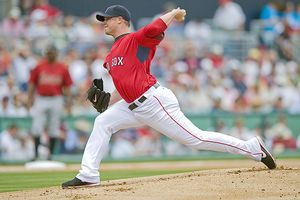 Jeff Griffith/US PresswireBoth Gordon Edes and Joe McDonald agree that Jon Lester has a chance to do something special this season.
EDES:
Jon Lester
. Picked him in '09, picking him again in '10, better start this season.
MCDONALD:
Jon Lester. This power left-hander just keeps getting better and better. Not only has his stuff improved, his confidence is right there along with it. He's no doubt one of the 10 best pitchers in the majors.
* Which Red Sox hitter will lead the team in homers, and how many will he hit?
EDES:
Kevin Youkilis
will finish with an even 30, 1 or 2 more than Papi.
MCDONALD:
It's going to be a tie. Both
David Ortiz
and Kevin Youkilis will hit 33 home runs this season.
* Will the Red Sox score more or fewer runs than they did last season (872, ranked third in baseball)?
EDES:
The Red Sox will score fewer runs, but still more than just about everybody in the league.
MCDONALD:
They will score more runs this season and surpass the 900-run mark. Let's go with 919 runs this season.
* Which Red Sox player will be the biggest surprise?
EDES:
Jeremy Hermida
. Follows in footsteps of another late-blooming ex-Marlin,
Kevin Millar
MCDONALD:
Jacoby Ellsbury
will improve in every category this season, including a slight increase in home runs.
* Which Red Sox player will be the biggest disappointment?
EDES:
Marco Scutaro
. He's at an age (34) where the physical breakdowns can accelerate, and may feel compelled to play through the hurts because no real backup.
MCDONALD:
I wouldn't say
Clay Buchholz
will be a total disappointment, but he won't reach his full potential this season.
* Which newcomer will make the biggest impact this season: John Lackey, Mike Cameron, Marco Scutaro, Adrian Beltre, Jeremy Hermida?
EDES:
John Lackey. Opponents will dread weekend series in which they have to go Beckett, Lester, Lackey.
MCDONALD:
All are good additions for the Red Sox and all will contribute in their own way. But, Adrian Beltre will have the biggest impact this season.
[+] Enlarge
AP Photo/Margaret BowlesDaisuke Matsuzaka's role with the Red Sox will be one of the biggest questions of the first part of the season.
* When Daisuke Matsuzaka returns to health, which pitcher will he replace in the rotation? Or will he go to the bullpen?
EDES:
Sox hope they can dodge that decision. If all six are healthy -- and how often does that happen -- the Sox could put Buchholz on the Pawtucket shuttle. But if Buchholz is pitching well, he's not going anywhere, including the pen. Daisuke to the pen would cause an international incident. Wakefield has done it before, but he won't be happy.
MCDONALD:
If and when he's healthy, Matsuzaka won't replace anyone in the rotation. Barring a trade or injuries, Red Sox management will figure out a way to utilize all six starters. I'm not saying Boston will have a six-man rotation, but it will get creative.
* Will the Red Sox trade for Adrian Gonzalez during the season? And if not him, will they make a trade for an impact hitter?
EDES:
They will try mightily, but lot of factors out of their control. Gonzalez won't be going anywhere in July if Pads defy forecasts and compete. Other clubs will also be packaging prospects. If David Ortiz is still hitting, the Sox could elect to wait a year for Gonzalez to become a free agent, thus holding on to their best kids.
MCDONALD:
For all the talk about this possible trade, I don't think it's going to happen. But Theo Epstein won't be afraid to pull the trigger on another deal if the club needs a certain piece come the July 31 deadline.
* How many wins for the Red Sox, Yankees and Rays this season? Who wins the East? Wild card?
EDES:
I'll say 95 for Sox, 93 for Yankees, 91 for Rays. Sox win division, Yankees win wild card.
MCDONALD:
Red Sox -- 97, Yankees -- 99, Rays -- 95. Yankees win the East and Sox take the wild card. Rays get left out.
* Of the following three players whose contracts may expire at the end of the season, which is least likely to be back with the Red Sox next season: David Ortiz (team option for 2011), Josh Beckett or Victor Martinez?
EDES:
May depend on what monetary value Sox assign to Martinez. May decide they won't get as high as he can get on open market. Papi could well stay as bridge to Gonzalez if Gonzalez is not traded.
MCDONALD:
Beckett and Martinez will sign extensions. The Sox will wait and see how Ortiz performs this season, but I believe the club will pick up his option for 2011.
Follow Gordon Edes (@GordonEdes) and Joe McDonald (@ESPNJoeyMac) on Twitter.