Season preview Day 5: Red Sox-Yankees
April, 2, 2010
4/02/10
10:37
AM ET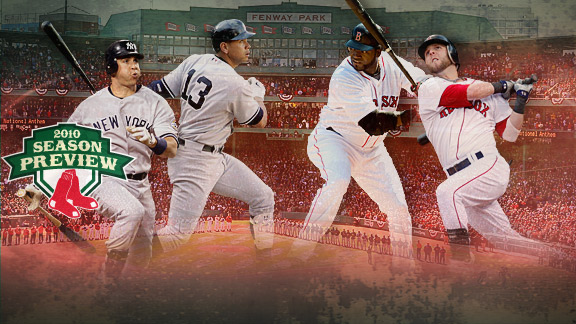 ESPN.com Illustration
Day 5 of our season preview is all about Red Sox-Yankees, with a look at
how the teams stack up against each other
from the perspective of ESPNBoston.com's Gordon Edes and Wallace Matthews from the brand spankin' new
ESPNNewYork.com
.
The two beat reporters answer the following questions as we wait anxiously for Sunday's Opening Night Red Sox-Yankees clash at Fenway:
-- Which team improved more in the offseason, and which new addition will make the biggest impact?
-- Which team's starting rotation is better and why? And rank your top five starters, in order, from the combined Red Sox and Yankees rotations.
-- Which team will score more runs?
-- Which team has the better bullpen?
-- What's the biggest strength and weakness with each team?
-- Where do you see each team finishing, in terms of number of wins and whether it makes the playoffs? Who's more likely to win the World Series?
-- Which team do you think gets the better of the season-opening series at Fenway?
Also part of today's Red Sox-Yankees smorgasbord is Jim Caple's
fun look at the history of the rivalry
and Howard Bryant's examination of
the state of the teams
.
Here's a recap at our Red Sox season preview features from Edes, Joe McDonald and ESPN.com's baseball reporters for the rest of the week:
* Monday:
-- Jeremy Lundblad: For Red Sox, a run saved is a run earned
-- Stark: What truly makes a winner win
-- Rank 'em: Where would rank the Red Sox among all teams in baseball?
* Tuesday:
--
Joe McDonald: Red Sox success rides on Big Papi
-- AL East capsules:
Yankees
|
Red Sox
|
Orioles
|
Rays
|
Blue Jays
--
Vote: Which team is tops in AL East?
--
Olney video: Options if Ortiz struggles
--
Video: AL East storylines
--
How Red Sox won 122 games in a sim season

--
Sim season: AL East preview

--
Video: Baseball Tonight's AL East picks
--
Video: Schilling on Sox pitching, AL East
* Wednesday:
--
Gordon Edes: Why Adrian Gonzalez is Boston's Most Wanted
--
Four reasons for offensive optimism for Sox
--
Joe McDonald's player-by-player Red Sox scouting report
* Thursday:
--
Gordon Edes: Get ready for an AL East arms race
--
Rank 'Em: Red Sox vs. Yankees rotation
--
Predictions: 10 burning questions with Edes and McDonald
--
Bill Simmons podcast: Red Sox-Yankees talk
* Friday:
--
Red Sox-Yankees: Who has the upper hand?
--
Jim Caple: Red Sox-Yankees rivalry timeline
--
Howard Bryant: Red Sox-Yankee rivalry renewed
--
BP's projected standings: Sox win East

--
Video: Olney and Boone on Sox-Yankees rivalry
--
Jayson Stark: Red Sox lose in World Series
--
Expert picks for divisions, World Series
--
BP's projected standings: Sox win East