SoxProspects.com: Previewing 2012 draft
June, 4, 2012
6/04/12
10:38
AM ET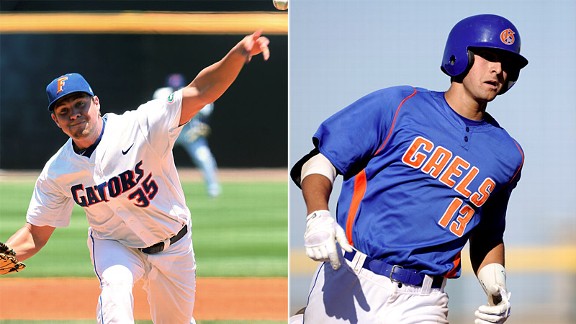 US Presswire, AP PhotoBrian Johnson, left, and Joey Gallo, right, are players the Red Sox might target.
It's that time of year again for prospect-followers, as Major League Baseball's first-year player draft is set to get underway Monday at 7 p.m. ET. The draft will take place over the course of three days again this year, with tonight's phase covering the first round and the supplemental compensation round. Day 2 will start at noon Tuesday, covering rounds 2 through 15, and Day 3 will kick off at noon on Wednesday, covering rounds 16 through 40.
This will be the third draft with Director of Amateur Scouting Amiel Sawdaye at the helm of the Red Sox ship, after taking over for former director Jason McLeod. Sawdaye's previous two drafts have been quite impressive, although it's obviously still very early in the evaluation process. He'll have options to add some more high-end talent this draft, as the Red Sox have four selections in the first 83 picks. However, there is a new twist this year, as under the provisions of the new Collective Bargaining Agreement, the club will have a $6,884,800 signing bonus cap.
Here is a summary of Boston's selections in this week's draft:
Day 1:
No. 24 (1st round), No. 31 (1st), No. 37 (Suppl.)
Day 2:
No. 81 (2nd), No. 118 (3rd), No. 151 (4th), and No. 23 pick in rounds 5-15
Day 3:
No. 23 pick in rounds 16-40
With the new draft cap, you can essentially throw the old strategies out the window. While the club may have some two-sport athletes, low-mileage college arms, and tough signs on their board, this year's strategy will be to take the best player on the board with each pick, as long as that player is signable for the slot bonus recommendation.
The MLB is forcing teams to rethink their strategies due to the significant changes under the new CBA. The biggest change is that the CBA now sets a bonus "pool" for a team to spend on its selections in the first ten rounds, and also limits teams from spending over $100,000 on players taken after the tenth round (the excess on any late round bonuses will count against the bonus pool). If a club exceeds its pool: (1) by 0-5%, it will be charged a 75 percent tax on the excess; (2) by 5-10%, it will pay the same tax and will also lose its first round pick next season; (3) by 10-15%, it will be charged a 100% tax on the excess and lose its 1st and 2nd round picks next season; and (4) by more than 15%, 100% tax on the excess and lose its next two first round picks. These are obviously harsh penalties, and it's unlikely that many teams will test the waters by going more than 5% over the pool limit this year.
Another new rule is that if a team fails to sign a pick in the top 10 rounds, it loses its slot allocation for that round. In other words, its draft pool would be reduced by the amount of the slot recommendation for the particular draft slot. In Boston's case, that means its pool would be reduced by $1,750,000 if it fails to sign its No. 24 overall pick, meaning that it can't simply reallocate that money to a late-round backup pick who slid due to signability concerns. That being said, a team can reallocate funds that it spends under the recommended slot for a signed player. For example, if the Red Sox are able to sign their No. 24 pick for $1,000,000, the club would be able to allocate the additional $750,000 to its other picks in the draft. So it wouldn't be surprising to see some clubs target easy signs in the supplemental to 4th round area in the hopes of using any excess bonus money elsewhere.
Here are the recommended slot bonuses for Boston's picks:
1st round (No. 24):
$1,750,000
1st round (No. 31):
$1,575,000
Supplemental round (No. 37):
$1,394,000
2nd round:
$565,600
3rd round:
$400,500
4th round:
$291,300
5th round:
$218,100
6th round:
$163,500
7th round:
$143,000
8th round:
$133,500
9th round:
$125,000
10th round:
$125,000
Here is a short list of players who have been linked to the Red Sox this spring:
First Round (No. 24 overall)
Matt Smoral, LHP, Solon High School (OH):
Smoral is a big, tall lefty with a live and loose arm. He mixes in a mid-90s fastball, a curveball with plus potential, and a work-in-progress changeup. He's committed to North Carolina.
Victor Roache, OF, Georgia Southern:
Roache is one of the best power-hitting prospects in this year's draft. He has outstanding bat speed and controls the head of the bat well. Not a defensive-minded player, Roache likely profiles as a left fielder or first baseman. Projected by some as a top 10 pick, he broke his wrist diving for a ball in February, and may slide down the board a bit as a result.
[+] Enlarge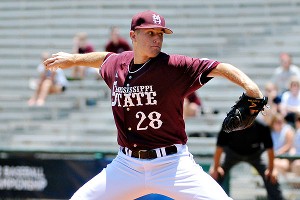 Melina Vastola/US PresswireChris Stratton finished the season with an 11-2 record for Mississippi State.
Chris Stratton, RHP, Mississippi State:
Moved from the bullpen to the rotation in 2012, Stratton has impressed against solid competition. His arsenal includes a low-to-mid 90s fastball, an above-average slider, and a developing changeup, all of which he throws with excellent command. He may be gone by the mid-first round.
D.J. Davis, OF, Stone High School (MS):
Davis is an elite athlete with top-flight speed and intelligence on the base paths -- a prototypical leadoff hitter. He has a decent approach at the plate, and projects to be an average contact hitter with above-average on-base skills and below-average power. He shows excellent range, a very reliable glove, and a mediocre arm in center field.
Joey Gallo, 1B/3B, Bishop Gorman High School (TX):
Gallo may be the best power hitter in the draft (better than Roache), but he has an overly aggressive approach. He's played mostly third base in high school, but projects better as a first baseman in the pros. He's committed to LSU, and could be a tough sign if he slides too far.
First Round/Supplemental Round (No. 31, No. 37 overall)
Zach Eflin, RHP, Hagerty High School (FL):
Eflin increased his fastball velocity up to 97 mph in 2012, significantly improving his draft status, but also missed part of the season due to elbow tendonitis. He also has a stellar changeup and a curveball in need of some development. He could also be a target for Boston at No. 24.
Hunter Virant, LHP, Camarillo High School (CA):
Virant is yet another tall, thin left-hander with a projectable frame. He throws his fastball in the 92-96 mph range, and also has an excellent curveball and a low-80s changeup. Committed to UCLA, he's advanced enough to start 2013 in Low-A if he opts to go pro.
Nolan Fontana, SS, Florida:
A stellar shortstop, Fontana also has a knack for getting on base despite mediocre contact rates and below-average power. He profiles as a No. 2 or No. 9 hitter depending on how his offense develops.
Barrett Barnes, OF, Texas Tech:
Barnes is a right-handed power hitter that projects to play center/left field as a pro. He has an above-average plate approach and a quick bat, but he has some holes in his swing. Barnes has above-average speed and a below-average arm.
Brian Johnson, LHP, Florida:
An excellent athlete who also plays first base, Johnson projects best as a back-end starter. His array of pitches includes a low-90s fastball, a solid curveball, a slider and a changeup. Johnson doesn't have the highest ceiling, but he's a safe pick that may sign for below slot.
Second Round (No. 87 overall)
Branden Kline, RHP, Virginia:
Former Red Sox sixth-round pick out of high school in 2009. Projectable righty with a low 90s fastball and inconsistent secondary stuff.
Pat Light, RHP, Monmouth:
Tall righty with a low-to-mid-90s fastball throws strikes. Secondary pitches have raw potential. Projects better as a reliever.
Rio Ruiz, 3B, Bishop Amat High School (CA):
Advanced defensive player with a strong arm, raw power potential, below-average speed, and average ability to make contact.
[+] Enlarge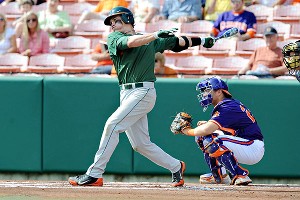 AP Photo/Tony FarlowPeter O'Brien led Miami this season in average (.340), homers (10) and RBI (40).
Peter O'Brien, C, Miami:
Has shown flashes of brilliance on offense, but not consistently. Good arm at catcher but questionable agility. May be better suited to play first base. Fractured his wrist on April 15.
Luke Bard, RHP, Georgia Tech:
Another former Red Sox draftee and Daniel's younger brother. Mid-90s fastball with an inconsistent breaking ball. Currently out with a torn lat muscle.
Third Round (No. 118 overall)
Nick Williams, OF, Ball High School (TX):
Lefty bat with impressive, unrefined tools. Has first-round talent, but baseball acumen is questionable. May be best served to honor his commitment to the University of Texas, but the right development staff could have a diamond in the rough.
Matt Olson, 1B, Parkview High School (GA):
Two-way player is an excellent hitter for contact and power. Below average defense and speed. Committed to Vanderbilt.
Steven Rodriguez, LHP, Florida:
Low-90s fastball with a decent slider. Projects as a lefty bullpen arm at the major league level.
Cody Poteet, RHP, Christian High School (CA):
Unrefined pitcher with a 92-94 mph fastball, plus curveball, and a reliable slider. Committed to UCLA.
Chase DeJong, RHP, Wilson High School (CA):
Low-90s fastball with a plus curveball, average changeup, and an unconventional delivery. Committed to USC.