Assessing first three draft picks by Sox
June, 5, 2012
6/05/12
1:11
AM ET
By
Matt Huegel, SoxProspects.com
| ESPNBoston.com
On Day 1 of the 2012 draft, the Red Sox selected three college players. This is the first draft under the new rules of the collective bargaining agreement so many analysts were unsure of what to expect. This may have played into Boston steering clear of high school players as the CBA makes it harder to entice players away from going to college by offering large bonuses.
Here's a closer look at the players taken by the Red Sox in the first and supplemental round of the draft:
24th overall: Deven Marrero, SS, Arizona State
[+] Enlarge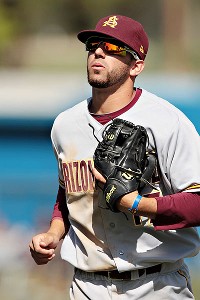 Larry Goren/AP ImagesDeven Marrero had been projected to go as high as No. 8.
Deven Marrero of Arizona State -- Dustin Pedroia's alma mater -- fell to the Red Sox with their first pick in the draft at 24th overall. He was considered by some to be among the top college position players in the draft and projected to go as high as eighth overall, so it was a bit of a surprise that he was still on the board when the Red Sox selected.
"We were happy that he got there," Red Sox general manager Ben Cherington said in a conference call Monday night. "Look forward to trying to get him into the Red Sox organization. He's a talented shortstop who's a good player at a major program and a good player at Team USA and a guy we liked a lot coming into this spring."
Ranked as the 13th overall player by ESPN's Keith Law, Marrero is best known for his defensive ability and is expected to have no problem sticking at shortstop. His former coach in the Cape Cod League, Mike Roberts, called him the best defensive shortstop he has ever seen at his age.
Standing at 6-foot-1, the 21-year-old has great range and hands and a strong arm, all of them complemented by strong baseball instincts. Those instincts also help him excel on the base paths with slightly above-average speed.
Though Marrero had a down year offensively in his junior season and had trouble adjusting to the composite bats introduced a couple of seasons ago in college ball, scouts believe he has the tools to be a line-drive hitter who can develop some power at the major league level. The two-time All Pac-12 selection hit .284/.340/.346 with four home runs for the Sun Devils this season, a year after hitting .313/.340/.434 as a sophomore. Some scouts questioned his effort level this season, but last season he was lauded for his great makeup, so the jury is still out in that regard.
With Jose Iglesias, Xander Bogaerts and Jose Vinicio as high-ranking prospects at shortstop for the Red Sox, the team clearly went for the best available player on their board. In addition, teams always covet players who can stick at an up-the-middle position. It has become a bit of a pattern for the Red Sox to select a player who fell due to a down junior season, as they also picked up Jackie Bradley Jr., Anthony Ranuado and Bryce Brentz in this fashion in recent years.
31st overall: Brian Johnson, SP, University of Florida
[+] Enlarge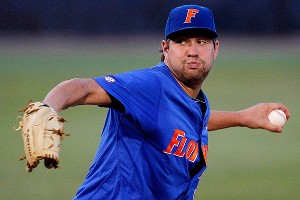 AP Photo/Dave MartinA two-way standout at Florida, Brian Johnson will focus on pitching with the Red Sox.
Johnson is an athletic left-handed pitcher from the University of Florida who emerged as one of the top two-way players in the nation. In addition to pitching, he was a power-hitting first-base prospect who could have been drafted on that side of the ball as well. The 6-foot-3 21-year-old went 8-4 last season with a 3.56 ERA and 68 strikeouts in 86 innings. Johnson also pitched for the Yarmouth-Dennis Red Sox in the Cape Cod League last summer, striking out 19 batters and walking four in 14.2 innings to go along with a 4.30 ERA.
Featuring an 88-92 m.p.h. fastball and a solid four-pitch mix, he is considered a potential back of the rotation starter and a safer pick. Johnson also throws a slider, curveball and changeup, all of which he can throw for strikes and have potential to be quality pitches.
Johnson's best attributes are his mound presence and willingness to go right after hitters. The hope is that focusing solely on pitching will allow his stuff to progress quickly in professional ball.
"He's a pitcher first for us," Red Sox amateur scouting director Amiel Sawdaye said in a conference call Monday. "Definitely very intriguing as a first baseman and part of that plays in our evaluation. We think there's some upside there. But he'll be going at it as a left-handed pitcher for us."
37th overall: Pat Light, SP, Monmouth University
Light is a big right-handed pitcher who dominated competition this season with Monmouth University to the tune of a 2.40 ERA and 102 strikeouts over 101.1 innings. Attending high school in New Jersey, he's one of the better prospects to come out of the Northeast this year.
Light's best pitch is his fastball, which sits around 92-93 m.p.h. and hits up to 96. He was able to throw a ton of strikes with the pitch and only walked 16 batters this season. The fastball shows solid movement and Light is able to throw it on a downward plane consistently.
His slider and changeup both have potential, but need a little work. The slider developed well this season, which helped lead to his success, but can be slurvy at times and needs to be tightened up. If the changeup in particular shows progress, he could round into form as a strong starting pitching prospect, but if not, he should be able to blow people away with the fastball in a relief role.