Buchholz feels Bard's pain
June, 5, 2012
6/05/12
8:50
PM ET
BOSTON -- Red Sox pitcher
Clay Buchholz
knows first-hand what it feels like to struggle at the big league level and then have your manager tell you that you've been demoted to the minor leagues.
When the right-hander arrived at Fenway Park on Tuesday, he learned that fellow starter
Daniel Bard
was optioned to Triple-A Pawtucket in order to work on his mechanics.
"We felt this was the best thing for the organization and for Daniel," Red Sox manager Bobby Valentine said Tuesday afternoon.
Buchholz has heard that before.
[+] Enlarge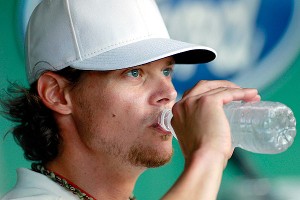 Greg M. Cooper/US PresswireClay Buchholz, above, knows all too well what Daniel Bard is going through.
He was on the fast track to becoming a full-time member of the starting rotation in Boston when he made his debut in 2007. He even tossed a no-hitter on Sept. 1 of that season against the
Baltimore Orioles
at Fenway Park.
Buchholz made the Opening Day roster for the first time in 2008 and was off to a solid start. As the season progressed, however, struggles began to creep in. He posted an 0-7 record with a 9.21 ERA in his final 10 starts for the Red Sox that season before he was sent to Double-A Portland to close out the year.
This season Buchholz is 5-2 with a 6.58 ERA in 11 starts. Bard is 5-6 with a 5.24 ERA in 11 games (10 starts), while posting 37 walks and 34 strikeouts.
"It's tough, obviously," Buchholz said of Bard's demotion. "Obviously he's been going through some stuff. Except for his last start, every start he's pitched in we've had a chance to win, so that's the toughest part to swallow, knowing that. My numbers are worse than his, at least the numbers that mean anything. I can definitely relate to it."
When the Red Sox decided last November that Bard would be converted from a reliever into a starter, it was a challenge he wanted and accepted. It wasn't a guarantee, however, that he would break camp in that role.
Buchholz can remember what that uncertainty felt like because in 2009, 2010 and 2011 there was a logjam of starters in the rotation. When he struggled, the Sox weren't afraid to send him back to the minors to work on some things.
Bard earned a spot in the rotation out of camp, but he has struggled to the point that it was decided Tuesday that he would try to work through it with the PawSox.
"I've been here and didn't pitch well and was sent to Double-A and I've been sent to Triple-A a couple of times. Yeah, it's tough to swallow because you want to be here and it's sort of out of your control," Buchholz said. "He's got a good head on his shoulders, so he'll go down and get his work done and he'll be back up here in no time and helping this team win. He needs to try to find a positive out of it, and that is he'll get a chance to go down there and pitch with less stress and he'll be able to refine what he has to refine and get back up here and help us win."
Valentine said Pawtucket would be a good environment for Bard to build his confidence and correct his mechanics. Buchholz knows that philosophy is sounds. But it's still a tough situation for any big league player to be sent down, especially for someone like Bard, who had dominated opposing hitters as a reliever for the previous 2½seasons.
"You don't have a choice and nothing's going to change," Buchholz said. "The only thing you want to change is to get out of there and the only way you can do that is be able to get through your struggles and be able to do what you need to do to get better. At first, nobody wants to be sent down, especially Bardo since he's been here for two full years. It's definitely tough and I definitely feel for him, too."