Welcome to Fenway: Sox lineup
April, 4, 2010
4/04/10
4:22
PM ET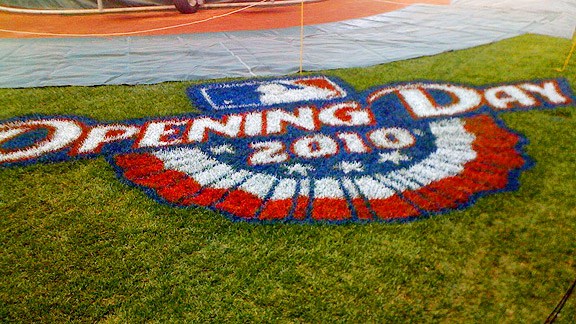 Joe McDonald for ESPN.com
BOSTON -- Here is the Red Sox lineup for tonight's opener against the
New York Yankees
. ESPNBoston.com will have coverage from Gordon Edes, Joe McDonald and Howard Bryant. Also, follow along in
BBTN Live to chat
with our writers as well as experts from BBTN and others.
Sox lineup
1.
Jacoby Ellsbury
, LF
2.
Dustin Pedroia
, 2B
3.
Victor Martinez
, C
4.
Kevin Youkilis
, 1B
5.
David Ortiz
, DH
6.
Adrian Beltre
, 3B
7.
J.D. Drew
, RF
8.
Mike Cameron
, CF
9.
Marco Scutaro
, SS
--
Josh Beckett
, SP
Update: Yankees lineup
1. Derek Jeter, SS
2. Nick Johnson, DH
3. Mark Teixeira, 1B
4. Alex Rodriguez, 3B
5. Robinson Cano, 2B
6. Jorge Posada, C
7. Curtis Granderson, CF
8. Nick Swisher, RF
9. Brett Gardner, LF
SP-- CC Sabathia, LHP
ABOUT THIS BLOG

Gordon Edes
Gordon Edes, who joined ESPNBoston.com in Nov. 2009, has covered MLB for more than 25 years. He spent 12 years covering the Sox for the Globe. Ask a question for his next mailbag. Follow him on Twitter here.

Joe McDonald
Joe McDonald, a native Rhode Islander, joined ESPNBoston.com as a Bruins and Red Sox reporter in February 2010. He worked at the Providence Journal for 18 years and covered the Red Sox, Bruins, Patriots, PawSox and Providence Bruins. He's a three-time winner of the National Sportscasters and Sportswriters Association's state Sportswriter of the Year for Rhode Island. Follow him on Twitter here.
2017 AMERICAN LEAGUE EAST STANDINGS
UPCOMING GAMES
| | W-L | HM | AW | STK | L10 |
| --- | --- | --- | --- | --- | --- |
| SEA | 21-27 | 13-9 | 8-18 | W1 | |
| BOS | 25-21 | 15-9 | 10-12 | W4 | |
| | W-L | HM | AW | STK | L10 |
| --- | --- | --- | --- | --- | --- |
| SEA | 21-27 | 13-9 | 8-18 | W1 | |
| BOS | 25-21 | 15-9 | 10-12 | W4 | |
| | W-L | HM | AW | STK | L10 |
| --- | --- | --- | --- | --- | --- |
| SEA | 21-27 | 13-9 | 8-18 | W1 | |
| BOS | 25-21 | 15-9 | 10-12 | W4 | |
BLOG ARCHIVE:
CATEGORIES:
MAY 2017
JUNE 2017
JULY 2017
Sun
Mon
Tue
Wed
Thu
Fri
Sat

1

@BAL
7:05 PM ET

2

@BAL
7:05 PM ET

3

@BAL
7:15 PM ET

4

@BAL
1:35 PM ET

5

6

@NYY
7:05 PM ET

7

@NYY
7:05 PM ET

8

@NYY
7:00 PM ET

9

DET
7:10 PM ET

10

DET
7:15 PM ET

11

DET
8:00 PM ET

12

PHI
7:10 PM ET

13

PHI
7:10 PM ET

14

@PHI
7:05 PM ET

15

@PHI
7:05 PM ET

16

@HOU
8:10 PM ET

17

@HOU
8:15 PM ET

18

@HOU
2:10 PM ET

19

@KC
8:15 PM ET

20

@KC
8:15 PM ET

21

@KC
2:15 PM ET

22

23

LAA
7:10 PM ET

24

LAA
7:15 PM ET

25

LAA
1:35 PM ET

26

MIN
7:10 PM ET

27

MIN
7:10 PM ET

28

MIN
7:10 PM ET

29

MIN
7:10 PM ET

30

@TOR
7:07 PM ET

Sun
Mon
Tue
Wed
Thu
Fri
Sat

1

@TOR
1:07 PM ET

2

@TOR
1:07 PM ET

3

@TEX
8:05 PM ET

4

@TEX
8:05 PM ET

5

@TEX
8:05 PM ET

6

@TB
7:10 PM ET

7

@TB
7:10 PM ET

8

@TB
4:10 PM ET

9

@TB
1:10 PM ET

10

11

12

13

14

NYY
7:10 PM ET

15

NYY
4:05 PM ET

16

NYY
1:05 PM ET

17

TOR
7:10 PM ET

18

TOR
7:10 PM ET

19

TOR
7:10 PM ET

20

TOR
1:35 PM ET

21

@LAA
10:07 PM ET

22

@LAA
9:07 PM ET

23

@LAA
3:37 PM ET

24

@SEA
10:10 PM ET

25

@SEA
10:10 PM ET

26

@SEA
3:40 PM ET

27

28

KC
7:10 PM ET

29

KC
7:10 PM ET

30

KC


31

CLE
7:10 PM ET