Atch's scoreless streak ends at bad time
June, 6, 2012
6/06/12
1:13
AM ET
[+] Enlarge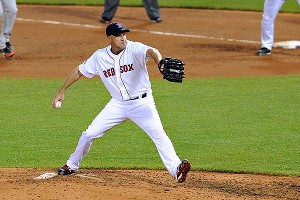 Bob DeChiara/US Presswire"Sooner or later it was probably going to happen, but unfortunately it had to happen tonight with a 1-run lead," Scott Atchison said after the Orioles snapped his scoreless streak Tuesday.
BOSTON -- There have been a few times this season when
Boston Red Sox
manager Bobby Valentine has used the term "roll the dice" in explaining a move he made during the course of a game.
Sometimes it works. Sometimes it doesn't. Sometimes it rains.
That's baseball. A manager makes a decision and has to live by it no matter the outcome. After the Red Sox dropped the first game of this homestand to the
Baltimore Orioles
8-6 in 10 innings Tuesday night at Fenway Park, Valentine was asked why he lifted starter
Jon Lester
after the left-hander allowed a leadoff single to Orioles No. 9 hitter
Endy Chavez
in the top of the seventh inning with Boston holding a 4-3 lead.
Valentine pointed to the fact that the top two hitters in Baltimore's lineup --
Robert Andino
and
J.J. Hardy
-- both have solid career numbers against Lester. Andino entered the game with a .385 average (5-for-13) while Hardy was 4-for-8 (.500) with one homer and two RBIs against Boston's southpaw.
On Tuesday, both were 1-for-3 against Lester heading into the seventh inning and were hitting the ball well off of him. Plus, Boston's bullpen has been excellent of late, especially right-hander
Scott Atchison
.
"With Andino and J.J. coming up, I thought we were going to cruise it home," Valentine said. "They had some tough at-bats against Lester and hadn't had tough at-bats against Atch. A fresh bullpen and 100-pitch starting pitcher, all that stuff [went into the decision]."
So, Valentine padded Lester (99 pitches) on the backside and then handed the ball to Atchison.
When he entered the game with one runner on and no outs in the top of the seventh, Atchison carried with him a career-high streak of 15 consecutive scoreless outings (19 2/3 innings). However, it came to an end as he allowed two runs on two hits by Andino and Hardy.
"I had an all right pitch to Andino and he sort of blooped it into right, and the next pitch to Hardy got more of the plate than I wanted, he did a really good job of hitting," Atchison said. "Sooner or later it was probably going to happen, but unfortunately it had to happen tonight with a 1-run lead. The guys did a great job of battling back but we just weren't able to pull it out, but everything felt the same as it has been.
"It's been a good run. You kind of notice it after a little while but it's over now," added Atchison. "You have to get back out there tomorrow and try to start another one. That's the best way I think to do it and that's what I plan to do."
Afterward, Lester admitted he did not want to come out, but had all the confidence in Atchison given his recent success.
"Anytime you come out of the game it's tough," Lester said. "Our bullpen has been great but it was a little hiccup tonight. It's no big deal and next time we're in that situation they'll pick me up. This is the way baseball goes. Obviously I'm not worried. It's one of those deals and Atch will pick me up next time."