Bard throws 1 inning in PawSox start
June, 9, 2012
6/09/12
12:23
AM ET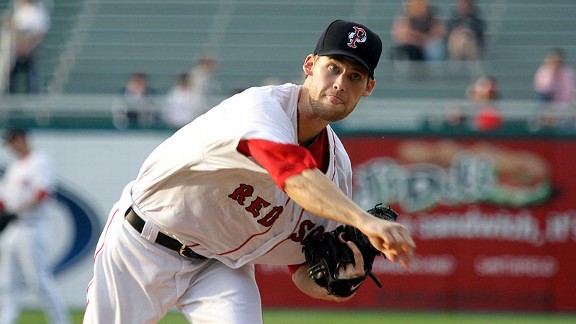 Louriann Mardo-Zayat/Pawtucket Red SoxThe road back to Boston began in Pawtucket on Friday night for Daniel Bard.
PAWTUCKET, R.I. --
Daniel Bard
completed his scheduled one-inning start for the Pawtucket Red Sox on Friday night at McCoy Stadium. He allowed three runs on two hits, struck out two and hit two batsmen.
The right-hander threw a total of 25 pitches (16 strikes). He reached 96 mph on the radar gun on his first offering of the game against the Indianapolis Indians, and his fastball was around 93-94 most of the outing.
"The best thing about throwing down here is you can kind of ignore the results and not worry about wins and losses as much," Bard said. "I'm trying some tweaks mechanically and I think it was really good on some pitches and that's what I was looking for, to get that feel and I didn't expect it to be perfect or there on every pitch. The pitches it felt good on did what they were supposed to and went where they were supposed to and we'll go from there."
Bard is scheduled to start again for Pawtucket on Monday against the Gwinnett Braves. He said after Pawtucket's 8-6 loss to the Indians in 13 innings on Friday that he would sit down with the Red Sox and discuss his next start, but he expects to pitch at least two innings.
[+] Enlarge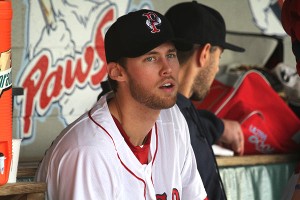 Mardo-Zayat/Pawtucket Red SoxDaniel Bard said knowing he was scheduled for a very short stint as a starter "was a little bit of a weird mentality."
"I told them I could do this out of the bullpen, but they wanted me to keep doing it starting and keep that routine in place," Bard said.
Despite the results, Bard said he didn't want to dig too deep into his numbers because it's tough to focus on such a small sample size in one inning of work. He was pleased with his velocity.
"What we're trying to do is get some of that power back," Bard said. "It's using my lower body and getting everything moving toward the target with some power and typically that keeps everything in line. The command and the velocity will come together."
Bard drilled the Indians'
Chase d'Arnaud
to lead off the top of the first inning. The Indianapolis base runner then stole second before teammate
Gorkys Hernandez
provided a broken-bat single to put runners on the corners.
Bard then drilled Starling Marte to load the bases. The Indians'
Jeff Clement
drove in a run on a fielder's choice before Bard struck out
Yamaico Navarro
for the second out of the inning. Indy's
Jeff Larish
then provided a two-run double to give the Indians a 3-0 lead. Bard finished his brief outing by striking out
Brandon Boggs
.
After only his one inning of work, Bard admitted it was a different feeling, knowing it would be a brief outing.
"It was a tough situation," Bard said. "It's a weird outing. You prepare as a start but knowing you're going only one inning, you try to block that out and attack every hitter like it's your last. It was a little bit of a weird mentality."
Bard was assigned to Triple-A earlier this week in order to straighten out his early struggles as a starter.
"I'm going to go out there and just work on the mechanical side and get in that mindset of being a little more aggressive in the zone and not worry about results."
The last time he pitched at this level was during the 2009 season for the PawSox. Before he was promoted to Boston on May 10 of that season, he pitched 11 games (16 innings) in relief and allowed only two runs on six hits with two home runs and one hit batsmen. He struck out 29 and walked only five. He also recorded six saves.