Ortiz: Home Run Derby 'wears you out'
June, 11, 2012
6/11/12
3:55
PM ET
While
David Ortiz
has elected to forego this year's All-Star Home Run Derby -- he declined the chance to return as captain of the AL team -- the Red Sox DH speaks fondly of the experience.
[+] Enlarge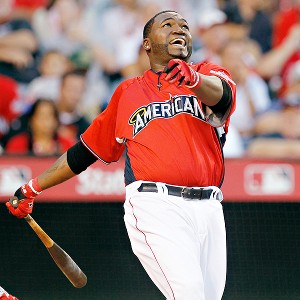 AP Photo/Chris CarlsonDavid Ortiz says he will not be participating in the Home Run Derby this summer.
Ortiz has participated in five home run derbies, more than any player in the 21st century. He won once, in 2010, and last season made it through two rounds before bowing out against winner
Robinson Cano
of the Yankees and Sox teammate
Adrian Gonzalez
.
"Trust me, it wears you out , it wears you out,'' he said last week at Fenway. "I don't care what anybody says, that gets you tired. But it's a good show, though. Even players playing for teams that people don't get to watch so much, they should do it because it's a whole planet watching that show.
"There's not one place on planet earth that I go where people don't recognize me, and that's a big part of it, believe it or not. The year that I won it, when I called my friends and family back in my country [Dominican Republic] they said, 'Man it was like everybody was watching. And then when me and Hanley [Ramirez] went to the finals, people said, 'The trophy is coming to the DR this year.'
"It doesn't matter who you play for, you're going to get world recognized because of that.''
Ortiz has 14 home runs, tied for seventh in the AL. His slugging percentage of .975 is fourth best in the league. But even though he has the bona fides, he said he'll pass this season.
"I got really tired last year,'' he said. "Enough is enough, man, especially when it comes down to home run derbies and things like that.
Prince Fielder
and those kids, when I was their age I had no problem. Now it's too much.''
He nodded knowingly when told that
Josh Hamilton
, who leads the majors in home runs with 22, two more than
Adam Dunn
of the White Sox, also has announced that he will skip this year's event, to be held July 9 in Kansas City.
"I did it more than anybody,'' he said. "Now you see guys do it once or twice.''
Ortiz was the only Sox player leading at his position after the first round of All-Star balloting, holding a healthy lead over
Michael Young
of the Rangers.
"To be honest with you, I would like to just take those four days off at this point,'' he said. "In the beginning, I wanted to go to the All-Star Game really bad, but at this point I'm ready to chill for those four days.''
At 36, Ortiz says he could benefit from the mid-season break, but that's one of the few concessions he is willing to make to age. His appreciation for what the Celtics accomplished this season, for example, was heightened by his awareness of their portrayal of being too old to win.
"People talk about being old, but that's a mental state for a lot of us,'' he said. "Age catches up with you, yes, but trust me -- what you learn you never forget.
"Yeah, they're old. Try to play against them -- they'll come in and whip your butt. That's fine. That's what they say about me, too. I'll bet a lot of youngsters would like to be like me.''