Worlds collide: Cubs, Red Sox meet
June, 15, 2012
6/15/12
2:20
PM ET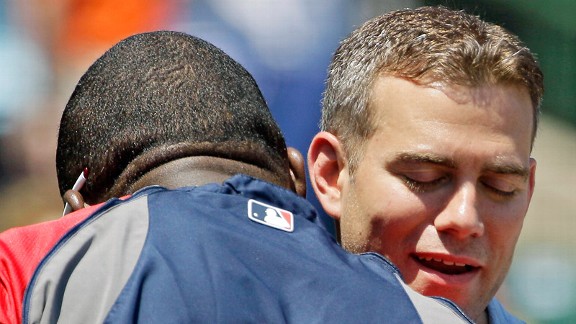 AP Photo/Nam Y. HuhTheo Epstein and David Ortiz embraced before Friday's game at Wrigley.
CHICAGO -- It's worlds colliding at Wrigley Field on Friday afternoon, where familiar faces abounded on both sides of what had the feel of an alumni reunion between the Red Sox and Cubs.
While Theo Epstein, the former Red Sox GM and current Cubs president of baseball operations, held forth with reporters in front of the Cubs dugout Friday morning, his former mentor and current CEO of the Red Sox, Larry Lucchino, was in the visitors' clubhouse, chatting with
Josh Beckett
and manager Bobby Valentine, among others.
Upstairs, meanwhile, majority owner John W. Henry and chairman Tom Werner planned to join Lucchino in a suite to watch all three games of this weekend series at Wrigley Field, where their choice as manager, Bobby Valentine, was going head-to-head with Dale Sveum, the former Red Sox third-base coach who at one point appeared to be the first choice of Sox GM Ben Cherington to manage in Boston. The day after Sveum met with Sox ownership in Milwaukee last November, he accepted the job to manage the Cubs.
Epstein said he'll be glad when the reunion is over.
"I don't know if we've been talking about it that long but it's one of those things where you can't wait for it to come and you can't wait for it to be over, either,'' he said. "Hopefully three good games, we can get a couple of wins and move on. It will be great to see everybody. We don't get to play these guys very often so we have to relish it.''
Hundreds, if not thousands, of fans dressed in Red Sox garb were scattered throughout the stands -- a pilgrimage to Wrigley to see the Red Sox a rare opportunity.
"It's not as much about me, I don't think,'' Epstein said. "Any time you're with the Red Sox and get to go to a place like Wrigley Field, I remember back -- was it '04 or '05 -- we came here. It's a special experience to see a ballpark like this and play a team you don't get to play and all the fans come out.
"It's probably the two best fan bases in baseball, Red Sox fans and Cubs fans. I remember that was a special weekend and I'm sure this will be too. And, yeah, there is probably some curiosity about what we're up to here as we put this thing together. I don't know. I can't speak for them.''