Rapid reaction: Cubs 3, Red Sox 0
June, 15, 2012
6/15/12
5:04
PM ET
CHICAGO -- London has the Olympic Games.
Chicago has the Theo Games, pitting the team from Theo Epstein's past, the Red Sox, against the team of Theo Epstein's present, the Cubs.


With the ownership of both teams in the house -- The Gang of Three for the Sox, Tom Ricketts for the Cubs -- the Cubs exploited some early wildness from
Daisuke Matsuzaka
and some superb pitching from
Ryan Dempster
to take the opener of this three-game set, 3-0, before a crowd of 40,073 in Wrigley Field.
Matsuzaka, of course, represents something less than Epstein's finest hour, the promise of his first two years fading in a spiral of ineffective outings and a series of injuries.
Matsuzaka walked the bases loaded in the first, then gave up an opposite-field single sliced to left that fell in front of outfielder
Scott Podsednik
near the line and scored two runs.
The Cubs added another run in the second when Dempster's line drive to right was turned into a triple by
Adrian Gonzalez
, the first baseman who has generally held his own in the outfield but on this occasion made an ill-advised stab at a diving catch. He compounded that mistake by overthrowing cutoff man Dustin Perdoia, allowing Dempster unchallenged access to third for his first triple in a decade.
Dempster then scored on a two-out single by
David DeJesus
, one of the first players acquired by Epstein after he was given permission to leave the Sox for Chicago.
[+] Enlarge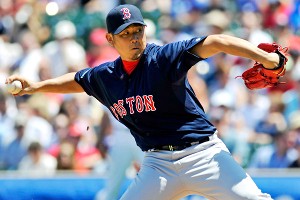 David Banks/Getty ImagesAfter giving up three runs in the first two innings, Daisuke Matsuzaka pitched four straight scoreless innings.
Matsuzaka went on to retire 13 of the last 14 batters he faced before leaving after the sixth, but the Sox could do little with Dempster, who allowed just four singles -- one a bunt, another an infield hit -- through seven innings. Dempster now has thrown 22 consecutive scoreless innings and is certain to be a hotly pursued commodity at the trading deadline.
The Sox loaded the bases in the ninth on a single by
Ryan Sweeney
, an infield error by
Luis Valbuena
, and a two-out walk to Scott Podsednik by reliever
Carlos Marmol
.
Dustin Pedroia
ended the game by grounding into a force at third.
Two days after scoring 10 runs against the Marlins, the Sox were shut out for the third time this season.
Frustration spilled over for Dustin Pedroia, who pulverized his helmet with a two-handed slam after lining out for the second time Friday in an 0-for-4 performance that left him hitting .150 (6 for 40) since attempting to play with a torn muscle in his right thumb.
Kevin Youkilis, meanwhile, is hitless in his last 18 at-bats after also going 0 for 4 on an afternoon in which he, too, lined out twice. He is batting ..206 (14 for 68) in 20 games since he came off the DL.
Adrian Gonzalez, who had three hits Wednesday, whiffed twice in an 0 for 4 that left him batting .247 (22 for 89) in the 22 games where he has become a part-time outfielder. Gonzalez has not been the defensive liability anticipated by those unaware of how well his instincts carry over to the outfield, though he exercised faulty judgment in diving for a ball that became a triple for Dempster and ultimately resulted in a run.
"They say they even out, and if they even out I'm in good shape,'' Youkilis said. "This is one of those things, it's frustrating. I had a great approach and hit the ball hard, but nothing to show for them.
"Just one of those things. You go through stretches like this, and you hope the baseball gods even it out.''