Kalish in, Sweeney [DL] out in center field
June, 17, 2012
6/17/12
7:17
PM ET
CHICAGO -- It was approaching 12:30 a.m. and
Ryan Kalish
was in a hotel room in Buffalo surfing the Internet when the phone rang.
Pawtucket manager Arnie Beyeler was on the line. "You're going to the big leagues,'' he said.
[+] Enlarge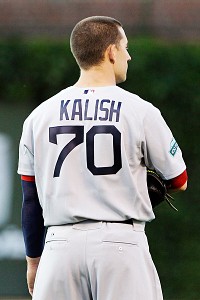 AP Photo/Nam Y. HuhRyan Kalish, who arrived in Chicago just hours earlier, takes in the scene at Wrigley Field before the start of the Red Sox-Cubs game Sunday night.
A message delayed for more than a year by two surgeries -- one for a bulging disc in his neck, the other for a torn labrum in his throwing shoulder -- had finally arrived.
By 1 o'clock Sunday afternoon, Kalish was at Wrigley Field, having come straight from O'Hare Airport in a cab. Manager Bobby Valentine was there to greet him.
"Do you want to play?'' Valentine asked with a big smile.
"Yeah, absolutely,'' Kalish replied.
A couple of hours later, after being told he'd be playing center field and batting eighth Sunday night against the Cubs, Kalish was sitting in the visitors' dugout, reflecting on a whirlwind turn of events.
"Just taking in the scene here,'' he said. "First game in Wrigley, then back to Fenway. I'm psyched, man. Psyched to be here and help this team win ballgames.''
One game in, mission statement achieved. Kalish blooped an RBI single and scored on Daniel Nava's suicide squeeze in a three-run seventh that broke a tie and carried the Sox to a 7-4 win. Funniest thing about his input Sunday?
"When they brought in the lefty (James Russell),'' Valentine said, "Kalish thought I was going to hit for him.''
Kalish was called up when outfielder
Ryan Sweeney
was placed on the 15-day disabled list because of a bone issue in the big toe of his left foot had caused inflammation requiring a cortisone shot. Sweeney, making his second trip to the DL this season (the first time was for seven days with concussive symptoms), became the fifth Sox outfielder currently occupying the DL.
"It's like bone on bone in my back foot,'' said Sweeney, who said he first experienced the condition in 2005 and had occasional recurrences, but never as severe as the one that resurfaced three weeks ago and has progressively worsened. "When I swing, I'm out in front of everything.
"

First game in Wrigley, then back to Fenway. I'm psyched, man. Psyched to be here and help this team win ballgames.

"

-- Red Sox outfielder Ryan Kalish
"I can't sit on my back side when I hit. It hurts every time I turn on it, the inside part of the toe is inflamed so bad it's not fair to the team not to be productive.
"I try not to think about it when I'm running, but it hurts after running. I'm lucky I haven't got a lot of balls the last couple of days. You've got to cover a lot of ground in center field and sometimes I'm limited.''
Valentine said Sweeney has played through the condition because the Sox were so shorthanded, but with Kalish making unexpectedly rapid progress in Pawtucket -- he was batting .378 (14 for 37) with 4 home runs in 9 games for the PawSox -- the Sox made the roster change, hoping that Kalish can provide the kind of lift rookie
Will Middlebrooks
and callup
Daniel Nava
have since they've been summoned.
"Absolutely, man, it's about energy right now,'' he said. "I don't have expectations. I'm not looking to set a goal on how I'm going to hit, how I'm going to field. I know I can bring an energy to the ballpark that is really good for the team. That's what I want to do. These guys are all about winning. That's what I want to do.''
For the 24-year-old Kalish, this marks a second tour of duty with the Red Sox. After an auspicious debut two years ago, when he played 53 games, batted .252, hit home runs (4), stole bases (10) and impressed everyone who saw him, Kalish was in line to challenge for a job last spring, and appeared destined to succeed
J.D. Drew
when the Sox right-fielder's contract ran out after 2011.
Instead, Kalish was sidetracked by a shoulder he injured last April making a diving catch in Pawtucket. The shoulder did not respond to rest and rehab, he eventually underwent surgery in September, then two months later underwent more surgery on his neck. He came to camp this season limited at the outset to just playing catch, uncertain of when he'd be able to play again.
"I'm a little nervous to come back," he said at the time. "It's been so long. It's going be about 15 months when all is said and done.
"June would be really good. I'd like that. But I'm also at the point now where I'm almost at the other end of the spectrum, that I want to make sure I'm back in top form.''
But after continued work in Fort Myers, three games apiece for Class A Salem and Class AA Portland and the nine-game stint in Pawtucket, Kalish was deemed ready to return to the big leagues.
"You always feel after those months (following surgery) it's over, but it's not over,'' he said. "You're basically just getting started. There's a lot of maintenance work I have to put in every day. I'm good with that. It's a learning process like anything else.''
Kalish, who underwent surgery for a partially torn labrum, has a couple of screws in his shoulder and several sutures. He admits there is still some discomfort.
"It's one of those things I've got to get loose,'' he said. "My shoulder is now biologically different, and my body is getting used to it. Some guys have said it might not be 100 percent till next year; that's a good thing.''
Kalish, a former high school quarterback, said he may have to modify his all-out style of play.
"I still can pick and choose my spots,'' he said. "I don't know when that's going to happen. Sliding head-first is probably not something I'm going to do. Feet-first is just as effective, so I'm not worried about that.
"I haven't dived for a ball in the outfield yet, but if the time comes I'll give it a shot. I'm confident how I feel -- I think everything is sturdier than I think and anyone else thinks.''
The most important component involved in his comeback?
"I'm trusting what I'm doing,'' he said. "That's something as baseball players, that's the biggest thing. Right now I feel no matter if I get out or not, I trust what I'm doing.''