Takeaways from stormy and dark Fenway
June, 23, 2012
6/23/12
1:43
AM ET
BOSTON -- Takeaways from Friday night, which began with a 74-minute rain delay and finished with a 4-1 loss to Atlanta that ended Boston's five-game winning streak:
•
Might be a little early for a Roger Clemens victory tour.
The newly liberated "Rocket" sat with a few pals in the front row of the Monster seats Friday night, protected by the upper echelon of Sox security. The station televising the game back to Atlanta showed him first. Then, after the third inning, his mug shot (no, not that one) was displayed on the Sox video board, with the hopeful caption "Welcome Back Roger Clemens." Or maybe not. The boos far outnumbered the cheers -- his pals gave him a standing O -- although the primary response appeared to be indifference.
•
Might be a good time to start the Farewell, Youk pool.
Bobby Valentine announced the obvious before Friday's game, that
Kevin Youkilis
was going to lose playing time to hot-swinging rookie
Will Middlebrooks
. He might soon be losing his uniform, too. One major league official suggested Friday that the White Sox were zeroing in on a Youkilis acquisition, having gone 5-11 in their past 16 games, fallen out of first place in the American League Central and been playing a converted second baseman,
Orlando Hudson
, who is just 1-for-20 in his past seven games. A number of teams have kicked the tires on Youkilis, but there have been more teams dropping out of the bidding than jumping in, put off by Youkilis' subpar performance and injury history. The White Sox, who scouted Youkilis early, might be willing to gamble that a change of scenery from a cell-like existence in Boston to The Cell could make a difference.
Youkilis, by the way, joined the media-sure-is-annoying chorus Friday during an appearance on the WAAF morning show, although that's really more of the same for the third baseman, who has never been a big fan of the scribble-and-tape set. But he also pulled no punches regarding his performance.
"To say I'm having the greatest time of my life [wouldn't be true]," Youkilis said. "I want to play every day and I want to play and I'm the first one to say my performance this year has stunk. ... I just have to keep grinding away."
[+] Enlarge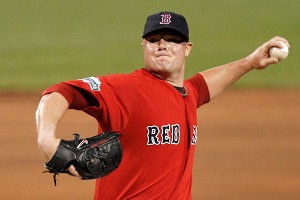 Winslow Townson/Getty ImagesJon Lester was not a happy man Friday.
•
Might be a good time to figure out why Jon Lester has so much trouble the second time through the order.
The 10 hits allowed by Lester tied a season high, although the left-hander did a good job of limiting the damage, allowing just three runs in seven innings while walking just one, which was intentional, and hitting a batter.
Lester has allowed three earned runs or fewer in 10 of his 15 starts this season, which under ordinary circumstances would lead to a better win-loss record than 4-3 (3.97 ERA). But in his past six starts, he has just a win, two losses and three no-decisions, while the club has gone 3-3 in those starts.
A closer look at his numbers reveals this disquieting trend: Opposing teams are batting .319 (37-for-116) against Lester when he faces the order a second time in a game. On Friday night, the Braves were 5-for-9 on their second pass through, scoring twice in the fourth, an inning in which Lester has allowed 15 runs in 14 starts, a 9.64 ERA. He has allowed 26 runs on second go-rounds, compared to a total of 20 on all other at-bats.
That was never a problem in the past. Until this season, opposing hitters were batting just .247 against Lester on their second plate appearances, which was roughly comparable to what they were batting on first and third appearances. Part of it could be plain bad luck, although no one likes to hear that. This season, batters are well above .350 on batting average on balls in play on second plate appearances, compared to sub-.300 before this season.
Regardless, Lester was one frustrated man after the game.
"I'm tired of the same old [expletive]," he said. "Making good pitches, and they're getting hit. I don't know what else to do. The process is there, still not getting the results. Same book, different chapter for me."
•
Might seem well past time to think about dropping Dustin Pedroia in the order, but not for Bobby V.
The Red Sox second baseman has gone 0-for-4 or 0-for-5 in five of his past eight games. Since deciding to play through a torn thumb muscle after sitting out six games, Pedroia is batting just .145 (9-for-62) in 15 games. He has gone 131 at-bats since his last home run (May 10). He has just four extra-base hits, all doubles, in his past 129 plate appearances.
Valentine said consideration has been given to dropping Pedroia out of the No. 2 spot in the order but that he doesn't expect that to happen.
"He said he's fine, that it's over, that it probably did take three weeks-plus," Valentine said. "The ball he hit to right field tonight [a lineout in the sixth] was one of the best balls he's hit to right in a long time. The pitches, they're pitching him tough, he hasn't gotten a lot of pitches that he can really drive.
"He's battling. He'll get hot. Hotter than a firecracker."
•
Might be time to accelerate the search for another starting pitcher, now that Daniel Bard is officially back in the bullpen.
Bard told reporters in Pawtucket on Friday afternoon that his switch back to relieving was permanent, and Valentine, who inherited the Bard-as-starter experiment with obvious reluctance, said after Friday night's game that he endorsed the move.
"Well, he thought long and hard and consulted with everyone, and there's a lot of opinion here he should have been in the bullpen from some of the guys, and he thinks that's where he needs to be. Get him throwing the ball the way he can out of the bullpen," he said.
Valentine passed on the chance to say he always viewed Bard as a reliever when asked whether he believed the bullpen was the place he should be. (And were you watching when Terry Francona twice said on ESPN's "Sunday Night Baseball" that Bard was the best reliever the Sox had?)
"I always believe that people should be where they think they should be," Valentine said, although he mangled the syntax a bit.