Pedro steals show at 'The Tradition'
June, 27, 2012
6/27/12
11:09
PM ET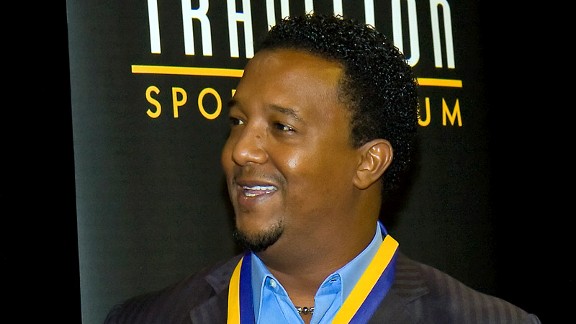 Cal Sport Media/AP Images
BOSTON -- In his decade within the confines of Yawkey Way, it was Pedro's world. Every fifth day from April to October was cause for celebration when No. 45 was set to take the hill.
But as much as the Koufaxian numbers in an unprecedented live ball era, the power numbers from an slight frame, the searing glare into the batter's box, as much as the don't-tread-on-me gumption in situations that demanded it most, it was his uniquely carefree personality that won Boston fans over.
In his return to the city he won over nearly a decade and half ago,
Pedro Martinez
was hugging and shaking, grinning and chuckling like it was 2004 all over again.
"I'm always extremely proud," Martinez told a group of reporters several hours before being honored with the Lifetime Achievement Award by the Sports Museum, in its annual ceremony "The Tradition" on Wednesday night at TD Garden. "I've said it before, it feels like home to me, and it continues to be. Not only home, it seems like a party every day I come into Boston. It continues. ... It's a parade.
"I remember the last time I was here, it was a parade from the Red Sox, every time I came by it feels the same way, because the people receive me with the same love, the same atmosphere, the same intensity, and I identify really well with that."
Mayor Tom Menino presented Martinez the award in the final segment of the two-hour-plus program before a live audience on the Garden floor, another honor further cementing Martinez's legacy in Boston.
"I am extremely proud, like everything else we do in Boston," he said. "I feel like I'm a Bostonian now, and this makes me a Bostonian forever. I could not express more gratitude towards Boston and the way they go about their teams, their players and their athletes. To reunite with all of these athletes, it's a great honor."
Asked about some of his most famous games with the Sox from 1998 to 2004, Martinez was more interested in relating it back to the fans. But he did take pride in some of his more unusual moments.
Take, for instance, his famous five-strikeout performance in the 1999 All-Star Game at Fenway, in which he nearly threw his arm out in winning the ASG MVP.
"That's OK. It was worth it. The fans in Boston could not expect anything else from us, and I was extremely proud to have Boston receive that trophy. I was extremely proud to do it for Boston."
Or his Game 5 win against Cleveland in the 1999 American League Division Series -- a win picked up in relief on short rest.
"I think the Cleveland game ranks really high," he said. "That was a moment of desperation from the team, and they really needed any help they could get it. I've never been in pain in any other game like I was that day. But it was worth it."
Martinez put up numbers that won't soon be replicated in Boston: the 117-37 record, the back-to-back Cy Youngs, the 1.78 ERA in 2000. And he had the big personality to go along with the impressive stats.
On Wednesday night, he was honored to be back in town.
Robert Parish
was the first of six inductees to be presented, and just like his Basketball Hall of Fame induction in 2003, it was Bill Walton introducing him on stage.
"My chest has stuck out a little further, now that I'm here in person," Parish joked to reporters before the ceremony. "It's a great honor, and a privilege. It's a very proud night for me."
Parish was followed by Bruins owner Jeremy Jacobs, introduced by NHL commissioner Gary Bettman. Jacobs was followed by Chris Ernst, a two-time Olympic rower who during her time at Yale University helped lead her team in the 1976 Title IX protest since glorified in the documentary "A Hero For Daisy."
Patriots safety and two-time Super Bowl champion
Rodney Harrison
was the next to be inducted, followed by former Revolution defender Alexi Lalas, introduced by Revs all-time leading scorer Taylor Twellman.