Oakland no bargain on Papi's hunt for 400
July, 3, 2012
7/03/12
10:59
AM ET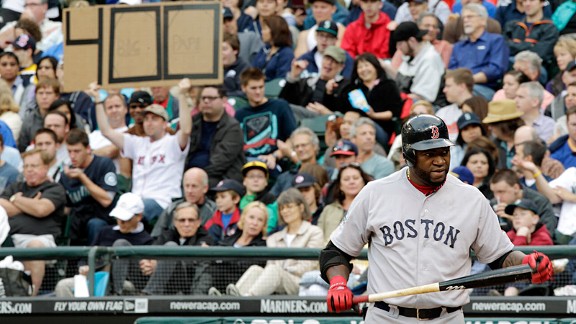 AP Photo/Ted S. WarrenDavid Ortiz failed to get to No. 400 in Seattle, but has two more games to reach the mark before the Red Sox head back east.
These things can take time. Carl Yastrzemski's 399th home run came in the ninth inning off Luis Tiant in Yankee Stadium and beat the Bombers, 3-2. That was June 30, 1979.
Yaz went 17 games and 57 at-bats, batting .190 in that stretch, before hitting No. 400 more than three weeks later, on July 24 in Fenway Park, breaking a 3-3 tie with a blast off
Mike Morgan
of Oakland.
These things can happen overnight.
Manny Ramirez
hit No. 399 in Seattle on May 14, 2005, off
Ryan Franklin
in Seattle, then homered the next day off
Gil Meche
of the Mariners for No. 400.
"Just another home run," Ramirez said in typical Mannyspeak. "That's a great moment in my life, but tomorrow it doesn't mean nothing.''
And sometimes, these things don't happen at all. Al Kaline, the Detroit Tigers' Hall of Famer, hit No. 399 in Fenway Park off Reggie Cleveland of the Red Sox on Sept. 18, 1974. Kaline had 50 more plate appearances that season, and had just one extra-base hit, a double. At age 39, Kaline retired, forever fixed at 399.
Barring an act of God,
David Ortiz
will become the 49th player in major league history to hit No. 400 in the coming days, the first since
Paul Konerko
of the White Sox joined the club on April 25 in Oakland with a home run off
Grant Balfour
.
Ortiz will become the sixth player in a Red Sox uniform to do so, the first since Ramirez. Of players currently on the Red Sox roster, no one else is close.
Adrian Gonzalez
is next at 201, and he has a shockingly low 6 home runs this season.
Ortiz's next chance comes Tuesday night in Oakland, which has not been an easy place for him to hit. He has a lifetime .223 average in The Coliseum, and just 7 home runs, the fewest he has hit in any American League city. And he will be facing fellow Dominican
Bartolo Colon
, who has given him a rougher time than any pitcher he has faced 30 or more times in his career. Ortiz is just 6 for 45 lifetime against Colon, a .133 average, and the right-hander has whiffed Ortiz 15 times; only
Roy Halladay
and
CC Sabathia
, who have 16 punchouts apiece against Ortiz, have more K's against the Sox DH.
One encouraging sign against Colon: Ortiz hit his only home run off him the last time he faced him, in Fenway Park last Aug. 5, when Colon was with the Yankees.
Ortiz hit No. 399 off
Jesse Chavez
of Toronto last Wednesday at Fenway and has 21 at-bats since then. He is 4 for 20 with one extra-base hit in the first five games of this West Coast swing; he noted after the Mariners' series that Seattle pitchers gave him little to hit and were constantly trying to make him chase pitches out of the zone. Ortiz is averaging a team-best ratio of one home run per 13.8 at-bats. Only
Jarrod Saltalamacchia
(13.9),
Cody Ross
(15.2) and
Will Middlebrooks
(17.1) are below the league average of 1 per 31 at-bats; Gonzalez has a team-worst home run ratio of 1 per 52.7 at-bats.
Ortiz, the only player on the Sox named to the All-Star team this season, will undoubtedly be targeted the rest of the way by opposing pitching staffs, although
Jacoby Ellsbury
and
Carl Crawford
could dramatically alter that equation if they return healthy and productive.