Appreciate what Drew is
October, 2, 2009
10/02/09
9:49
AM ET
By
Peter Gammons
| ESPNBoston.com
J.D. Drew will never be one of the guys wearing goggles and puffing on a cigar and spraying champagne in a celebration. He's not going to run out of the clubhouse and shove a whipped cream pie in Jonathan Papelbon's face for NESN.
That's not who he is. What is interesting about this 32-year-old man is that other than typecasting him as enigmatic, what the media seldom focuses on is what J.D. Drew is. The focus is typically on what he isn't.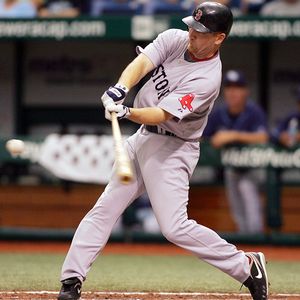 Cliff Welch/Icon SMI
J.D. Drew is fourth on the Red Sox with 22 homeruns.
He's not Mickey Mantle, as he was hyped when he declined to sign with the Phillies after being drafted No. 2 overall in 1997. He is not
Cal Ripken
, not Pete Rose. He is not a human double espresso, like
Dustin Pedroia
. "If J.D. tried to be like Dustin,"
Jed Lowrie
says, "he wouldn't be anywhere near the same player."
Drew isn't someone to slam his bat into the rack or argue with umpires. He doesn't curse or spit tobacco or invite press gatherings. "I am," he says, "a one-on-one person. I like personal relationships, I just don't care to be a public figure. That's the way I was raised. I was raised in a religious family. I was raised to be respectful; for instance, I may disagree with an umpire's call, but while I may say 'I thought that was a ball' when he says 'I saw it different,' I don't show him up because I respect what he does. It doesn't mean I don't care."
Teammates say one of Drew's expressions is "Act as if you've been here before." Hence no highs, no lows, no chase through the streets when the Red Sox clinch the wild card, no hiding in the back room when they lose.
He doesn't mind hitting eighth, which rankles some who wish he wanted to drive the bus like a George Brett or John Smoltz. "Yet you want J.D. up there with the game on the line because he is immune to pressure," says Red Sox hitting coach Dave Magadan. "He doesn't hear the noise around him."
And you know what? If the Red Sox have J.D. Drew batting eighth, they have one of the best lineups in baseball.
For the record, this is what Drew is, in cold black and white. Going into the final weekend of the season, his .898 OPS ranks second among American League outfielders behind Jason Bay's .927. Ryan Braun (.930), Adam Dunn (.926), Justin Upton (.910), Raul Ibanez (.905), Matt Holliday (.904), Brad Hawpe (.898), Shin-Soo Choo (.881), and Jayson Werth (.880) round out the top ten in the major leagues. Dunn is playing first base now, and of the ten, only Upton, Drew, Hawpe, Choo and Werth can play right field, or would be considered above-average defenders.
Over the past two seasons, among outfielders with at least 990 plate appearances, Drew's .911 OPS ranks third behind Manny Ramirez (1.006) and Holliday (.928). In his 2007-09 tenure in Boston, Drew, with an .870 OPS, ranks tenth among major league outfielders with at least 1,500 plate appearances. He's third in the American League in that time behind Magglio Ordonez and Vladimir Guerrero. Of the other nine outfielders, only Carlos Beltran would be considered a better defender. In case you're wondering, only 43 outfielders have had 1,500 plate appearances over those three seasons.
Drew, who sat out Thursday night and may not play Friday with a sore shoulder, has had his moments in Boston. When David Ortiz hurt his wrist in 2008, Drew was the American League player of the month in June, when he batted .337 with 12 homers and a 1.310 OPS. His grand slam in the first inning of Game 6 was the single biggest hit of the 2007 ALCS against Cleveland. He batted .360 with a .905 OPS in that Cleveland series and batted .333 with an .878 OPS in the Boston's World Series sweep of the Colorado Rockies.
Yet he seems more often defined by the five-year, $70 million contract Boston gave him before the 2007 season. His career has been framed by being the Scott Boras client who turned down the Phillies, went to the Northern League and ended up in St. Louis. "I think that's right, I've never been able to live that down," Drew says. He will always be "J.D. Boo" in Philly, where Curt Schilling publically chastised him without knowing him, and a symbol of what the public thinks they don't like about Boras and the notion that players won't play for nothing (any more than owners will pay for nothing).
"I don't listen to what people may or may not say about me," Drew says. "I don't read the papers looking for what is written about me. That isn't productive. I don't choose to judge others. I play baseball. I play hard. I care about winning. I really enjoy my teammates, and the relationships, and I care about what happens to them. But all that is private. It is between me and my teammates."
The one aspect of his past that still rankles Drew is the criticism he took from Tony La Russa in the book "Three Nights in August" by Buzz Bissinger. Bissinger wrote that La Russa "wondered whether Drew's underlying ailment, like it was for so many young players coming into sudden millions, was an absence of sustained passion that had no medical remedy."
"I was told by the doctor that my knee was far worse than [Mark] McGwire's," Drew says. "That I risked my career playing. I had a compete tear of my ligament. But hey, that's the past. I want to be healthy and try to help the Red Sox win another World Series."
If that is going to happen, Josh Beckett, Jon Lester, Clay Buchholz and Papelbon have to have extraordinary postseasons. And somewhere down the line, against the Angels or the Yankees or whatever National League team makes it, Drew will have to play a pivotal role, with his production making the bottom third of the order an advantage for the Red Sox, or with his defense, or his instinctive baserunning.
He always plays as if this is no big deal, because he's been here before. And he has. Because of that, he plays in October the same way he plays in May, oblivious to the externals that make for the pressure of the postseason. He hit .325 in the ALCS and World Series in 2007, and he can do it again.
That is who he is.