Francona on Ortiz: Patience is key
April, 7, 2010
4/07/10
6:17
PM ET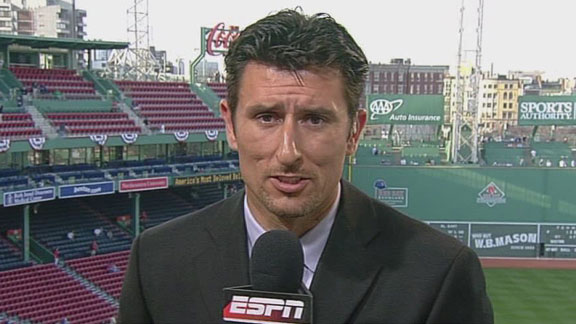 Red Sox manager Terry Francona said he found out that slugger
David Ortiz
was upset the night before because he heard it being discussed on the clubhouse TV Wednesday afternoon.
"Did he curse?'' asked Francona, feigning innocence.
The manager held steady on his conviction that two games into the season was no time to be making changes in the Sox lineup, especially one as drastic as platooning the besieged Ortiz against left-handers.
The lineup card posted in the clubhouse was the same as the one for the first two games of the series. Against Yankees' left-hander
Andy Pettitte
, Ortiz was batting fifth and serving as DH.
Mike Lowell
, a potential right-handed alternative to Ortiz, remained on the bench.
"The thing I've learned here that is hard is you've gotta be patient,'' Francona said, "and when you don't want to be patient you need to or you can really screw up some things.
"Tonight would have been a really good night to play Lowell. It would have been a bad night not to play David, and since they won't give us two DHs, we kind of have to make a decision.''
Lowell would have been a good choice because he has yet to play this season and has good numbers against Pettitte (.345, 10 for 29 lifetime).
So why play Ortiz? Was it because he also has good numbers against Pettitte (.367, 18 for 49), or because Francona didn't want to send the wrong message to Ortiz?
"Both,'' Francona said. "He's had a lot of success against Andy, and again, we're nine hours into the season. It's early. Again, the one thing that we really try hard, we want to have an atmosphere where guys want to do the right thing. We always talk about that. And we want them to walk up there and feel confident. I don't want David looking over his shoulder a game and a half into the season.''
Asked if he felt he needed to convey that message to Ortiz directly, Francona said: "That's why he's playing today. I think he knows that being reactionary in my job, especially here, I think that has a chance to set things off in a bad chain reaction, as opposed to helping.''
Francona brought up the fact he was asked why he didn't use Lowell to hit for Ortiz against left-handed reliever
Damaso Marte
in the eighth inning Tuesday.
"We got a runner on second, nobody out, dead-pull hitter, that's what we're looking for,'' he said. "Just didn't work.''
No one challenged Francona on his explanation, but in truth,
Kevin Youkilis
was on first base when Ortiz came up in the eighth, and advanced to second only after Marte threw wildly on a lob to first.
Following Tuesday's game, Ortiz reacted with an expletive-filled response when someone suggested to him that his seven hitless at-bats in the season's first two games would probably prompt discussion of his slow start last season.
"Good," he said, turning to face reporters. "You guys wait till [expletive] happens, then you can talk [expletive]. Two [expletive] games, and already you [expletives] are going crazy.
"What's up with that, man? [Expletive]. [Expletive] 160 games left. That's a [expletive]. One of you [expletives] got to go ahead and hit for me."
Ortiz did not hit a home run until May 20 last season, and was hitting just .196 as late as June 10, 59 games into the season.
Reflecting on Ortiz's mini-rant, Francona said: "I think not being that good a player, I don't know if I understand that side of it. He's done a lot of good things here and I think he felt some people bailed on him last year. I hope he remembers the other side, too, that we do go through this together.
"Sometimes guys get touchy after a game. That's why I normally don't pay much attention to it. The quotes that guys give after a game aren't something I hang my hat on.''
Asked if there was anything he had learned during Ortiz's prolonged slump last season that would help him now, Francona said: "Every day I think you have to continue to earn your stripes in this game. It doesn't matter who you are. I'm talking about as a manager, not just players. I mean, it doesn't get easier. You build relationships, know people, care about people, but every time you're going through what you're going through, it's more important because it's now. I don't think that will ever change.''
While it's not hard to reach a consensus that two games is too small a sample size to make any lasting judgments, Ortiz has been struggling against left-handers for the last two years, batting just .212 with a .718 OPS against lefties (11 home runs in 273 at-bats) compared with .262 and a .867 OPS against righties (40 HRs in 691 at-bats).
Asked if there was a point at which he would be forced to address the issue if Ortiz continued to struggle against lefties, Francona said: "Why would I come out and say, 'Well, I'm going to put a date on this.' That's not me doing a very good job if I fell into that.
"The other thing to kind of remember is, I know the numbers. Using David, he drove in 99 runs last year. If you didn't play him against certain lefties, he wouldn't have had those numbers against righties. Facing left-handers, guys at times have to do that. It keeps left-handers on the ball. You can get in some awfully bad habits playing just against right-handers. It's a little deeper than just what people are looking at.''