Germano makes strong case for rotation
July, 7, 2012
7/07/12
6:31
PM ET
BOSTON -- When
Justin Germano
was leaving McCoy Stadium in Pawtucket, R.I., last Monday night, he had no idea when he would pitch again, or for which organization.
The 29-year-old right-hander signed with the
Boston Red Sox
as a minor league free agent last winter and had a July 1 opt-out clause, which he could exercise if he was not part of the club's 25-man roster by that date.
[+] Enlarge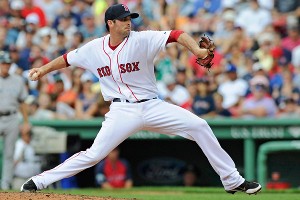 Bob DeChiara/US PresswireJustin Germano made a compelling case to be considered for the starting rotation with 5 2/3 scoreless innings against the Yankees.
He was sweating it on July 1, but thanks to a 48-hour grace period, he was still available when the Red Sox needed to call him up on July 3.
"It's been busy not really knowing what was going on and they've got tons of pitchers here, so I knew it would be tough for them to make room for me and I honestly didn't think they were going to," said Germano, who made 16 starts and posted a 9-4 record with a 2.40 ERA for Triple-A Pawtucket. "I'm glad they did because it's a great organization to be a part of and I'm glad I was able to come up here and show them what I could do."
He showed the Red Sox probably much more than they expected, and he just might have earned a spot in the starting rotation for the second half of the season.
After Red Sox starter
Franklin Morales
lasted only 3 1/3 innings during Saturday's 6-1 loss to the
New York Yankees
at Fenway Park, Germano entered in the fourth and finished the game, working 5 2/3 scoreless innings. He allowed only five hits and struck out seven in his Red Sox debut.
"[Yankees batters] were coming to the plate, saying, 'This guy's nasty.' He did a great job," said Red Sox catcher
Kelly Shoppach
. "He was able to drop that curveball in really in any count. He has a nice little sinker and just enough stuff to keep them off balance to get some ground balls."
Since the teams had a doubleheader Saturday, Germano knew he had to go as far as he could.
"I was just trying to go out there and eat as many innings as I can," he said. "I'm glad I was able to finish it and save the bullpen."
When he entered the game, the Red Sox were trailing 6-0, so Germano wanted to keep the damage to a minimum. His ability to accomplish that against the Yankees' lineup was impressive, the lone bright spot for Boston in the game.
"You've got to attack the zone and throw quality strikes because they're a great hitting team and you've got to try to keep them off balance and mix it up the best you can," he said.
"He was good, very good," said Red Sox pitching coach Bob McClure. "He really commanded all three of his pitches. He was good. It was a good job."
This isn't Germano's first rodeo in the big leagues. He has 79 career appearances (36 starts) in six major league seasons with San Diego (2004, 2007-08), Cincinnati (2006) and Cleveland (2010-11), so it was that experience which helped him stay poised against the Yankees on Saturday afternoon.
"I've been here before so the intimidation factor is gone and you know it's the same game no matter who's in the box," Germano said. "You just need to make those quality pitches."
Even before Boston recalled him, Red Sox manager Bobby Valentine kept getting positive reports from PawSox manager Arnie Beyeler about Germano's success.
"He did exactly what he was doing at Triple-A," Valentine said. "I'm glad that it translated here. They said that he was able to use all of his pitches, throw strikes, get outs and give you a chance to win. In today's game, he was very valuable, in that he was the second pitcher and the last pitcher. At least we go into tonight's game relatively rested in the bullpen."
During the first half of the season with the PawSox, Germano knew the chances of playing in Boston this season would likely depend on a few factors, including the health of the pitching staff. He pitched consistently in Pawtucket, and with Saturday's performance, he could be sticking around a little longer.
"I was trying to stay consistent this year and I was able to do that in Pawtucket for the first half," he said. "The second half is coming up and that's the most important half, so hopefully I can keep that up."
It was only a few days ago when he had no idea where, when or for whom he would be pitching again. The decision for the Red Sox and for Germano came down to the wire.
"It pretty much did," Germano said. "It was their last day and they let me know late that morning. I was expecting maybe a trade call or I would be granted my release, so I'm glad it worked out."
On Saturday, he completely shut down the AL East-leading Yankees. There just might be more opportunities to follow.