Say hello to 'Pedro, Pedro, Pedro' 2.0
July, 8, 2012
7/08/12
1:32
AM ET
BOSTON -- Chants of "Pedro, Pedro, Pedro" could be heard all over Fenway Park on Saturday night from the 37,791 in attendance.
No, former
Boston Red Sox
pitcher
Pedro Martinez
did not make one of his colorful, always entertaining appearances at the ballpark before, during or after the Sox's 9-5 win over the
New York Yankees
in the nightcap of a doubleheader. This time it was
Pedro Ciriaco
, a 26-year-old career minor leaguer, who before Saturday night had played only 31 major league games for the
Pittsburgh Pirates
between 2010 and 2011.
[+] Enlarge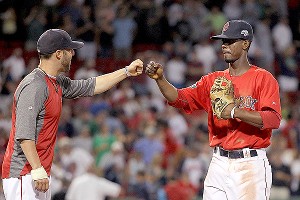 Jim Rogash/Getty ImagesInjured second baseman Dustin Pedroia congratulates the man who was called up to replace him, Pedro Ciriaco.
The Red Sox signed him as a minor league free agent during the winter, and he's played all season for Triple-A Pawtucket before he was promoted to Boston after Red Sox second baseman
Dustin Pedroia
went on the disabled list Thursday with a thumb injury.
Ciriaco started at shortstop Saturday night and went 4-for-5 with two doubles and four RBIs, sparking the Red Sox as they ended their five-game losing skid.
"It's a great feeling. We got the win tonight and that's what it's about -- winning games and having fun," Ciriaco said.
In Pedro Martinez's tenure in Boston, the right-hander delivered many masterful performances and plenty of classic quotes. One of the best came during a Sox-Yankees series in 2001 when he was asked about the Curse of the Bambino.
"Wake up the damn Bambino and have me face him," Martinez said at the time. "Maybe I'll drill him in the ass."
Pedro Ciriaco is a bit more soft-spoken than that, but there's no doubt his offense, defense and speed slapped the Yankees on the backside as Boston avoided a possible sweep with this victory.
He did say a stadium full of fans have never chanted his name. Even though those "Pedro" chants roll off the tongue pretty easily around these parts, it certainly sounded good to Ciriaco and the Red Sox.
"I don't think I'm at that level," he said with a big smile and laugh when asked about Martinez. "But this is really fun for me, and for everyone to say my name is amazing."
Earlier in the day during the matinee he went 0-for-4 and started at second base as Boston fell 6-1 to New York.
In the second game, Ciriaco wasted no time making his presence felt.
"They gave me a second chance and I took advantage of it," Ciriaco said. "I was seeing the ball pretty good tonight. I was trying to keep my approach towards the middle and not do too much. I tried to see the ball and hit the ball."
After the Yankees gained a 3-0 lead thanks to a three-run homer by
Mark Teixeira
in the top of the first, Ciriaco made three consecutive solid defensive plays to assist on all three outs in that inning.
In his first at-bat, he dropped down a perfectly executed bunt for a base hit that also advanced teammate
Mauro Gomez
to third after the Sox third baseman led off the third inning with a double.
Ciriaco added a single and a run scored in the fifth inning before providing his biggest contribution of the night, a three-run double in the bottom of the sixth inning off Yankees starter
Phil Hughes
.
"In that situation I've just got to be aggressive and look for my pitch and don't try to do too much," he said.
He added more electricity in the bottom of the seventh inning as the "Pedro" chants grew louder. He provided an RBI double, stole third and quickly scored on a throwing error by Yankees catcher
Russell Martin
.
"It's part of my game and I've got to take advantage," he said of his lightning-fast speed. "They really didn't hold me on the base and the pitcher was slow to the plate, so I took advantage of that."
Defensively, he was outstanding, too. He had a total of eight assists and wowed his teammates and fans with his defense.
"I think I'm here for my glove, so when you play defense, defense wins ballgames," Ciriaco said. "I'm just trying to be solid and consistent with my defense."
Red Sox starter
Felix Doubront
concurred.
"Oh my gosh, he was good. He was amazing," Doubront said. "He did good tonight. It was a great effort."
During spring training, it was evident that Red Sox manager Bobby Valentine was impressed with Ciriaco's ability and work ethic. The problem, however, was that there was no room on the 25-man roster for him, so he was sent to Pawtucket.
"I think he's a nice player," Valentine said. "He played so well for us in spring training, doing for us what he did tonight, being able to steal a base, bunt for a base hit, swings the bat, play exciting defense -- he did all those things tonight. I don't know if he can do it every day on the major league level but it's nice, a breath of fresh air."
Ciriaco hit .301 with 13 doubles, 2 triples, 4 homers, 21 RBIs, 41 runs, 6 walks and 14 stolen bases in 64 games with the PawSox at the time of his call-up.
"I love playing with him," said Red Sox left fielder
Daniel Nava
, who also started the season in Pawtucket. "When we were in the minors we had a lot of fun. He gets things done. He understands the situation in games, like dropping bunts down as he did tonight, and with his speed he can make a lot of things happen. He's a fun guy to play with and a fun guy in general. Hopefully he can stay up here longer. He did a great job tonight."
Ciriaco and fellow recent call-up Mauro Gomez combined to go 7-for-9 with four doubles, five RBIs and four runs scored in Saturday's win.
"Sometimes you need a spark, and he and Mauro are fearless and not afraid of anything," Nava said.
Red Sox veteran infielder
Nick Punto
put it best.
"It was awesome," Punto said. "It was fun. [Ciriaco] was definitely electric tonight. It was fun to watch him run around and he came up with some big hits. It was fun."
Maybe the next time the Red Sox play at Yankee Stadium, he'll hear some "Who's your daddy?" chants.
Well, maybe not, but it was fun to hear those "Pedro" chants once again at Fenway Park for Ciriaco because he deserved to hear it.