For All-Star Ortiz, one is loneliest number
July, 9, 2012
7/09/12
6:45
PM ET
By
Austin Meek, Special to ESPNBoston.com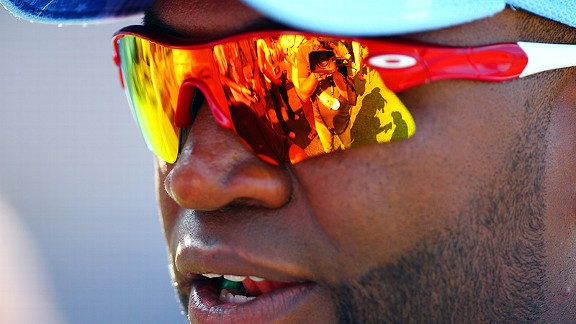 Dilip Vishwanat/Getty ImagesDavid Ortiz is a seven-time All-Star, but this is the first season he's the only Red Sox player at the event.
KANSAS CITY, Mo. --
David Ortiz
was announced to the All-Star masses in the same way a grocery store might announce a two-for-one special on paper towels in aisle six.
"Attention media: David Ortiz is available at his station in the back," came a voice from the intercom. "David Ortiz is now available."
The Red Sox slugger was fashionably late for his All-Star arrival, but fashionable nonetheless, sporting a sharp blue blazer and dark sunglasses. He arrived in Kansas City on Monday morning via private jet after Boston's 7-3 loss to the Yankees on Sunday night.
"I don't remember playing a night game before I came to the All-Star game," Ortiz said.
Flying solo to the All-Star game was a new experience, too. Ortiz has been named to the All-Star game seven times during his time in Boston, but until this year, he'd always had company, whether it was
Manny Ramirez
,
Curt Schilling
,
Dustin Pedroia
or
Josh Beckett
.
Ortiz was Boston's only All-Star this season, a reflection of a perfectly average first half -- Boston is 43-43 at the break -- and a rash of injuries. In total, the Red Sox have sent 20 players to the disabled list (23 stints) at some point this season and have used 44 players to date, just five shy of their total for the entire 2011 season.
"It's a little crazy," Ortiz said Monday. "Not being able to see some of my teammates here like usual is a little strange. But at the same time, we have a lot of them on the DL. That's the main reason, I guess."
Ortiz has been one constant in Boston's beleaguered lineup. The 36-year-old slugger hit .312 with 22 home runs and 57 RBIs in the first half, and he did so without consistent protection from the rest of Boston's batting order. That lack of productive hitters around him was never so evident than in the last series of the first half, when he was walked six times -- including three times in one game -- in the four-game series against the Yankees.
"How it is right now in the American League and in baseball in general, if you don't have somebody hitting behind you, they won't mind to pitch around you and take care of the rest," Ortiz said.
The depleted lineup has put more pressure on Ortiz to produce, and he acknowledged as much Monday. Despite that added burden, Ortiz wasn't surprised by his first-half output.
"I've been doing that for years," he said. "I mean, something you've been doing for years, why should you be surprised?"
Protection won't be an issue for Ortiz in the All-Star lineup. As the designated hitter for the AL squad, he was slated seventh in the lineup announced Monday by manager Ron Washington.
"I'm hitting seventh?" he said. "Not bad. I should be hitting leadoff. I'd be walking a lot."
The All-Star break comes at a good time for the Red Sox, who have lost eight of their last 11 games to fall into a last-place tie with Toronto in the A.L. East, 9 ½ games behind the first-place Yankees.
If nothing else, Boston could benefit from a few extra days to heal. Injuries were the root of Boston's first-half struggles, Ortiz said, and he expressed confidence that the Red Sox can become a playoff team once some of their core pieces return from the disabled list.
"We haven't been able to work up a groove," he said. "A lot of injuries. There's not too much detail that you can give. I don't know if you remember that at one point we had four different outfielders on the DL. Everybody's been on the DL. I've never seen anything like that."
The Sox have put eight outfielders on the disabled list this season and have used a major league high 14 players at the three outfield positions.
It's not a given that the injury woes will subside in the second half, but the Red Sox hope to get a boost from the return of center fielder
Jacoby Ellsbury
and pitcher
Clay Buchholz
when they resume play against Tampa Bay.
The Red Sox still have a place in the AL East race, Ortiz said, even if they arrive fashionably late.
"You know it's the last ride, the last part of the season," Ortiz said. "Hopefully that's our case and we start playing better."