Takeaways from the Trop
July, 15, 2012
7/15/12
1:58
AM ET
[+] Enlarge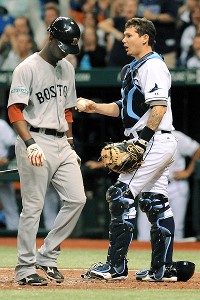 Al Messerschmidt/Getty ImagesPedro Ciriaco looked positively mortal Saturday against the Rays, particularly after fouling out to Jose Lobaton on a failed bunt.
ST. PETERSBURG, Fla. -- A few takeaways from Boston's 5-3 loss to the
Tampa Bay Rays
on Saturday night:
The strategy questions
1.
Why did Sox manager Bobby Valentine elect to have an intentional walk issued to
Hideki Matsui
by reliever
Matt Albers
in the seventh inning with runners on second and third, one out, and the Sox clinging to a 3-2 lead? Especially since Matsui was batting just .175 and is nearing the end of an illustrious career.
"He's a pro," Valentine said. "Figure take on the young guy and get a ground ball to get out of the inning, instead of going after a guy who has made his living driving in a lot of runs."
That decision backfired when Albers -- a sinkerballer who has induced seven ground-ball double plays, second-most in the American League -- walked the next batter, pinch hitter
Jose Lobaton
, forcing in the tying run.
2.
Why didn't Valentine bring in left-hander
Andrew Miller
to face the next Rays batter, Elliott Johnson, who was batting just .169 against lefties?
Valentine was well aware of Johnson's lefty-right split and said he thought about it.
"I didn't want to bring in Andrew with the bases loaded," he said.
Miller has done a good job of harnessing the control problems that made him ineffective in the past, but he has been summoned into a bases-loaded situation just once this season, May 11 against Cleveland, giving up a run-scoring single sandwiched around a couple of outs.
Facing Albers, Johnson delivered a sacrifice fly, giving the Rays a 4-3 lead. Only then did Miller enter, striking out left-handed-hitting
Carlos Pena
to end the inning, but then giving up a home run to right-handed-hitting
B.J. Upton
in the eighth, the first homer he has allowed to a righty this season.
3.
Why was
Pedro Ciriaco
trying to lay down a sacrifice after
Jacoby Ellsbury
's leadoff double in the eighth, with the Sox down a run on the road?
He wasn't. Valentine said Ciriaco was trying to bunt for a hit, and that third-base coach Jerry Royster made sure he knew the sacrifice wasn't on. Ciriaco, who had collected three hits in each of his previous three games but had whiffed twice and flied out into a double play against Tampa Bay lefty
David Price
, is a good bunter.
"I was on my own," he said, "so I was just trying to get something going or to get a base hit."
[+] Enlarge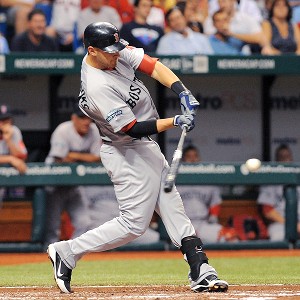 Al Messerschmidt/Getty ImagesWill Middlebrooks connects on a two-run homer off David Price, giving the Sox a 2-1 lead in the fourth.
4.
Why didn't
Ryan Sweeney
hit for
Brent Lillibridge
in the ninth, an inning
Mike Aviles
opened with a single?
Jarrod Saltalamacchia
pinch-hit for
Kelly Shoppach
and whiffed, but the right-handed Lillibridge was allowed to bat. He, too, struck out.
Reason: Sweeney had tweaked a left hamstring the day before, something the Sox chose not to reveal before the game. Sweeney said it wasn't serious.
"I was ready [to hit]," he said.
Valentine elected not to push it, just as he didn't push it with
Adrian Gonzalez
, who is in the running for one of the season's weirdest injuries -- back spasms that came on, he said, when he bent over to greet a child in a stroller at the mall where the team's hotel was located.
Sweeney thinks he may have hurt his hammy because he's running a different way since an inflamed big toe on his left foot put him on the DL.
"I felt it the whole game [Friday]," he said. "Several times it seized up on me. Hopefully it will be better tomorrow."
OK, the nonstrategic takeaways:
5.
A word about Aviles' error, with
Jeff Keppinger
on third and the Sox infield drawn in with one out in the fifth.
"That's a play I make every time," said Aviles, who has played a steady short but the night before was charged with a throwing error that led to a run. "I should have taken my time. I knew I had a chance at home. It wasn't a hard-hit ball. I had a little bit of time. I pretty much blew it."
6.
A big swing from
Will Middlebrooks
: The rookie third baseman, who went 0-for-4 Friday night in his first game back after missing the last six before the All-Star break with a tight hamstring, hit an 0-and-2 fastball from Price for his 11th home run of the season. Of the players currently on the Sox roster, only Jacoby Ellsbury had taken Price deep in the previous 108 at-bats against him.
7.
Daniel Nava
hits the skids: The season's most unlikely success story has taken a turn for the worse. Since doubling and singling against the Braves on June 24, raising his average to .339, his on-base percentage to .452 and his OPS to .969, the Sox outfielder is batting .117 (7-for-60) in his last 16 games. His overall average has dropped to .264, his OBP to .386, his OPS to .789. And Nava is acutely aware that
Carl Crawford
has pronounced himself ready to return Monday, which could signal a return to the minors for a player whose performance helped keep the team afloat.