Great Sox debuts
April, 21, 2010
4/21/10
5:15
PM ET
BOSTON -- In the aftermath of Darnell McDonald's spectacular Red Sox debut, I asked Red Sox historian Bill Nowlin for his thoughts on top debuts by Sox players. Conveniently, he had compiled such a list in his book "Red Sox Threads."
Here are some of his top picks; the rankings are mine.
1. April 4, 2001: Pitching in his Red Sox debut,
Hideo Nomo
threw a no-hitter. It came in Baltimore on the second day of the season. Nomo walked three and there was one Red Sox error, but those were the only Orioles base-runners.
2. April 20, 2010: The Red Sox had lost five in a row and their 1-6 start at Fenway was their worst since 1932. Activated a little more than an hour before the game when
Jacoby Ellsbury
went on the DL,
Darnell McDonald
pinch-hit a two-run homer in the bottom of the eighth inning to tie the game, 6-6. In his second at-bat, with the bases loaded and two outs in the bottom of the ninth, he became an instant Fenway fan favorite by singling off the wall to win the game, 7-6.
[+] Enlarge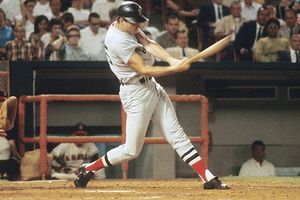 Focus on Sport/Getty ImagesOn April 17, 1964, Tony Conigliaro made his home debut with the Red Sox, driving the first pitch he saw, a fastball from Chicago's Joel Horlen, out of Fenway Park.
3. April 17, 1964: It was a Fenway fundraiser for the new John F. Kennedy Memorial Library, and also the home debut for 19-year-old
Tony Conigliaro
of nearby Swampscott. He pounced on the very first pitch he saw, a fastball from Chicago's Joel Horlen, and drove it over the Wall, over the screen, and out of the park. Manager Johnny Pesky was pleased, and so was 91-year-old John Dooley, witnessing his 71st Opening Day at a Boston baseball game, a record pre-dating the Red Sox back into the 19th century. Jack Lamabe pitched his first complete game, his third major league start, a 4-1 win.
4. April 14, 1967: In his major league debut, rookie
Billy Rohr
took a no-hitter against the Yankees in New York into the ninth inning. With two outs, Yankees catcher Elston Howard singled to right-center field to spoil the no-no, but Rohr finished with a 1-hit, 3-0 shutout to beat Whitey Ford.
5. June 15, 1947:
Jake Jones,
in his first game with his new team (the Red Sox), beat up on his old team (the White Sox). His first appearance for Boston came in a doubleheader. Jones homered in the first game, a solo shot that helped Boston beat Chicago, 7-3. In the second game, he came up with two outs and the bases loaded in the bottom of the ninth, the game a 4-4 tie. Bam! Slam! Thank you, Jake.
6. April 22, 1946: Local boy makes good. Boston native and BC product
Eddie Pellagrini
made his major league debut in the fifth inning after Johnny Pesky was beaned by a Sid Hudson fastball. Pelly came up in Pesky's slot in the lineup in the seventh inning and hit a game-winning home run over the left-field wall in his first at-bat. The Red Sox beat Washington, 5-4. Pellagrini recalled that Ted Williams congratulated him, but warned, "Eddie, that's the worst thing you could have done because now they're going to pitch you like they pitch me!"
7. Sept. 18, 1977: In a 10-4 win over the Orioles in Baltimore, 22-year-old DH
Ted Cox
went 4-for-4 and was in the on-deck circle when Rick Burleson grounded out to end the game. The next day, at Fenway, he singled off New York's Ed Figueroa his first time up. He was second up in the third and singled again -- six hits in his first six major league at-bats.
8. April 29, 1945: In his major league debut, Mississippi 's
Boo Ferriss
of the Red Sox survived a horrific first inning. Every one of his first 10 pitches missed the strike zone. In all, he threw 17 first-inning balls and loaded the bases, but escaped without surrendering a run, and then proceeded to whitewash the A's with a 2-0 shutout. He was no slouch at the plate, either, hitting 3-for-3. Ferriss threw a shutout his second game, too, against the Yankees, and got almost halfway into his third, against the Tigers, before giving up his first run. He started his career throwing 22 consecutive scoreless innings. He won his first eight decisions in the majors, beating every opponent in the league the first time he faced them.
9. April 13, 1963: It's
Dave Morehead's
debut and he shut down the Senators, 3--0. The last time any Red Sox rookie had debuted with a shutout was Ferriss back in 1945.
10. June 28, 2003:
Gabe Kapler
had an impressive debut for the Red Sox. Fresh in from the
Colorado Rockies
, Kapler went 4-for-5 with three RBIs. The next day, June 29, he was 3-for-4 with two homers off
Brad Penny
and a total of four more RBIs. Add it up: 7-for-9 and seven RBIs in his first two games.