Sox, Yankees look to October
September, 24, 2009
9/24/09
4:20
PM ET
By
Peter Gammons
| ESPNBoston.com
This series was circled back in January, when the idea of a Red Sox-Yankees series at Yankee Stadium on the second-to-last weekend of the season seemed like such a good idea. Now it is a celebrity-free weekend that will be like the second round of a heavyweight fight, two contenders feeling each another out, circling, preparing for a climax that is rounds away. A lot of empty $2,500 seats will remind New Yorkers that there are no more must-see events in the South Bronx until after Columbus Day.
Not that a Red Sox-Yankees American League Championship Series is inevitable; it is not. The AL Division Series will be like the World Series to the Angels, whose bats can return to life, whose legs can trouble Boston and whose rotation of John Lackey, Scott Kazmir, Jered Weaver and Joe Saunders can beat anyone in a five-game series.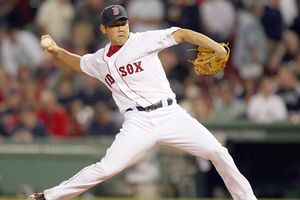 Elsa/Getty Images
Can a rejuvenated Daisuke Matsuzaka be counted on in October? The Red Sox want to see what he can do against the Yankees this weekend.
The Yankees know that Justin Verlander can rediscover his curveball like Edwin Jackson rediscovered his slider this week and that as much as the Tigers have struggled on offense, Detroit can win three out of five with its two best pitchers.
But all of that is almost two weeks away. Friday matters, because the Yankees have to get Joba Chamberlain straightened out in his final two six-inning outings before the playoffs. If the Yankees play in the ALCS and World Series, Chamberlain likely will make two Game 4 starts, as long as Andy Pettitte's shoulder remains healthy. Chamberlain can be an important weapon if he can put his 10 post-July starts behind him -- 10 starts that totaled one win, four losses, 36 innings, 33 earned runs, 21 walks, 27 strikeouts.
Saturday is important because the Red Sox hope Daisuke Matsuzaka is building for October. His first start back from the disabled list against the Angels was very good; his second one against the Orioles wasn't as good. But the swings and misses he's getting on fastballs in the strike zone are the best he's had in two years. Like Chamberlain, Matsuzaka has one more start after Saturday to prepare for the postseason. Like Chamberlain, if Boston advances, Matsuzaka might make two Game 4 starts. The Red Sox will need him.
The Red Sox can feed off Josh Beckett's Wednesday start, in which he commanded his breaking ball and averaged less than 3½ pitches per batter. The Yankees can feed off A.J. Burnett's Wednesday start, in which the 30 percent swing-and-miss rate on his fastball was the highest it's been all season.
But Terry Francona says nothing will be that different from here to the playoffs. "We really want to keep things the way they are, and keep going the way we have all season," says Francona, whose two World Series rings are a testament to his October preparation. "I'll give some days off. I'll rest Mike Lowell a day or two to keep him fresh. I'll give Youk [Kevin Youkilis] Friday off in New York." Francona has already had Victor Martinez catch Josh Beckett to see if the two can mesh and might do the same with Jon Lester. The two aces are used to Jason Varitek, but his .129 average the past two months (11-for-85) is a problem.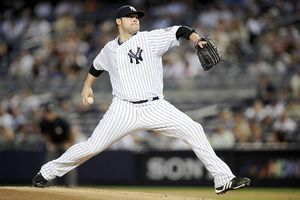 Jeff Zelevansky/Getty Images
The Yankees are giving Joba Chamberlain a chance to get back on track before October.
Beckett, Lester and Clay Buchholz will work toward their ALDS starts. Tim Wakefield will get another start. Paul Byrd goes Sunday in New York. Francona wants to get the bullpen lined up in front of Jonathan Papelbon, with Hideki Okajima, Billy Wagner, Daniel Bard, Takashi Saito and Ramon Ramirez settled in their roles and rested. The week will hopefully provide time for Manny Delcarmen to get back to where he was the first two months of the season.
"We haven't overloaded the bullpen all season, and we certainly won't these last 10 days," Francona says. The Red Sox want to get Bard's breaking ball and command sharper. They want Okajima in sync, as everyone from the dugout to the front office expects he'll be an important part of October. "Okajima," says one Sox executive, "is the most underrated reliever in the game. He's one of the 20 best relievers in the majors for the last three years."
Setting up their middle relief is extremely important, because the Red Sox believe they can win there. The Angels have bullpen issues. If Boston gets past them, the Yankees lineup is going to make for at least two close games that could be decided by whether Jonathan Papelbon or Mariano Rivera is the last man standing.
Papelbon has had his runaway-truck-lane moments this season, but he is, as they say, an adrenaline pitcher. The Red Sox remember his loading the bases and striking out the side in a crucial game against Tampa in May. They know he lives for the pressure of October. Papelbon, like Rivera, is fearless.
So this weekend involves little of interest. Even true and good Yankees fans like Spike Lee and Billy Crystal probably won't come out now. Ben Affleck can spend the weekend in Boston working on his new movie. Mika Brzezinski, Joe Scarborough, Mike Barnicle and Willie Geist can worry about the G-20 until health care, the economy and Paul Kirk step aside for the ALCS.
All that matters is how the Yankees get to Rivera, the Red Sox to Papelbon, the Angels to Brian Fuentes. Hey, Albert Pujols and Joe Mauer ended the MVP races weeks ago, so with the Red Sox playing before the Yankee Stadium Ghosts of Wall Street Past, the only races remaining are the Twins and the Tigers, and which Cardinals pitcher wins the National League Cy Young.
So put the Aaron Boone and Bloody Sock videos back in the library and wait to see how Brian Bruney, Jed Lowrie and Chris Woodward play this weekend.