Lackey satisfied after solid first outing
February, 23, 2013
2/23/13
4:46
PM ET
FORT MYERS, Fla. -- How concerned was Red Sox pitcher
John Lackey
with how hard he was throwing Saturday?
"On the first game after Tommy John [surgery], after a year and a half?" Lackey said. "I was just trying to hit the glove in the air."
On that score, Lackey's first outing after nearly 16 months away because of reconstructive elbow surgery was a resounding success. Best of all, he threw 20 pitches, and nothing hurt.
[+] Enlarge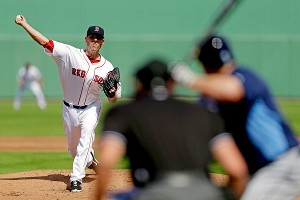 AP Photo/David GoldmanJohn Lackey saw game action Saturday for the first time since Sept. 25, 2011.
It might have also been telling that Lackey responded to the question with a smile rather than a snarl. The man who has felt besieged for much of his time in Boston eschewed the defensive stance he has often taken and elected to try some pointed humor instead.
Perhaps, after a year in which he was unable to pitch, and removed even longer from the disintegration of 2011 both professionally and personally, Lackey recognizes that it's best to turn the page. Few people are still judging him harshly against the five-year, $82.5-million contract he signed with the Sox after the 2009 season. Those judgments have already been rendered, and Lackey has come up short, although some of those verdicts have been tempered by the knowledge he was pitching with a torn ligament in his elbow.
Now it's more a question of whether Lackey can exceed the expectations lessened by major surgery and help the club going forward. The early signs are promising, given the way he attacked his rehabilitation, reported in superb condition and is pitching pain-free.
"I was excited," Lackey said. "It was fun. I missed playing baseball, for sure. It was good to be back out there. My arm felt fine. I didn't feel any pain in the elbow, so we'll keep moving forward."
How long has it been since he could say he felt no aches in his elbow? He acknowledged there were times he was less than forthcoming.
"I've lied, for sure, about that," he said. "There definitely was some pain a few times I said there wasn't."
Asked if there was a time since arriving in Boston when his elbow didn't hurt, he said: "Probably not."
The plan was for Lackey to throw one inning or 20 pitches Saturday against the
Tampa Bay Rays
in Boston's Grapefruit League opener. He executed the plan to a T, recording three outs on 20 pitches, 10 of them for strikes. All but one of his pitches was a fastball, which was in the 88-89 mph range. His aim at the outset was a bit faulty. He walked the first batter,
Ben Zobrist
, on five pitches, gave up a first-pitch single to
Desmond Jennings
and hit the next batter,
Matt Joyce
, with a pitch. A little too much adrenaline, perhaps?
"Definitely something," he said. "I got better when I got a little more tired. The ball started coming down a little bit. The first couple of hitters I was up in the zone.
"I was basically just going to throw all fastballs today, build up arm strength. I think I tried one changeup. It's definitely a little different from throwing on the side, for sure."
Lackey struck out the next hitter,
Jack Cust
, and got out of the inning with a yield of just one run, which scored on a sacrifice fly by Rays second baseman
Ryan Roberts
.
"Results, that stuff I wasn't really concerned about," Lackey said. "I was just glad to be back out there, get things going in that direction. Next time out, I'll start working on a few other things."
On Friday, Sox manager John Farrell, who went through two Tommy John surgeries when he was pitching, said he hoped that Lackey would find a moment to reflect on all that has transpired since he last pitched on Sept. 25, 2011.
"I did," Lackey said. "I kind of took a second on the bench before I went to the mound and kind of reflected on the past year and a half. I've got to thank a lot of trainers that helped me get back to this point."
Lackey also thanked his doctor, Lewis Yocum, who is the orthopedist for the Angels, his former team. Lackey said he never doubted he could make it back.
"I had a great doctor who I trusted a lot," he said, "and I knew I was getting after rehab."
Many pitchers have made successful comebacks after Tommy John surgery; the track record becomes murkier for older pitchers. Lackey is 34.
"It's not like I had an option," Lackey said. "I had a torn elbow. Everything's easier when you're younger, for sure. But I think I put in enough work. I should be all right."
When someone noted how relaxed he appeared, Lackey said he felt like it was one "of my first spring trainings." Can he be the pitcher he was before he hurt the elbow?
"I can't predict the future this year," he said. "I had some pretty good years in this league. Hopefully, I'll have another one."