Martinez has been huge addition for Red Sox
September, 19, 2009
9/19/09
1:38
PM ET
By
Peter Gammons
| ESPNBoston.com
The pennant race play of the week may have been made on Sunday in Boston. The Rays had tied the game 1-1 in the seventh inning on an infield grounder, and Gabe Gross chugged toward home with the go-ahead run when Dustin Pedroia's throw to first base got away from Casey Kotchman.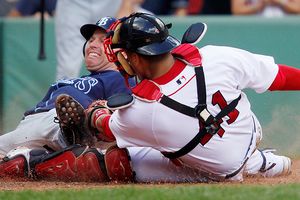 AP Photo/Michael Dwyer
Victor Martinez has hit .331 in 41 games with the Red Sox.
Kotchman's throw home was low and away and
Victor Martinez
caught it, slid in front of the plate and blocked the path of Gross, a onetime Auburn football player. Out. "He could easily have blown his knee out in the collision," ESPN comrade John Kruk said, watching in the plush confines of the Bristol studio. "That was incredibly dangerous. How often do you see a guy sacrifice himself to save a run?"
"How many people do you meet that are like Victor Martinez?" asks Red Sox hitting coach Dave Magadan. "Special isn't a big enough word."
Martinez once caught for three months with a broken toe with the Indians. "He never told anyone," says Indians general manager Mark Shapiro. "Do you know how hard it is to catch with a broken toe? He knew we needed him. That's Victor. Everyone knows that trading him was one of the most difficult things I've ever had to do. There aren't many people who care more about winning and teammates than Victor. In one way, I'm happy for his success in a pennant race. In another way, it tears at me."
The July 31 trade has turned out to be one of Theo Epstein's foundation moves. He immediately filled a leadership role for a club that needed someone around 30 years old to step in. When they needed someone to catch Tim Wakefield, Martinez gladly volunteered. He worked hard with bullpen coach Gary Tuck's knuckleball machine, caught Wakefield with a first baseman's glove and after the first pitch of the game did not drop a ball.
He has done a superb job handling the pitching staff, especially Clay Buchholz, who has become more comfortable throwing his changeup early in the count and letting his four above-average pitches take shape naturally. "I love catching. I love the relationship a catcher has with pitchers and the responsibility," says Martinez. "But if we have had success with me catching, it's because of Jason Varitek. He has been unbelievable working with me to know the pitchers and work on game plans. I am very fortunate to be able to work with Jason. I look up to him."
Martinez has caught, played first base and been the designated hitter. The headline is a 17-game hitting streak he carried into Saturday's game in Baltimore, and a .331 average. But what he has added in the third hole in the order is invaluable -- a patient grinder who has had a .401 on base percentage and a .917 OPS with the Red Sox. With Martinez in between the leadoff tandem of Jacoby Ellsbury (.397 on-base percentage in September) and Pedroia and in front of two of the top four hitters in the AL in OPS -- Kevin Youkilis (.981) and Jason Bay (.931) -- the Red Sox lineup is much deeper. "Victor has really lengthened our lineup," says Terry Francona.
The fact he is one of those rare switch-hitters whose swing is very similar from both sides of the plate is invaluable. And so is his knack for driving in runs.
Go early and watch Martinez take batting practice. He doesn't try to play home run derby. He doesn't wait for perfect pitches. You'll see him swing at pitches off the plate and dump ugly line drives into the outfield. His BPs are reminiscent of one of the great RBI machines of the '70s and '80s, Eddie Murray.
It's no coincidence. "Eddie was my hitting coach when I came up with the Indians," says Martinez. "He taught me so much about what pitchers might try to do, what to look for, how to prepare. He told me to take BP at 70 percent. Don't try to hit everything hard. He taught me that when there are runners on base, take what the pitcher gives you and get the runners in. It doesn't matter what it looks like, what's important is knocking in your teammates and winning."
How much Martinez will catch next season is an unknown. Indians people have warned the Red Sox that Martinez will wear down if he catches 130-something games. Varitek can exercise his player option for $3 million for 2010 or the club can bring him back for $5 million. Or the Red Sox can find a veteran catcher who can start 80 games or they can bring along one of the young catchers in their organization. No one knows for now, especially considering what Varitek has meant to the Red Sox.
What's important is that they have Martinez in the third hole, and in the clubhouse, and laying his knee out in front of home plate, all to win.
Kotchman a valuable addition



An overlooked deadline acquisition for the Red Sox is Casey Kotchman, who has yet to start hitting, but has clearly exhibited gold glove defensive capabilities. He had played in only 26 games and had 57 at-bats since coming over from the Braves for Adam LaRoche. There was a time when the Angels thought Kotchman was going to be a star or at worst Nick Johnson. He had more walks (158) and extra-base hits (148) than strikeouts (139) in his climb through the minor leagues.
"I still think he'll hit, and I think he'll hit big," says Angels hitting coach Mickey Hatcher. "I hope he gets the chance in Boston, because this park is made for him. A lot of things have happened. He's been hurt. He's put too much pressure on himself. He gets too mad at umpires. But he's only 26, and there's plenty of time left. He could be a very important player with the Red Sox."