Are Red Sox still in Angels' heads?
September, 18, 2009
9/18/09
12:26
PM ET
By
Peter Gammons
| ESPNBoston.com
BOSTON -- The evening air had an Amherst vs. Williams feel, and the last two games were won on bloop singles. These three September weeknights at Fenway were a prelude to the October mambo. With apologies to those few who believe baseball still hasn't moved west of the Mississippi and thus must come down to another Yankees-Red Sox inevitability, the stage is now set for a memorable first-round event as the Red Sox and Angels are destined for their fourth ALDS meeting in six years.
Coming up from a one-game stop at Yankee Stadium and before a trip to rival Texas, the Angels spent two days essentially telling us the Red Sox are to them what the Yankees used to be to Boston, or what the Canadiens were to the Bruins. They complained about the visiting clubhouse toilets. They railed about the umpiring in Wednesday's loss, and did not appreciate the references to 2004, 2007 or, most of all, 2008, most of all because in 2008 the Angels won 100 games and believed they were the American League's best team.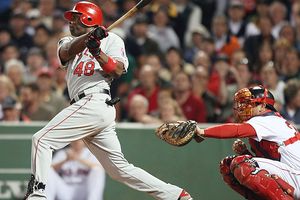 Elsa/Getty Images
Torii Hunter says the Angels need to quit worrying about Fenway and just play.
Of course, in blaming umpire Rick Reed, forgotten were two botched double plays and Brian Fuentes getting himself into trouble by tossing four Fribbles wide of home plate to walk David Ortiz. After that game, Torii Hunter laid down a message that essentially told his teammates to stop whining about the Sox and Fenway Park and the "Pocket Change" commercials on NESN. "Play every team the same way," Hunter said. "Show some guts. Just play."
That statement came about the same time a former Red Sox player texted me, "The Angels don't play the same way at Fenway. What's up with that? They seem afraid to even run."
"We knew exactly what Obama was talking about," Chone Figgins said. "He was right."
Obama?
"We all call Torii 'Obama' because everyone loves him, everyone wants to talk to him and everyone listens to him," Figgins said.
It should be known that the players also call Figgins "Biden."
"When Torii is hurt or unavailable," Darren Oliver said, "Chone fills in and everyone talks to him."
Oh, yes, the Angels came out Thursday and won a one-run game started by Josh Beckett, and Fuentes closed it.
Right now, the Angels are not in overdrive. "Our offense carried us for five months," Mike Scioscia said. "Right now, we're having trouble scoring runs."
Their season MVP, Kendry Morales, is in coach Mickey Hatcher's mind "a little tired" and has slowed to .200 in September. Vlad Guerrero got hit in the ribs and missed Thursday's game. He's hitting .226 in September. Other September dips: Figgins .218, Mike Napoli .111, Juan Rivera .157.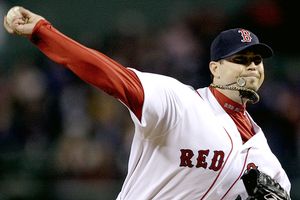 AP Photo/Charles Krupa
Josh Beckett looked more like his old self Thursday.
"We'll get out of this," said Scioscia, who refuses to even discuss the playoffs, not with the Rangers still in the rearview mirror.
There were some key points in this series. Daisuke Matsuzaka returned Tuesday night and, in his teammates' opinions, threw better than expected. It's hard to know if his 92- to 93-mph fastball is going to improve -- this was, after all, the equivalent of a late March spring training start -- or taper off. "If he throws like that, we have something," Mike Lowell said. Matsuzaka's intense conditioning and shoulder programs evidently worked, as he clearly is in far better condition. He repeated his delivery and commanded a fastball that showed far better life. He got several swings and misses at fastballs in the strike zone, which teammates pointed out they hadn't seen in the past couple of years.
Angels staff members thought Matsuzaka threw harder two years ago, but the Red Sox were very pleased. And they were entertained by Matsuzaka's routine between innings -- he threw his first six warm-up pitches from the grass halfway between the mound and second base, then walked up on the mound and threw two breaking balls. Players claimed they'd never seen it, but Jerry Remy said he had when he was a minor leaguer in the Angels' organization and the Giants had two Japanese pitchers who used the same routine.
On the Angels' side, Ervin Santana threw very well Thursday, giving the Halos a chance to beat Beckett.
The Angels and Red Sox are ranked 2-3 in the league in wins and 2-3 in the league in runs scored. The Angels are 25-15 against the AL East, the Red Sox are 42-21. Boston's run differential is plus-126, Los Angeles' is plus-102; the difference has been in pitching, especially Boston's No. 1 bullpen and its 3.63 ERA, as opposed to the Angels' 4.57.
L.A.'s offense should be closer to its season norm. Kevin Youkilis was out of all three games, Victor Martinez missed two, but the Red Sox offense might have been the best it has been all season, with Jacoby Ellsbury ever improving, Martinez's presence in the three hole with Dustin Pedroia, Jason Bay, Lowell and company.
Oh, John Lackey got frustrated Tuesday night, but he will likely open the playoff series in Anaheim throwing better than he has all season. Scott Kazmir's revamped delivery has given them a power left-hander to go with Joe Saunders and Jered Weaver.
After a couple of weeks fighting an odd flu, Beckett showed Thursday that he was able to again drive his fastball and curveball
down in the zone. Clay Buchholz is blossoming (his first-pitch changeups last Sunday messed up Tampa Bay for the game), and if Tim Wakefield cannot fight through his back problems, Matsuzaka (3-1 in two postseasons) can be the fourth starter, when needed.
Then there's Jon Lester. "I was asked to compare Johan Santana and Lester," Billy Wagner said. "Johan is great, but there's no left-handed pitcher as good as Lester."
Boston's starters have allowed three earned runs or fewer in their past 10 games, coming together at the right time. This series exposed some of the late-season flaws in the Boston bullpen, but Terry Francona can line up Wagner, Daniel Bard and Jonathan Papelbon, who seems to have righted his delivery, rediscovered his split and might be ending his "Tower of Terror" save routine.
Across the way, Scioscia has clearly been concerned about Fuentes' 4.35 ERA -- despite the 42 saves -- and is going to fireballing Kevin Jepsen (and his 2.08 second-half ERA) in critical eighth- and ninth-inning matchups.
Maybe the series will come down to Fuentes, whose Fenway experiences in the 2007 World Series for Colorado and on Wednesday night weren't pleasant. Perhaps he righted things with his save Thursday. Maybe it will come down to a couple of bloop singles or botched double plays.
We have seen and heard the prelude to the mambo, and with its past, its personalities, its conflicts and its pitchers, it should be a tremendous ALDS. If Red Auerbach were up there in Theo Epstein's box, he'd make sure the toilets in the visiting clubhouse were backed up.