Interesting tidbits from Bryant on Ortiz
May, 17, 2010
5/17/10
3:33
PM ET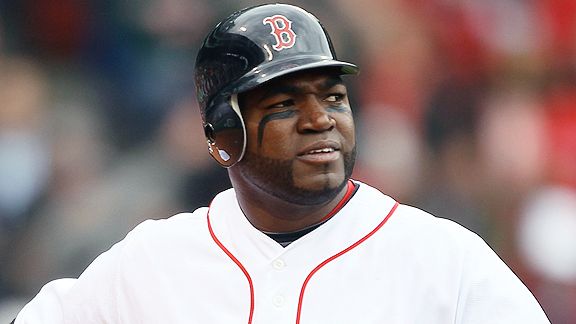 Elsa/Getty ImagesAlthough the numbers show otherwise, David Ortiz does not concede that he is a slugger in decline.
After chronicling the first month and a half of David Ortiz's season, ESPN.com's
Howard Bryant takes a revealing look at the once invincible slugger who is struggling to deal with his baseball mortality
even as his numbers rise.
Among the noteworthy tidbits in Bryant's feature are these three revelations:
1. Sources: Ortiz left Rogers Centre during game:
According to sources within the organization, Ortiz left the Rogers Centre in Toronto during an April 27 game after Red Sox manager Terry Francona called him back for a pinch hitter. Sources also said that Ortiz temporarily ignored Francona's call for a pinch hitter and kept walking to the plate. Francona had no comment when asked about the incident.
2. Ortiz fumes at NESN, then reconsiders:
After a victory over the Angels in early May, NESN, the Red Sox-owned television network, chose not to highlight
Jeremy Hermida
, who was the hero, but instead the failures of Ortiz. The network ran a postgame poll asking viewers to vote on whether Ortiz should remain the team's designated hitter.
Ortiz raged, angry that the television network his ballclub owned chose to focus on him instead on an important team win. Players were upset as well, and
Kevin Youkilis
and
Dustin Pedroia
made their feelings known that the network had erred.
"We don't have the influence that David thinks we have," Red Sox chairman Tom Werner said. "I have too much respect for our fans to tell [analysts] Jim Rice, Dennis Eckersley or Peter Gammons -- all in the Hall of Fame -- what they should think about a particular player or game. I'm not always happy myself about what gets said on the air. I went to [Ortiz] and spoke to him just to encourage him, to tell him that in John [Henry] and I that he didn't have two bigger supporters in the organization."
Red Sox owner John Henry echoed Werner's sentiments.
"The only incident I am aware of on NESN was a poll one night on who should DH. I wasn't happy when I heard about it," Henry wrote in an e-mail on Saturday. "The players weren't happy. I don't think anyone was. That was disrespectful of David. That shouldn't happen. But I haven't heard of any other complaint. NESN does a great job overall. In trying to do their jobs in a balanced and complete way media often say and write controversial things. It would be completely inappropriate for the team to manage NESN commentary. David is beloved within our organization and our support of him remains as strong as ever."
Ortiz's rage was followed by wading into a calm eddy. Days later, he reconsidered his anger toward NESN.
"I just want to drop it," he said. "If I hold on to these things, while we're trying to win games, I look terrible, and that's not what this is about. It's about us trying to win games and get to the World Series. I don't want to give anyone the impression that I care more about this than the fact that we're starting to put it together. The bottom line with all of it is this: If you rake, you play. I just gotta start hitting."
3. Edict that Ortiz was innocent came from the top:
Upon the news that
David Ortiz
was on the infamous 2003 list of players who allegedly failed performance-enhancing drug tests, sources said Henry, team president Larry Lucchino and Werner called a meeting with key Red Sox employees and announced an edict: Ortiz was innocent. He had done too much, been too valuable to the team and the community, meant too much to the franchise for the Red Sox to not take him at his word.
"We looked ridiculous defending him to the level we did, especially because he said he was going to get to the bottom of it and he never did," a source said. "But that came from John Henry. He pretty much told us directly, 'David is one of us. He said he's innocent, and I believe him.' That was it. No questions asked. That said how loyal John is to David."