Matsuzaka, Martinez at odds?
May, 18, 2010
5/18/10
8:17
AM ET
NEW YORK -- He bit his lip, his pauses lasting longer than his answers. He shook his head. His face clouded over. His eyes turned misty.
"I can't even find the words,''
Daisuke Matsuzaka
said.
Matsuzaka was fighting to keep his composure, and for the few minutes he stood in a hallway outside the visitors clubhouse after Monday night's 11-9 loss to the Yankees, reporters huddled around him in a tight circle, the outcome of that battle -- one no one here had seen him wage before in public -- was uncertain.
Ultimately, there were no tears, only profound frustration that once again, a pitcher for whom failure had been foreign in Japan could not repeat the success that had made him once so coveted by the Red Sox.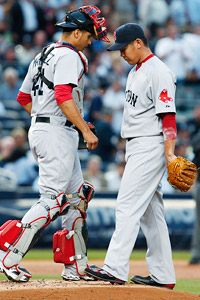 AP Photo/Kathy WillensDaisuke Matsuzaka's ERA rose to 7.89 for the season.
Inside the Sox clubhouse, meanwhile, catcher
Victor Martinez
was conveying frustration, too, of a different type, suggesting that he and Matsuzaka were in disharmony. Martinez acknowledged that Matsuzaka shook off his signs frequently Monday night, "maybe" more than he ever has, and this wasn't the first time that pitcher and catcher were not in synch.
"He's the one," Martinez said. "I'm just back there trying to help him go through the game. At the end he's the one who has the ball in his hand. I'm just behind the plate trying to help him. At the end, he's the one who has the last word. He's the one who has the ball in his hand. I just put down suggestions and he can say yes or no."
Monday night, Matsuzaka gave up five hits and a walk to the first six Yankee batters he faced. Five of them scored. He was done with two outs in the fifth, the Yankees having tacked on two more runs on a total of nine hits and three walks. Even allowing for three misplayed flyballs that turned into hits, it had been a dreadful performance, especially as an encore to what he had called perhaps his best start in the big leagues, a three-hit, no-walk, nine-strikeout performance over seven scoreless innings last Tuesday against Toronto.
Matsuzaka threw his fastball with as much, if not more, frequency than he had against the Blue Jays. According to stats provided by Inside Edge, 89 of his 105 pitches were fastballs, nearly 85 percent. But he lacked the command he'd shown against Toronto, throwing first-pitch strikes only 44 percent of the time. His average velocity also was down a couple of miles an hour, from 92 against the Jays to 90 against the Yanks.
"Early, he was missing over the plate, and he paid for it,'' manager Terry Francona said. "Balls over the middle. First pitch of the game, (Derek) Jeter whacks, and then he was pitching out of the stretch.
"For whatever reason, three of his four games, he has had one big inning. That's a hard way to win.''
Later, after he had returned to the clubhouse, Matsuzaka was asked about the emotion he had exhibited outside. Was it due to the way he had pitched, or was it because of the devastating way in which the Red Sox had lost, falling in the bottom of the ninth after rallying from the early hole created by Matsuzaka.
"I don't play the role of starting pitcher to build a game like that,'' Matsuzaka said through translator Masa Hoshino. "Even if we had held on and won the game, I still would have been disappointed in my performance.''
The setbacks of the last two years -- a lost season in 2009, three starts in four this season where he has been done in by a big inning -- are taking their toll.
"It's very difficult to adjust (to failure) when it comes to baseball,'' he said. "I'm still a very sensitive person.
"I'm still confident in my pitches, but things aren't clicking.''
Things certainly have not clicked with Martinez. The three starts he has had with Martinez behind the plate, Matsuzaka has allowed a four-run first inning, a six-run fifth inning, and a five-run first inning. The game against the Blue Jays?
Jason Varitek
, for whom learning Matsuzaka was a mandatory assignment when the right-hander first arrived from Japan, was behind the plate.
Matsuzaka offered a puzzling answer when asked why he hasn't been able to avoid the big inning.
"There's one thing I know for sure,'' he told the gathered reporters, "but I'm not quite ready to share that at this point.''
A veiled reference to Martinez? Right now, that's only guess. But if it was, it will be no simple matter for Francona to pair Matsuzaka with Varitek again on a regular basis. For one thing, Francona wants Martinez's bat in the lineup as much as possible, and he's unlikely to sit
Kevin Youkilis
or
David Ortiz
to put Martinez at first base or DH to get Varitek in the lineup. Also, Varitek has been catching Beckett regularly, and while Beckett has struggled, it's clear that he prefers to have Varitek behind the plate.
So, if there is a problem between Matsuzaka and Martinez, it is one they may have to reconcile on their own.