Red Sox pitching keys sweep
September, 13, 2009
9/13/09
10:40
PM ET
By
Amy K. Nelson
| ESPNBoston.com
BOSTON -- Just as the Texas Rangers were taking the field for the first time late Sunday afternoon, Jon Lester was already twirling his way through the Rays' lineup, making hitters flail at his fastball en route to an 11th straight loss.
Lester threw eight innings, gave up two hits and no runs and, remarkably, had a better pitching line than teammate Clay Buchholz, who gave up a run over seven innings against Tampa Bay in a 3-1 win in Game 1 of Sunday's doubleheader. The two combined for 15 innings, holding the Rays to seven hits and one run, and along with Josh Beckett on Saturday night, helped the Red Sox sweep Tampa Bay this weekend.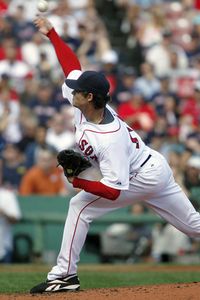 AP Photo/Michael Dwyer
Clay Buchholz gave up just one run in seven innings Sunday against the Rays.
The domination in Sunday's doubleheader by Lester and Buchholz showed why they are both the future of this organization and also why they are vitally important to its present success. While at different stages of their careers -- Lester has 88 career starts, Buchholz has 30 -- both are 25 and have already thrown no-hitters.
"Clay came up right away and throws a no-hitter, so after his second start he's already got expectations," Lester said. "It took me a while to build those expectations. That's got to be tough. ... I think he learned that kind of the hard way, but I think it's going to make him a better pitcher as you've seen. I think he's grown up quite a bit and he's done unbelievably well."
Lester got the win in Boston's 4-0 victory over Tampa Bay, something Buchholz did not do in Game 1 (he left with the game tied), but it hardly mattered. The Red Sox have won six of their past seven, and in their weekend sweep of the Rays, their top three starters -- Beckett, Lester and Buchholz -- all pitched well.
"That's what you need at this time of year," said David Ortiz. "You need those guys to step up."
At the plate, Victor Martinez extended his hitting streak to 15 games, while the team has gotten consistently better offensively. It has been a far cry from six weeks ago, when the Red Sox lost six straight in early August, dropping the first two in Tampa Bay, then suffering a four-game sweep at Yankee Stadium. In the six losses, Boston scored just 14 runs.

"I don't think there's been an epiphany and all of the sudden we're a way better team," said Jason Bay, who hit his 32nd homer in the second game. "We're playing with more confidence; we've kind of gone on a little bit of a roll, we were kind of scuffling trying to find … not an identity, but something to hold on to. We were pitching well, not hitting, it was just one of those situations where it seemed like it kind of spiraled."
Not anymore. The team has an off day on Monday, and then Tuesday the Angels will be here for three games.
"It will be a good challenge," said manager Terry Francona. "It seems like it's been a long time and we've played some good baseball in the meantime."
Notes ...
Jonathan Papelbon struck out the side in Game 1 for his 36th save this season. After the game, he stressed the importance of having consistency with his delivery.

"It's coming down to that part of the season it's going to be key for me to go out there day in and day out and repeat my delivery," he said.

He said he was unavailable for Game 2; Billy Wagner pitched the ninth with a four-run lead and preserved the shutout.

When John Stockton threw the first pitch out for Game 2 to fellow Gonzaga alum Jason Bay, he fired "a frickin' bullet," Bay said.

Stockton, who was inducted into the Basketball Hall of Fame on Friday night, lives near Bay's offseason home, just outside of Seattle. Bay's old college coach is now a basketball liaison for the Zags and made the trip with Stockton. As Bay was leaving the Red Sox clubhouse on Sunday night, he carried two plastic bags filled with Gonzaga swag.