Sweet music from Buchholz
May, 24, 2010
5/24/10
4:18
PM ET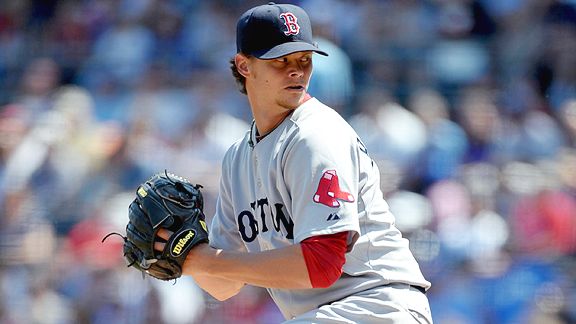 John Rieger/US PresswireClay Buchholz relaxes before games in which he pitches by playing his guitar.
ST. PETERSBURG, Fla. -- Before he picks up a baseball tonight to face the
Tampa Bay Rays
, the team with the best record in baseball,
Clay Buchholz
will pick up a guitar.
Buchholz will have done everything else to prepare for his start. He will have read the scouting report, done his video study, thrown his side session and long toss, lifted his weights, met his pitching coach and catcher.
Now, in the last hours before the game, he will sit in front of his locker, like he does in Fenway, or find a place in a back room of Tropicana Field, and pick up the instrument that has become as much a part of his routine as all the rest, and may be just as important, if not more so.
The guitar offers escape and refuge, comfort and calm, pleasure and a little bit of peace.
"I like it a lot,'' he says. "I'll be sitting here, and there will be people rushing around everywhere. It's a way to get away.''
It helps, too, that Buchholz pitches on a team of guitar players.
Tim Wakefield
plays, and has made friends with some talented pros, like Cindy Bullens, the gifted singer-songwriter from Maine.
Daniel Bard
,
Jon Lester
, and
Josh Beckett
all play. And the one who may surprise you most,
J.D. Drew
, who is modest about his talents but can pick it pretty well, according to Buchholz, although you'll probably never catch Drew playing in public. "My father-in-law is really good,'' said Drew, who will play in family gatherings, country songs and praise music and the like. "I broke my hand, and then the pinky finger, so it's tough to play certain chords.''
Buchholz is a self-taught player.
"I started playing my sophomore year in college,'' he said. "My roommate, he went to high school with me, he was one of those guys who was a jack of all trades. He could do everything—guitar, drums. I picked up his guitar one day in our dorm room, we didn't have anything to do. I taught myself off the Internet.''
Playing became part of his baseball life, he said, last season in Triple-A, when he was trying to put his career back together.
"It's helped me a lot,'' Buchholz said.
In those moments before a game when he is playing, he agrees, it feels almost like being in a bubble, a place where he can relax without fear of intrusion. No one interrupts a music man.
"I don't really remember chords,'' he says. "I pick out songs on the Internet, look at 'em, start playing 'em. Progressive stuff, mostly.''
Usually at the ballpark, he says, he'll borrow Beckett's guitar to play.
"I give it to him if he wants to play it,'' Buchholz said, "but he has a Taylor 814. It's really nice.
"I have a Gibson Songwriter at the apartment. I have another one made out of different wood back in California. I got two really nice ones, two nice electrics, and I used to have a really nice acoustic, but it's all banged up now.''
Buchholz admits he has an in when it comes to purchasing his guitars. His wife Lindsay's mother works for Musician's Friend, a huge supplier of instruments in Kansas City.
"You can get a Gibson anywhere from $1000 to $10,000,'' he said. "The one I have is nice. My wife's mom gets 25 percent to 70 percent off guitars. We went out there last year in Kansas City. Lester and I signed some autographs for them and they gave us two great guitars. Pretty cool.''
Asked if he can carry a tune, Buchholz smiles. "Sometimes,'' he said. "Depends on what tune I'm trying to carry. There's only a select number of groups I sound like.''
He'd go to more concerts, he said, but most of the shows are during the summer, and his job doesn't afford him much chance to go.
"I got to catch Dave Mathews a couple of times,'' he said, "and in the off season I went to a Foreigner concert.''
GM Theo Epstein is a big Pearl Jam fan (he tried to go to a show undetected last week, but somebody saw through the fake mustache), but no, Buchholz said, he hasn't had the chance to meet Eddie Vedder.
"He hasn't brought him around,'' Buchholz said. "Sean Casey got to meet him a couple of years ago.''
"To me, I'm impressed with all of them. It's hard to do. I know some Texas country bands back home that people around here wouldn't know. It's more of a Southern thing, but they've all been really nice.''
If playing the guitar helps Buchholz's to pitch, the Sox might want to build him his own sound studio. Owner John W. Henry knows his way around a studio; he built one in his home in Boca Raton. Buchholz takes a 5-3 record into Monday night's game against the Rays, and has won each of his last two starts, taking the Twins into the ninth inning before being credited with a 3-2 win.
"It's just a real relaxed atmosphere,'' he said.