Buchholz the Sox stopper
May, 30, 2010
5/30/10
12:24
AM ET
BOSTON –- The Red Sox needed Clay Buchholz to stop the bleeding.
He did.
After back-to-back tough outings by Boston starters Daisuke Matsuzaka and Tim Wakefield on Thursday and Friday, Buchholz took the mound on Saturday and outdueled Kansas City Royals ace Zack Greinke en route to a 1-0 victory at Fenway Park.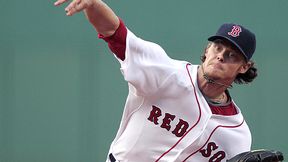 AP Photo/Michael DwyerWith the Sox bullpen drained, Clay Buchholz delivered seven scoreless innings.
Buchholz improved to 7-3 this season after he worked seven scoreless innings and allowed only four hits with four walks and four strikeouts.
"It was really big for a lot of reasons," said Red Sox manager Terry Francona. "First and foremost, it's a win and it restored some order in the bullpen. He got us right where we needed to be. We got [Daniel] Bard and [Jonathan] Papelbon one inning each with the lead."
The Sox defense came up huge for Buchholz on Saturday with a pair of key plays.
One of those came in the top of the fourth inning. With no outs and runners on first and second, the Royals' Billy Butler hit a bullet down the line and Red Sox third baseman Adrian Beltre made a tremendous stop and started a 5-4-3 double play.
"I don't know how he makes that play," said Francona. "Tremendous instincts and when you look back at the ballgame, that's a big play in the game."
The other defensive gem came in the top of the eighth.
With two outs and Boston clinging to a 1-0 lead, the tying run stood 90 feet away when the Royals' David DeJesus smoked a hard ground ball up the middle to the right of the second-base bag off Bard. It appeared the Royals would have their first run of the game but second baseman Dustin Pedroia had other thoughts.
He made an outstanding sliding grab (similar to the one he made to secure Buchholz's no-hitter in 2007) and made the throw to first to end the threat and the inning.
"Pedey, he's unbelievable," Buchholz said. "He makes big plays whenever you need to make a big play and that's why he's as good as he is. He never gives up and gives 110 percent on every play and on every at-bat. We're lucky to have a guy like that at second base for us. You can't say enough about the guy. He's one of the best there is at that position in this game."
Unlike most pitchers, Buchholz has said time and again that he does get fired up to pitch against other world-class pitchers.
"You know what you're going to be up against when [Zack] Greinke is out there. The saying goes, 'You want to stay out there longer than the other pitcher does and you'll have a good chance at winning the game.' That's what I was thinking every inning I went out. We scored a run [in the second inning] and I was lucky enough to get out of it without giving up any runs and the defense played awesome tonight."
As Buchholz left Fenway Park with his seventh victory of the season in his pocket, Greinke, the reigning A.L. Cy Young winner, took his 1-6 record and ran poles in the outfield with all the lights off at the ballpark.