Buchholz not taking spot for granted
February, 15, 2010
2/15/10
7:56
PM ET
FORT MYERS, Fla. --- Five things to know about Clay Buchholz this spring:
1. He has learned the virtue of eating three meals a day.
"It took 26 years for me to be able to gain a pound and keep it on a day,'' Buchholz said Monday after a side-by-side throwing session with left-hander Jon Lester.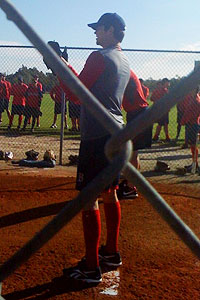 Gordon Edes/ESPNBoston.comClay Buchholz and Jon Lester (background) threw in Fort Myers on Monday morning.
Buchholz said he weighs 198 pounds, a 13-pound increase over his playing weight of 185 last season. Eating early and often has its benefits.
"It was real easy for me to go through a day and eat just one meal,'' said Buchholz, who summed up this winter's nutritional philosophy thusly: "Eat what I can, as much as I can.''
Sound counterintuitive to the usual approach for an athlete trying to stay in shape? He also said he cut back on his running.
Clearly, this is not a stay-in-shape program for everybody. Ask the nearest sportswriter.
2. He is a newlywed, and spent his honeymoon at David Ortiz's charity event.
That wasn't as great a sacrifice as it sounds. Big Papi's affair was held at a gorgeous resort in Cap Cana in the Dominican Republic, and Buchholz and his new wife, Lindsey Clubine, a model on "Deal or No Deal," hung around for a few days afterward. Not that the extra time helped his golf game.
"Hit some good, hit some bad,'' he said. "That's the basic discussion of my golf game.''
Does Ortiz owe him one? "He doesn't owe me anything,'' Buchholz said. "He's done more for everybody around here than anyone could.''
3. Seasoned by disappointment, he takes nothing for granted, especially a spot in the starting rotation.
"Same situation as last year, six guys coming in for five starting spots,'' said Buchholz, who was odd man out when the 2009 season started but was taking a regular turn from mid-July on, climaxed by an impressive performance in his playoff debut, the Game 3 loss to the Angels (he was not involved in the decision).
"I've been through a couple of things in my career,'' said Buchholz, "so I wouldn't be shocked by anything that happens.
"I've got to go at it like it's just a spot to win instead of thinking it's my spot, and pitch well. If I do everything like I started to do last year and ended up last year, everything will be fine.''
4. He's not secretly planning a retirement party for Tim Wakefield, who figures to be his prime competition for a starting spot.
"It's something that has to be won,'' he said again. "Same thing for Wake. He gets the benefit of the doubt, if you ask me.''
5. Three seasons removed from his 2007 no-hitter, he sounds like he has a pretty good idea of what it will take to stay in the bigs.
Monday was the seventh time he's been on a mound this offseason; he said he even threw a few batting-practice sessions to college hitters, a couple at Cal-Irvine (he was staying in Manhattan Beach), a couple more at his alma mater, Angelina (Texas) College, a community college.
"I felt like I had a lot to prove last year,'' he said. "This year I have to show them I'm mentally focused and physically ready to go.''
One contingency of which to be aware: The Sox still have options on Buchholz, so they could send him back to Pawtucket without exposing him to waivers.
But on Monday, general manager Theo Epstein sounded like a man who expects to see Buchholz on the 25-man roster when the season opens.
"He's clearly taken it very seriously this winter,'' Epstein said. "He looks in great shape, he's added some good weight, he's a little thicker in the core, and his shoulder is in great shape.
"He's prepared himself and is at an advanced stage compared to most guys this time of year. He threw very close to 200 innings last year, if you add it all up. He's starting to prove himself durable.''