Bay: Mets 'perfect fit', were always on short list
January, 5, 2010
1/05/10
12:40
PM ET
Former Boston Red Sox left fielder Jason Bay said Monday that the New York Mets were the first team his agent talked to and were always on the short list of teams he considered signing with.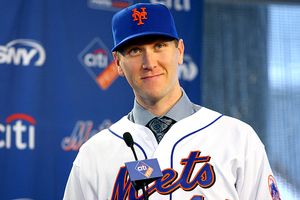 Mike Stobe/Getty Images
Jason Bay passed his physical Monday and was introduced by the Mets on Tuesday.
Bay was all smiles at his introductory press conference at the Mets' CitiField, except when asked about Peter Gammons' comment last month that Bay would prefer to play in Beirut than Queens. Not true, said Bay, who also refuted assertions that his shoulder was an issue, saying he'd had surgery in 2003 and it's been great ever since.
Bay called the Mets "a perfect fit," citing a chance to win as the primary factor in his decision. He didn't elaborate how going from a 95-win Red Sox team in 2009 to the Mets, a 92-game loser, enhanced his chances to win, other than to say that the Mets were a much better team than the injury-riddled bunch in 2009.
"I wouldn't've signed the contract if I didn't want to be here or I wasn't happy. This is one of the biggest days of my life," Bay said. "You look at the players on this team; it's a very good team."
Bay also addressed questions about playing in CitiField's spacious left field, saying: "I'm no Torii Hunter, but I think I'm a pretty good fielder.''
Bay and the Mets had reached a tentative deal around Christmas and the wait until it was finalized led to clamoring by fans and talk radio that he didn't really want to come to New York and that there were issues with his shoulder.
But Mets general manager Omar Minaya said Bay was always the team's priority and the contract took a little longer to finalize because of travel around the holidays.
"When we started this winter, we felt that one of these areas that we needed to improve on we felt that we had to slug more, to be able to have a power hitter, to be able to have a guy that would fit into the middle of our lineup," Minaya said. "We said to the fans be patient but we will eventually get to achieving our goals. I think today, having Jason up here, we achieved one of our goals this winter."
Material from the Associated Press was used in this report.