Dusty Brown recoups opportunity
July, 17, 2010
7/17/10
7:06
PM ET
BOSTON -- This being his 10th season in the Red Sox organization, Dusty Brown, recalled from Pawtucket on Saturday, has a better understanding than most of the caprices involved in making it to the big leagues.
Few 35th-round draft choices even advance that far, for one, which was why it was such a special moment last season when Brown hit a home run for his first big-league hit in the next-to-last game of the 2009 season.
And that's why it seemed almost unfair that when Sox catchers Victor Martinez and Jason Varitek both went down with injuries within three days of each other, Brown also was hurt, missing what surely would have been a return to the big leagues.
On June 22, Brown's left thumb was badly sprained on a tag play at the plate, when base-runner P.J. Pilittere of Scranton-Wilkes Barre slid into his glove.
[+] Enlarge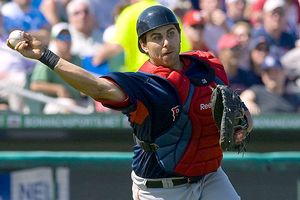 Scott Rovak/US PresswireCatcher Dusty Brown was recalled Saturday from Pawtucket, where he had just resumed playing after badly spraining his left thumb.
"It didn't look weird,'' Brown said of the play. "Anyone watching probably didn't notice anything. But when he slid in, his cleat caught the end of my glove and tore it back, and I felt my thumb go.''
Brown was relieved when he went to see a hand specialist in Boston and was told that an MRI showed no significant ligament damage. The joint had been dislocated in the collision, but instead of requiring surgery, Brown was told that it would be treated like a bad sprain and he would be back within two to three weeks.
But just five days after Brown was hurt, Martinez fractured his left thumb.
"Crazy,'' said Brown, who almost certainly would have been summoned by the Red Sox. "Bad timing. I definitely was real bummed when it happened. I just tried to think about getting healthy. It was kind of like an 'Oh well' moment. Nothing I could do.''
Three days later, Carl Crawford fouled a ball off Jason Varitek's right foot, fracturing a bone, and the Sox catching crisis had reached Defcon 5 levels.
"When 'Tek got hurt, I was like 'Wow,' '' Brown said. "Then it wasn't just about me. It was like, 'Wow, they're stuck.' ''
With Pawtucket's other catcher, Mark Wagner, also on the DL with a fractured hamate bone in his hand, the top four catchers in the Sox organization were all hurt.
"Definitely crazy,'' Brown said. "I've never seen anything like it, and I imagine nobody here ever has seen anything like it. Strange coincidence. Hopefully we can stay above water until everybody's healthy.''
Saturday, the Red Sox recalled Brown, who played a couple of games in Class A Lowell, then rejoined the PawSox Thursday night. He served as DH on Friday night and said the thumb feels normal.
That gives the Sox three catchers for now, although when Clay Buchholz is activated on Wednesday, Gustavo Molina figures to be sent down.
Francona said that he likes the roster flexibility three catchers will give him in the next few days, especially with Kevin Cash struggling at the plate (3 for 27, .111). Brown will start Sunday afternoon, catching Jon Lester.
"If it was the sixth inning, we might be able to pinch-hit,'' Francona said. "The last couple days, say we pinch-hit for Cash in the sixth. You know that whatever happens, and it's nothing against Molina, but then Molina's gonna face the closer in the eighth or ninth and you can't do anything about it. I don't know if that puts you in the best position to win.
"Again, we may not have enough players to do that, but we could maybe hit twice if we want to, or run or do something that we can't do normally. It was basically a free roster spot. We tried to figure out how to maximize it the best we could."