Red Sox spring scenes
February, 20, 2010
2/20/10
11:24
PM ET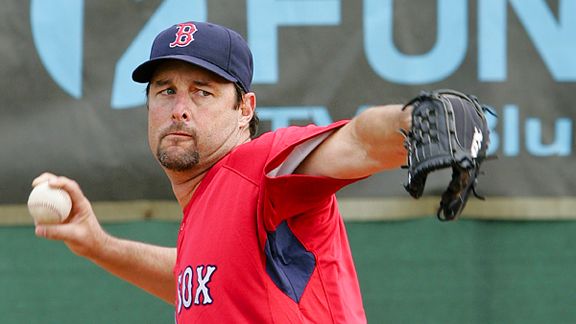 AP Photo/Nati HarnikTim Wakefield throws Saturday at spring training on the first day of pitchers and catchers workout.
The Red Sox had their first official workout of the spring on Saturday and we have plenty of photos from the action in Fort Myers.
Check out this gallery
throughout spring training for the latest Red Sox photos from Florida.
ABOUT THIS BLOG

Gordon Edes
Gordon Edes, who joined ESPNBoston.com in Nov. 2009, has covered MLB for more than 25 years. He spent 12 years covering the Sox for the Globe. Ask a question for his next mailbag. Follow him on Twitter here.

Joe McDonald
Joe McDonald, a native Rhode Islander, joined ESPNBoston.com as a Bruins and Red Sox reporter in February 2010. He worked at the Providence Journal for 18 years and covered the Red Sox, Bruins, Patriots, PawSox and Providence Bruins. He's a three-time winner of the National Sportscasters and Sportswriters Association's state Sportswriter of the Year for Rhode Island. Follow him on Twitter here.
2017 AMERICAN LEAGUE EAST STANDINGS
UPCOMING GAMES
| | W-L | HM | AW | STK | L10 |
| --- | --- | --- | --- | --- | --- |
| TEX | 24-22 | 16-8 | 8-14 | L1 | |
| BOS | 23-21 | 13-9 | 10-12 | W2 | |
| | W-L | HM | AW | STK | L10 |
| --- | --- | --- | --- | --- | --- |
| TEX | 24-22 | 16-8 | 8-14 | L1 | |
| BOS | 23-21 | 13-9 | 10-12 | W2 | |
| | W-L | HM | AW | STK | L10 |
| --- | --- | --- | --- | --- | --- |
| SEA | 20-26 | 13-9 | 7-17 | L4 | |
| BOS | 23-21 | 13-9 | 10-12 | W2 | |
BLOG ARCHIVE:
CATEGORIES:
MAY 2017
JUNE 2017
JULY 2017
Sun
Mon
Tue
Wed
Thu
Fri
Sat

1

@BAL
7:05 PM ET

2

@BAL
7:05 PM ET

3

@BAL
7:15 PM ET

4

@BAL
1:35 PM ET

5

6

@NYY
7:05 PM ET

7

@NYY
7:05 PM ET

8

@NYY
7:00 PM ET

9

DET
7:10 PM ET

10

DET
7:15 PM ET

11

DET
8:00 PM ET

12

PHI
7:10 PM ET

13

PHI
7:10 PM ET

14

@PHI
7:05 PM ET

15

@PHI
7:05 PM ET

16

@HOU
8:10 PM ET

17

@HOU
8:15 PM ET

18

@HOU
2:10 PM ET

19

@KC
8:15 PM ET

20

@KC
8:15 PM ET

21

@KC
2:15 PM ET

22

23

LAA
7:10 PM ET

24

LAA
7:15 PM ET

25

LAA
1:35 PM ET

26

MIN
7:10 PM ET

27

MIN
7:10 PM ET

28

MIN
7:10 PM ET

29

MIN
7:10 PM ET

30

@TOR
7:07 PM ET

Sun
Mon
Tue
Wed
Thu
Fri
Sat

1

@TOR
1:07 PM ET

2

@TOR
1:07 PM ET

3

@TEX
8:05 PM ET

4

@TEX
8:05 PM ET

5

@TEX
8:05 PM ET

6

@TB
7:10 PM ET

7

@TB
7:10 PM ET

8

@TB
4:10 PM ET

9

@TB
1:10 PM ET

10

11

12

13

14

NYY
7:10 PM ET

15

NYY
4:05 PM ET

16

NYY
1:05 PM ET

17

TOR
7:10 PM ET

18

TOR
7:10 PM ET

19

TOR
7:10 PM ET

20

TOR
1:35 PM ET

21

@LAA
10:07 PM ET

22

@LAA
9:07 PM ET

23

@LAA
3:37 PM ET

24

@SEA
10:10 PM ET

25

@SEA
10:10 PM ET

26

@SEA
3:40 PM ET

27

28

KC
7:10 PM ET

29

KC
7:10 PM ET

30

KC


31

CLE
7:10 PM ET