Ex-Sox update: Manny Delcarmen
September, 10, 2010
9/10/10
11:54
AM ET
Manny Delcarmen has only been used twice since his forgettable debut with the Colorado Rockies, when he gave up four runs on four hits, including a home run by Jayson Werth, and took the loss in a 12-11 defeat to the Phillies.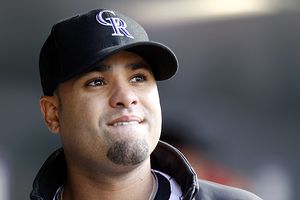 AP PhotoThe Rockies have long been interested in Manny Delcarmen.
Since then, Delcarmen has pitched only with the Rockies way ahead, by four runs and seven runs, and has thrown two scoreless innings. Rockies manager Jim Tracy said that's what he had hoped to do in the first place, to ease Delcarmen in, and said that the Rockies are looking at Delcarmen not just as a stretch-drive piece, but a key part of the bullpen moving forward.
Werth's home run was the 24th allowed by Delcarmen in his career, but only one big-leaguer has taken him deep more than once: Ty Wigginton of the Orioles.
The Rockies have shown interest in Delcarmen in the past—all the way back to his high school days at West Roxbury High. Delcarmen said his dad, Manuel Delcarmen, recalled that the Rockies' interest predated the failed trade.
"My dad told me this a couple days ago, that the first team that actually came to my house with scouts was the Rockies," Delcarmen told Thomas Harding of MLB.com. "My dad was like, 'Look how things turn out.' It was a fun ride with Boston, but I'm here to help this team get to the postseason.
"The Rockies were like, 'We'll take Manny in the third round and we'll give him way more money than a third-rounder.' Of course, I was like, 'I want to go with Boston.' But look how it turned out. Hopefully, it just keeps getting better."