No walk in park for Beckett, but a win
September, 12, 2010
9/12/10
9:13
PM ET
OAKLAND -- Kids, don't do this at home. Red Sox pitcher
Josh Beckett
got away with it Sunday, walking four batters in a row and still coming out with a win, but a starting pitcher will tell you that's a hard way to make a living.
"Kind of a weird outing,'' manager Terry Francona said after the Red Sox came from behind to beat Oakland 5-3 to salvage the final game of a three-game set against the A's.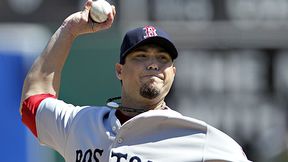 AP Photo/Ben MargotJosh Beckett walked four straight batters for the first time Sunday, but otherwise was under control.
There was no arguing with Francona's choice of adjectives. Beckett, who had pitched out of a first-and-third, no-out jam in the second, walked four consecutive Athletics with one out in the third, forcing in a run.
"I think I should have walked only three of them,'' said Beckett, who had never issued four straight passes before. "I made a pretty good pitch to a guy, but it is what it is.''
Sour grapes? Well, Oakland's starter,
Dallas Braden
, walked four and complained about plate umpire Hunter Wendelstedt for what he called a "walk-a-thon." And
Daric Barton
, the last batter of the game, was ejected by Wendelstedt after he was called out on strikes against
Jonathan Papelbon
, who struck out the side for his 36th save of the season.
Beckett didn't identify the batter who he felt was undeserving of the free pass, but it's likely he was talking about
Jack Cust
, who took a borderline 2-and-2 curveball for ball three before an irked Beckett bounced his next pitch in the dirt, forcing in a run.
But Beckett escaped further damage by putting a 94-miles-per-hour fastball on the black for a called third strike to
Mark Ellis
, then throwing a 1-and-0 curveball to
Jeremy Hermida
that the former Sox outfielder hit on a line to
J.D. Drew
for the third out.
Ellis would later hit a two-out, two-run double in the fifth to give Oakland a 3-0 lead, but the Sox for the first time this weekend had a response, scoring four times in the sixth, the big hits back-to-back two-run doubles by Drew and pinch hitter
Ryan Kalish
.
The win was only the second in seven decisions for Beckett over the span of more than a month. The right-hander hadn't pitched since a no-decision last Sunday against the White Sox, and he suggested that a day game on the West Coast had thrown him off his schedule.
But other than the one breakdown in control, he walked just one other batter, struck out seven and received yeoman work from
Scott Atchison
(two scoreless innings) and Papelbon, who hadn't pitched since blowing the save last Sunday.
Beckett leaned on his curveball more than usual Sunday, especially against left-handed hitters, who saw 12 breaking balls, which was double the number he'd thrown to lefties against the White Sox. He didn't break out his changeup Sunday, preferring to rely on a mix of fastballs, cutters and curves.
Still, it was all relative, as Francona noted.
"A lot of it is perspective,'' he said. "If we didn't score, the first question would be, 'What's wrong with Beckett?'''