Lars Anderson, unplugged
September, 15, 2010
9/15/10
9:13
PM ET
SEATTLE -- We sat down Wednesday morning with Lars Anderson, the Red Sox rookie first baseman who turns 23 on Sept. 25. We did not talk about playing first base or hitting home runs. We did, however, talk about a brother who walks on his hands, knitting, Genghis Khan, Shoeless Joe and the World Cup.
Here's Anderson, unplugged.
Who is the most famous Lars you know?
Lars Ulrich, the drummer for Metallica.
Not my demographic.
Me either, really.
Any other famous Lars?
Lars Fredricksen and the Bastards is a band. I have a cousin, Lars. Then there is Larz Anderson, the guy in Boston. I don't know what the hell he does. [Larz Anderson, for whom a bridge and park is named, was a Harvard man and U.S. diplomat.]
[+] Enlarge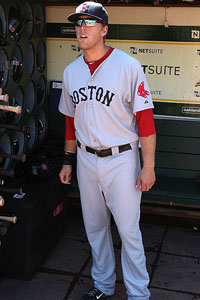 Brad Mangin/Getty ImagesLars Anderson knits? Well, maybe not these days.
There has never been a Lars in the big leagues, at least from what I can tell.
That's pretty cool.
How did you get the name Lars?
We had this conversation just a few days ago. I can't even remember. It's Swedish. My dad's Swedish. We all talked about my name; I can't remember the details of it, though.
So was it random?
Probably not. My brother's name is Leif. I'm sure they were going for a Swedish name. I think Lars is a pretty common Swedish name.
The most interesting story you can tell me about your family is ...
I mean, I don't know. We're an interesting, eclectic group of people. I don't have a particular story.
What makes them eclectic?
Everyone's eclectic in their own way. Everybody has their own personal things that make them interesting. Even the most seemingly normal average person is fascinating in many ways. So I don't really know.
So what's the most fascinating thing you can tell me about a member of your family?
I don't know, my brother [Leif] can walk on his hands a lot. My sister [Summer] is pretty damned good at everything. My brother Stefan can fix a computer from 3,000 miles away. My mom makes beautiful art. My dad makes beautiful art.
You know, that's kind of a weird question.
I told you that this wasn't going to be your typical interview. Thanks for playing along. Your most noticeable attribute from your mom is what?
Uh, probably our endless searching and sometimes restlessness for something interesting.
From dad?
Probably a love for baseball. Yeah.
Why would you disagree with this statement: Real men don't knit. [Full disclosure: I learned from Pawtucket broadcaster Dan Hoard's blog that Anderson knits.]
What constitutes a real man? I've seen bumper stickers that say, 'Real men believe in Jesus.'
But you knit, right?
Not actively, but I knit.
Have you given it up?
No, but I didn't have any interest or need to knit recently.
Do you knit for relaxation or for a purpose, like making a gift?
When I did knit, it was for both reasons. I knit initially because I had to for school.
An art class or a class teaching you basic skills?
I don't know. I was in the first grade.
Complete this sentence: The best day I ever had in baseball was …
Every day, man. Something great happens every day.
No particular day stands out?
I mean, there are a ton of moments that are great, but those are my moments. Off the top of my head, every day that I've gotten promoted in the minor leagues has been a thrill. Memorial Day tournament all-star tournament when I was 9 and 10 and 11 was a huge thrill for me. Playing in the playoffs in high school was a huge thrill. Playing summer ball when there were no real consequences or ramifications of the game, I was just playing for the sake of playing, was a thrill. Playing fall ball in high school with the same sort of relaxation was a thrill.
First spring training, everything new, it's great. First game at every level. First hits at every level. Home runs. Seeing one of your buddies get promoted, or seeing one of your buddies make an amazing play. Seeing old friends on different teams. It's like, endless.
If you could attend any sporting event, what would it be?
Probably the World Cup final.
Did you play soccer?
No.
So, why the World Cup?
Because it's my favorite sport to watch and, in my opinion, probably the biggest soccer event there is. The whole experience.
The best book you would ever recommend to a friend?
"The Brothers K.''
If you had gone to Cal-Berkeley [he was offered a baseball scholarship], what would you have studied?
I have no idea. I was undeclared. I wasn't like, "I'm going to go and get into engineering."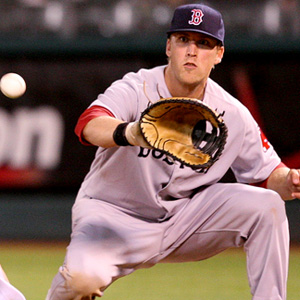 Tony Medina/SMIWhile his brother enjoys walking on his hands, Anderson finds a thrill in baseball every day.
Complete this thought: You can take away all my music except for this …
You mean a CD or song?
Artist, song, CD.
If I had to listen to one CD for the rest of my life? That sounds miserable. Might as well take all of it away.
Make it an artist, then.
I don't know, probably the Dave Mathews band or the Grateful Dead. One of the two.
Finish this thought: This is how you would know I grew up in California ...
I have no idea. I'm sure someone would want to say the way I talk or my hair, but I don't know.
Your hair and the way you talk? I don't see it.
I hear that a lot.
Other than Valley Girls, I didn't think Californians had a distinct way of speaking, like other parts of the country.
I wasn't under that impression either, but it appears so.
True or False: Growing up in Sacramento, I didn't know who Dustin Pedroia was.
Come on. He's not that much older than me, you know. I knew him. I love him.
Finish this thought: If I could be anyone for a week, I would be …
Anyone for a week? Ha.
Hey, I know it's a tough line of questioning for 11 in the morning, but thanks for cooperating.
Dead or alive?
Either.
Uhhhh, Genghis Khan.
Why?
I don't know.
Do you like the name, or the idea of raiding and pillaging?
I don't know. It's just a foreign world. There's a lot of people I wouldn't mind being for a week. I like being myself, too.
Complete this thought: The person in baseball I'd most like to meet is ...
Shoeless Joe Jackson or Ty Cobb.
Try this one: The person whose approval is most important to me is …
My own. [Laughs]
If I could change one thing about the game, it would be this …
I think when you ground out and a run scores, you should not be charged with an at-bat. It should be like a sacrifice fly. What's the difference between hitting the ball in the air and being out and hitting the ball on the ground and being out?
If I could change one thing about my lifestyle it would be …
Man, I've got a pretty good life. I don't want to nitpick.
The quality I value most in a friend is ...
I don't know. All my friends, I just enjoy being around, so I don't know if there's one quality. They're all different.
No common thread?
No, they're all cool. I like 'em.
The most misunderstood aspect of me is ...
Of me? I don't know what people's perception of me is.
The one thing most missing from my life is ...
I don't know. I'm not searching for missing things.
But earlier you said that was the attribute you shared with your mom, a searching nature.
I'm not really searching right now.
OK, then. You're off the hot seat. Thanks.
You're welcome.