You're up, Theo ...
November, 7, 2010
11/07/10
12:01
AM ET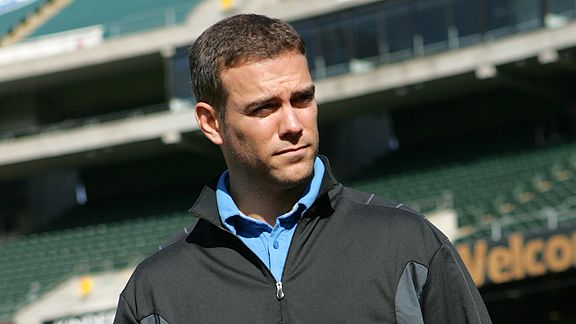 Michael Zagaris/Getty ImagesTheo Epstein has his work cut out for his as an important offseason kicks off for the Red Sox.
BOSTON -- Open season on free agents began at midnight Saturday. The Red Sox lost the exclusive right to negotiate with their own free agents, but gained the right to start shopping in earnest for others.
Rebuilding the bullpen behind Jonathan Papelbon and Daniel Bard is the one certain course Red Sox general manager Theo Epstein will embark upon this winter. Beyond that, there is only speculation, even the extremely likely scenario that the Sox will be deep in the bidding on free-agent outfielders Carl Crawford and Jayson Werth.
Last winter, Epstein caught virtually everyone off-guard when he veered from re-signing outfielder Jason Bay and instead signed pitcher John Lackey, breaking from precedent in giving the pitcher a five-year deal. He came in on third baseman Adrian Beltre only after it was clear Beltre wasn't going to get the kind of multiyear offer he was expecting.
That is just one reason for caution when trying to divine Epstein's intentions this winter. These things tend to be fluid.
Here's another. The Sox enter the winter with a great number of moving pieces, and the team's strategy may well play out like tumblers in a lock, with one prospective move directly impacting on another.
The Red Sox so far have passed on signing catcher Victor Martinez to an extension, even though that was his stated preference. They always assumed that if third baseman Beltre had a good year, he would shop himself again on the open market. Captain Jason Varitek will be 39 next season, and with the acquisition of Jarrod Saltalamacchia, his great run with the Sox appears to be at an end. Utilityman Bill Hall played well enough that he's likely to land an everyday job somewhere else (the Sox declined his option).
So, who comes back? It's possible all four will have new addresses next season. Consider Epstein's comment on the conference call he held Thursday after picking up David Ortiz's $12.5 million option for 2011.
"I'll kind of answer the question the same way I answered it the day after our season ended,'' Epstein said, "which is we value these guys, we'd like to find a find a way to bring some or all of them back if we possibly could.
"But free agency is something that players work long and hard to get, it's a right they earn and often look forward to exploring. If the Red Sox are the best fit in the end, we'd love to bring these guys back. But they certainly have the right to explore all opportunities and I'm sure we'll be in great touch with all of these guys over the next couple of months.''
Read the full story HERE