Tuck: 'Tek can catch 4-5 more years
February, 26, 2010
2/26/10
3:04
PM ET
FORT MYERS, Fla. -- Only one player in major league history has caught as many as 50 games past the age of 42. That would be the indestructible Carlton Fisk, who at age 43 appeared behind the plate in 106 games for the Chicago White Sox, starting 91 of them, caught in 54 more at age 44, and caught an additional 25 before retiring at the age of 45.
[+] Enlarge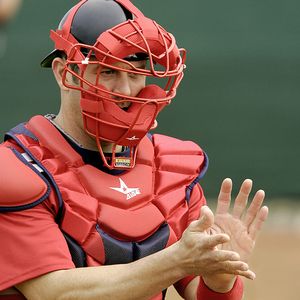 AP Photo/Nati HarnikRed Sox catching instructor gary Tuck thinks Jason Varitek's body would hold up to catch 4-5 more years, assuming he remains a backup.
Red Sox bullpen coach and catching instructor Gary Tuck believes there can be another.
"I think Jason Varitek can catch as long as he wants to catch,'' Tuck said here Friday of the catcher who turns 38 on April 11. "I think his body will hold up to that. Obviously, there's the shape he gets himself in, and in the [backup] role he is in now with Victor [Martinez] here, I think he can catch at least four, five more years.
"His game hasn't really slowed down. It's the wear and tear of the physical that has affected him along the way. The formula for him this year is to stay strong and healthy. You've got a pretty irreplaceable guy there. No one has the same experience. Only one other guy sticks out, and that's Jorge [Posada].''
Varitek has been noncommittal about how much longer he intends to play. He exercised a $3 million player option to re-sign with the Red Sox this season and is not under contract for 2011.
There are performance bonuses in Varitek's contract that call for him to receive an additional, $400,000 each for 80, 90, 100, 110, and 120 games started. That would take him to the $5 million he was paid in 2009, but with Martinez scheduled to be the regular catcher, those would seem out of reach.
When the day comes that Varitek decides to retire, Tuck said, there would be a place for him in the game if he chose to stay.
"I think he could manage in the major leagues,'' Tuck said. "He obviously could coach. He's a great communicator and he's organized. And he's had the luxury of being taught by the best the last three years. That's what I tell him every day.
"[Red Sox catchers] went through the biomechanics of throwing the other day. I said, 'I don't know if any six of you can play at all, but I know you will learn how to teach this and you'll be great coaches.'
"Just to have fun with 'em, but the kids are like, 'I can't play?'''
Be sure to come back to ESPNBoston.com later tonight for more about the Red Sox's catching corps and "Camp Tuck."