Epstein surprised by Lackey's interest
December, 16, 2009
12/16/09
2:14
PM ET
BOSTON -- Red Sox general manager Theo Epstein said he was taken aback when John Lackey's agent expressed an interest in his client potentially coming to Boston earlier this offseason. But armed with that knowledge, the Red Sox changed their offseason plan of attack, which culminated Wednesday when Lackey inked a five-year contract to join one of the deepest rotations in baseball.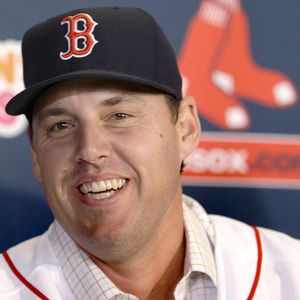 AP Photo/Charles Krupa
John Lackey signed a five-year deal with the Red Sox.
Lackey donned a No. 40 jersey and joined Epstein and manager Terry Francona for an introductory press conference today inside the EMC Club at Fenway Park.
"Obviously, I've been here for some big games, competed against these guys quite a bit," said Lackey. "I'm here to win. That's the bottom line. I've always had a lot of respect for this organization, from the other side. Winning is the biggest thing to me and I know this organization has a great chance to do that and hopefully I can help out."
Epstein, who's track record hadn't include spending for a top-tier arm, relayed how talks evolved.
"We were a little bit surprised," Epstein said of Lackey's initial interest, as relayed through his agent. "Watching from across the field, we've always seen him as a big-game pitcher, a top-of-the-rotation guy, really tough competitor. We never really thought he'd be interested in Boston. I guess it's one of those things where, if you play across the field, you see someone as the opposition and that's it. [Lackey's agent] said, 'No, he's really serious about Boston, he wants to win. He loves how every game is like a playoff game and can see himself there.' So that really got our attention in a hurry."
Epstein said the organization soon realized this was the best option available.
"We had a couple different versions of an offseason plan," said Epstein. "Some involved spending more resources on a big-time position player and getting pitching depth. But this really intrigued us as an alternative. The deeper we got into the offseason, the more we dug about John and his personality, his fit for the Red Sox, and what it would mean to our rotation and the future. We got more and more interested and, talked evolved well, and it ended up being the right path for us."