Sox brass admire fruits of their labor
February, 19, 2011
2/19/11
3:45
PM ET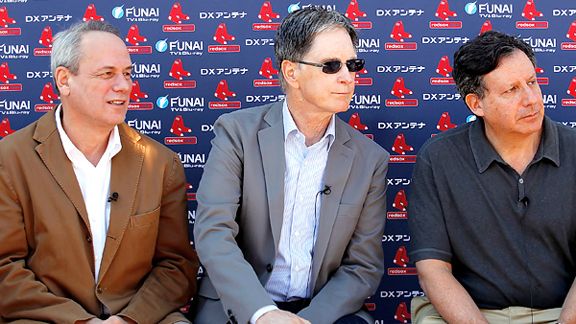 J. Meric/Getty ImagesRed Sox CEO Larry Lucchino, principal owner John Henry and chairman Tom Werner were cheered by players at Saturday's team meeting.
FORT MYERS, Fla. --
Mark Teixeira
may have
declared the New York Yankees underdogs
, but Red Sox ownership isn't buying it.
"I don't see us as such a clear favorite,'' said majority owner John W. Henry, who was not responding specifically to Teixeira's comments but a broader perception that the Rd Sox have the edge over their archrivals. "I see the teams as fairly evenly matched still. We've got our work cut out for us to win the division.''
Henry's partners, Larry Lucchino and Tom Werner, fell in line.
"I feel the same way,'' CEO Lucchino said Saturday. "There are other teams in this division that are improving. This is not just a mano-a-mano, two-team match. There are other teams building solid teams. The AL East will still be the rough-and-tumble AL East, make no mistake about that.''
"John Farrell is a terrific manager,'' chairman Werner said. "I think Toronto is going be stronger. I don't discount Tampa. Adding [Manny] Ramirez was a very smart move, Johnny Damon. We don't want to focus too much on the Yankees.''
Still, after a morning in which Sox owners were accorded a standing ovation by their players when introduced at the first meeting of the full squad, their buoyancy was self-evident.
"Everyone knows hope springs eternal every spring,'' Lucchino said. "We just have to make sure we're healthy, and that the good luck and randomness of the game falls into our favor as well. But there's an atmosphere here that is extremely positive, confident and upbeat, and that's very encouraging.''
Henry noted with satisfaction that this was the 10th year for the "new ownership.'' In the interim, there have been $285 million in renovations done to Fenway Park (according to Lucchino, engineers have said Fenway will remain structurally sound for another 40 to 50 years), two World Series titles, six postseason trips, forays into NASCAR and soccer, with groundbreaking for a new state-of-the-art spring training facility scheduled in two weeks.
"We feel extraordinarily lucky to be healthy, to be together, the three of us, with Theo [Epstein], Tito [Francona],'' Henry said. "The one thing we're trying to accomplish with Liverpool is what we were able to accomplish here: stability, having a long-term manager, a long-term general manager. We just feel in many ways very proud of what we've accomplished in the last 10 years.''
And the pieces are all in place for a grand 2011.
Click HERE for the full story.