Cameron 'thrilled' to be with Red Sox
December, 16, 2009
12/16/09
12:01
PM ET
The Boston Red Sox formally introduced outfielder Mike Cameron to Boston at a news conference Wednesday morning at Fenway Park.

Flanked by Red Sox GM Theo Epstein and manager Terry Francona, Cameron donned a No. 23 Sox jersey and said he's "thrilled" to be in Boston, and that it is the most exciting career change he's experienced since entering the majors.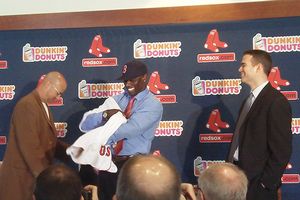 Chris Forsberg/ESPNBoston.com
Mike Cameron, flanked by Sox manager Terry Francona and GM Theo Epstein, says he chose to play in Boston "for the opportunity to win a championship."



Cameron, 36, inked a two-year contract with the Sox.
"This is a historic park, and hopefully I can put a couple dents in the Green Monster," he said, adding that he chose to Red Sox "for the opportunity to win a championship."

"I've pretty much gotten to the end of the road so many times, been so close, but nothing to show for it," Cameron said. "With the addition of [pitcher John] Lackey and the guys already here that have been through it a couple times, I felt there was an opportunity for me to come out, compete and do some good things here."
Primarily a center fielder during his 15-year career, there are questions about where exactly Cameron will play for the Sox, but team management indicated that decision will be made down the road.
"I think what we need to do, and I've already talked to Cam about this, is, in the next week or so, I need to sit down with Theo, Mike, Jacoby and probably DeMarlo [Hale], and figure out what is in our best interest," manager Terry Francona said. "I need to talk to everyone first. It's been a whirlwind week for everyone, so we need to sit down and try to put the right pieces in the right place. I have some ideas, but I want to talk to everyone about it first."
Epstein said Cameron has been on the Sox's radar for a number of years, including potential trades that simply were never completed for one reason or another.
"He was part of a couple potential big trades that we had lined up, but didn't get all the way to the finish line," Epstein said. "Mike's someone we anticipated being a free agent this offseason, so we scouted him a lot last year."
Noting that the Red Sox had one of the worst defensive clubs in baseball last season, Epstein added: "Mike played one of the best center fields this past year, and we think he's [been] an elite defender his whole career, and someone who's been underappreciated offensively."

Epstein noted that he's heard the grumblings about the need for the Sox to make a move to bolster their offense, but noted that run prevention was just as much an issue, in his mind.

"We'll see," he said. "We'll certainly continue to monitor both the trade and free-agent market to see if there are further improvements we can make for our ballclub. That said, we won't be in a rush. I don't feel a sense of desperation. I think we like the mix we have right now.
"Generally speaking, it's easier to add a bat than a pitcher during the season. And our pitching staff is going to be extremely deep. If we go into the season with what we have right now and the need for a bigger bat does develop, it's something we can probably address during the season. By no means are we saying we're done, but I also don't feel the sudden rush to go out there and do something dramatic."