Crawford on Manny: He'll add a 'fear factor'
February, 24, 2011
2/24/11
10:24
AM ET
FORT MYERS, Fla. -- The
Tampa Bay Rays
have been getting record crowds at their spring training facility in Port Charlotte, likely because of the additions of
Manny Ramirez
and
Johnny Damon
.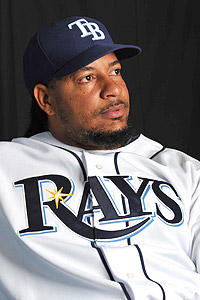 Steve Mitchell/US PresswireCan Manny Ramirez do for the Rays what he did for the Red Sox all those years?
The Rays organization has been based on homegrown talent, but Ramirez and Damon bring a certain veteran star power that Tampa has lacked.
"There is some star power there," said current Red Sox reliever and former Rays pitcher
Dan Wheeler
. "When I was there we always had some guys, but a lot of our guys were young and coming up. We didn't have the track records that Ramirez and Damon have. It's good. It gives them something to be excited about. I know a lot of the fans were definitely disappointed with what happened this offseason."
The Rays were stripped of talent during the offseason when Wheeler and
Carl Crawford
signed with the
Boston Red Sox
. Both know firsthand how well Ramirez and Damon will fit in with Tampa.
Ramirez returns to the AL East for the first time since leaving Boston as part of a three-team trade during the 2008 season.
"He's going to add that fear factor," Crawford said. "He's going to give [Evan] Longoria all the protection he needs. Having a guy like Manny, look what he did when he went over to the L.A. Dodgers, he helped
Matt Kemp
and turned those guys into superstars. I don't see why he wouldn't have the same effect in Tampa."
For all his talents on the field, Ramirez can sometimes be a major distraction in the clubhouse, and that's one reason the Red Sox traded him in '08. Crawford said he believes Ramirez will have no trouble fitting in with the Rays.
"He's going to fit right in over there. Trust me," Crawford said with a laugh. "That's why he's there. If he's healthy, he's still a dangerous right-handed hitter. If he's out there on the field playing, you can't ever take him for granted. He can do some damage."
Wheeler concurs. "He has a lot of personality, and that's what that team has is a lot of personality, so I think he'll be OK," he said. "He's still Manny Ramirez and anything can happen with that guy. He has unbelievable talent and he's one of the greatest players to play the game. He's fun to watch."
Red Sox slugger
David Ortiz
spent the majority of his career in Boston as the No. 3 hitter in front of Ramirez. The two made a dangerous combination for opposing pitchers, and now that Ramirez is back in the east, Ortiz made a prediction.
"He's going to kick ass," Ortiz said.
"He knows how to do it, man. The one thing that you always have to keep in mind is what you have done, and what you have never done. This guy has done it a bunch of times and he's in good shape now. If he can stay healthy, he's going to do very well."
Ortiz said he recently spoke with Ramirez and the newest Ray told his former teammate that he's healthy and feeling good.
Ortiz said having Ramirez back in the same division will be a lot of fun for the fans.
"Definitely, Manny always comes out with a new character," Ortiz said.