Manny scratched, but only raves from Maddon
March, 10, 2011
3/10/11
12:44
PM ET
PORT CHARLOTTE, Fla. -- I was sitting in the office of
Tampa Bay Rays
manager Joe Maddon when
Manny Ramirez
walked in just before 11 Thursday morning. Maddon gestured at me and said to Manny, "remember him?"
[+] Enlarge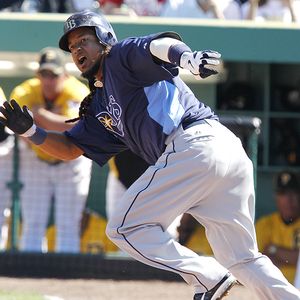 AP Photo/Gene J. PuskarThoguh Manny Ramirez didn't play Thursday, Rays skipper Joe Maddon says he's been a model camper this spring.
"That's bad news,'' Manny said, and headed out.
Maddon called him back, I excused myself, and while Manny was in there the decision evidently was made to scratch Manny from the lineup. Ramirez was scheduled to play left and bat fourth.
Manny was gracious, joking about
David Ortiz
's absence here ("David doesn't make the trips anymore?") and asking about the incident with
Josh Beckett
being struck by a ball hit by Sox staffer Ino Guerrero, with whom Ramirez was very close. "I heard Ino hit Beckett,'' he said. "How's Beckett doing? Did it hit him hard?'' He also beamed when I mentioned that Bob Schaefer, who was Joe Torre's bench coach when Ramirez was with the Dodgers and is now a scout for the Nationals, had been asking about him.
"Yeah, he was here yesterday,'' Ramirez said. "That's my boy.''
Maddon had nothing but good things to say about Ramirez, who is back to wearing No. 24, the number he wore with the Indians and Red Sox, after sporting No. 99 in L.A.
"He's making a lot of statements, little subtle stuff,'' Maddon said. "Running hard to first base, working his ass off on defense. One day he was playing, and was scheduled to be off the next day. After his second at-bat, he said, 'How about if I play tomorrow?' He put himself in the lineup. A couple of days ago, I gave four guys the day off completely. Don't even show up, him being one of them. He was in the cage anyway, the next morning. He's been awesome.''
Maddon said he plans to play Ramirez some in left field during the season, though he'll lift him for defensive purposes in the late innings if the Rays are leading.
"All those different things you have to address,'' Maddon said. "I want to make sure that's all clear and clean and no frigging any doubts. He looks great. He ran three balls out yesterday, swear to God, he looked like an average runner down to first base, like real light on his feet. Just looked good and strong running.
"He's been awesome to work with. We've had a really good exchange. I like him. There's nothing not to like. He'll sit down and talk to you, he looks me in the eye, we've had dinner together. We talk every day about stuff.''
Ramirez, after a decade of drawing an annual salary of $20 million-plus, signed with the Rays for $2 million. I asked Maddon how he thinks Manny will react when he discovers there's a zero missing.
"His comments have been that he's made his money. He's made his money, and now he just wants to compete and play. He's said that to me at least 15 times already. Manny is looking to re-establish himself after last year. He's in better shape, he's extremely motivated, I think he likes it here already, I think he's digging it, I think we have a great staff to interact with him, I think we have a lot of things working in our favor here as well as where he's at in his career right now to make it a good season.''
Having
Johnny Damon
here is a huge benefit, too.
"They play off each other like a comedic team,'' he said. "They're very solid. That's part of it, too. Getting them both here at the same time. Andrew [Friedman, the team's GM] and I were talking about these guys all winter, and how do you get 'em? Part of it was you gotta wait. All these other guys were falling to other teams but these are the guys we wanted all along. There they are.
"We lost a lot of characters -- and character -- but now we've got it back. I'm really excited about this year. I think it's going to be a bear playing in our division again this year. Everybody's gotten better. We played Toronto yesterday, they steal nine bases. When has Toronto even attempted to do that? So they have all this different stuff you've got to worry about. Baltimore, Buck [Showalter] has done a great job. They're already better.
"I don't know how many games over .500 is going to be considered good in this division this year. I have no idea what that number is going to be. If you can go, like, 5 to 10 games over .500, you've actually probably done a pretty good job.''