Six-run fifth spoils strong outing for Beckett
March, 13, 2011
3/13/11
4:49
PM ET
BRADENTON, Fla. -- When not in use for a ballgame, the mounds in the visitors' bullpen in McKechnie Field here could serve as an offseason practice site for halfpiper Shaun White. Dude, that's how steep they are.
"Curt did mention it to me,'' Red Sox manager Terry Francona said, referring to pitching coach Curt Young. "The thing's monstrous. Look at it.''
Josh Beckett
said following Boston's 9-4 loss to the Pirates that it took an inning for him to adjust to the difference between the mound he warmed up on and the game mound. Beckett was sorry that reliever
Scott Atchison
didn't have that luxury.
[+] Enlarge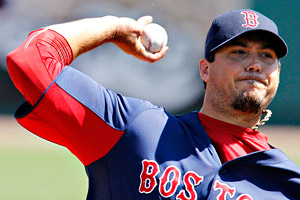 AP Photo/Gene J. PuskarAlthough his outing ended on a poor note, Josh Beckett looked strong over four innings.
"It would have been a lot tougher to come in in a relief situation, specifically the bases loaded and nobody out,'' Beckett said. "That was a bad situation for him to be in.''
That's the mess Atchison inherited from Beckett in the fifth, with one Pirate run already in after
Ronny Cedeno
hit a first-pitch changeup for a home run. Four hits and a walk later, the Pirates had five more runs.
Pittsburgh might have teed off on Atchison even if Sox groundskeeper Dave Mellor had personally groomed the bullpen mound for him, but still, Beckett lamented that he couldn't have put a better finish on what had been a satisfying outing to that point.
"I hope his last inning didn't undo the day because I thought he threw the ball pretty well,'' Francona said. "Threw some good changeups, threw some fastballs down. In the last inning he walked a guy, hit a guy with a breaking ball, and the inning gets away. Atch gives up a couple of big hits, but I actually thought he pitched pretty well.''
Beckett said it "kind of ruined" the day, but the veteran right-hander was not blind to the positives of the afternoon, one in which he gave up another solo home run, on a fastball in to Pirates left fielder
John Bowker
, but looked strong and, most important, healthy.
"I threw some good changeups today, some good breaking balls when I was behind in the count,'' said Beckett, who hit
Jose Tabata
with a 2-and-2 curveball after throwing another curve past him on the previous pitch.
Jason Varitek
, catching Beckett in a game for the first time this spring, liked what he saw. He said he thought Beckett did a good job up to the point Cedeno launched his first-pitch changeup to open the fifth.
"He had a mix,'' Varitek said. "Sinker, 4-seamers, curveballs. This was the first time I've seen him on the field, and he's just like everybody else, taking steps, gaining innings, building up.''